SPOKES: Bike loan program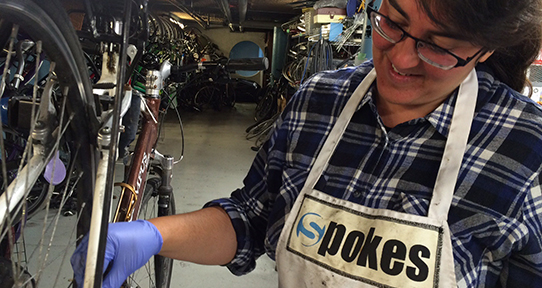 SPOKES is a volunteer bike-share program where volunteers give new life and use to old bikes. Since 2003, they have been diverting waste from the landfill, improving community health and taking action on climate change. SPOKES supports cycling at UVic.
Location and hours
SPOKES is currently closed as we are working on rebuilding the program. Check back for the relaunch date on this page when more information is available. 
SPOKES is located in the Campus Bike Centre (CBC) in the University Centre. For increased security purposes, the CBC now closes between 11 p.m. and 7 a.m. daily. Any questions regarding parking in the CBC can be directed to Campus Security at 250-721-6683 (non-emergency number) or parkingmgr@uvic.ca .
Contact information 
Follow their facebook page for updates on opening hours and events. SPOKES.