SPOKES: Bike loan program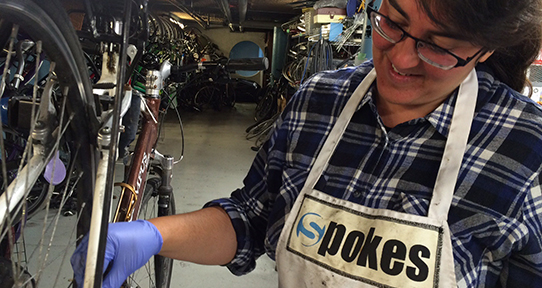 SPOKES is a unique bicycle upcycling and loan program where volunteers give new life and use to old bikes. Since 2003, we have been diverting waste from the landfill, improving community health and taking action on climate change. SPOKES supports cycling at UVic.
Location and hours
As part of UVic's response to the evolving Covid-19 situation, SPOKES will be closed until further notice. For updates on UVic's response and recommendations, please see the Covid-19 website. 
SPOKES is located in the Campus Bike Centre (CBC) in the University Centre. It is accessible at the ground floor, entrance facing the BEC building. For increased security purposes, the CBC now closes between 11 p.m. and 7 a.m. daily. Any questions regarding parking in the CBC can be directed to Campus Security at 250-721-6683 (non-emergency number) or parkingmgr@uvic.ca .
Contact information 
spokes@uvic.ca or 250-472-4711 
Follow their facebook page for updates on opening hours and events. SPOKES.
Get to know SPOKES
Bike loans 
The bike loan program is available to UVic students, faculty and staff on a first come, first serve basis. 
SPOKES loans a basic upcyled bike and you take care of it as if it were your own. All users are expected to put time, love, money and TLC into the loan bike so that when it is returned, it can be upcycled to another person!
Cost of bike loans are $40 for as long you are at UVic: 
half ($20) is a donation to SPOKES
half ($20) is a refundable deposit payable back to you when the bike is returned in working condition with its lock and key. 
To return loaned bikes, please visit during opening hours or contact SPOKES to make an appointment. 
Bike rentals
If you need a bike for a short period of time, you can rent a nicer upcycled bike. Cost for rentals is $10 per day or $50 for seven days
payment due when picking up bike
from 1 day to 3 weeks (short-term only)
Great for weekend rides, in town guests, visitors and conference go-ers. Bike rentals are open to students, faculty, staff and campus guests.
SPOKES often hosts bike basic repair and maintenance workshops. Visit SPOKES for upcoming events!
SPOKES does not lend out tools and is not a bike shop, their proirity is rebuilding and recycling of SPOKES bicycles - basic tools can be found at the self-repair station in the Campus Bike Centre. 
If you have a used, adult sized bike to donate, please drop it off during regular work hours or contact spokes@uvic.ca to book an appointment. 
SPOKES hosts volunteer recruitment and appreciation nights several times per year. These sessions are fun, answers any questions you may have, gives a solid overview of the SPOKES space and program. In addition, you can mentor with a senior mechanic volunteer or share your skills with others.

Volunteer details:
Drop in during posted working hours to meet our senior mechanic volunteers. 
Must have basic bike repair skills BUT volunteers who can help deal with "customer" service, help tidy the shop, pick up donations and promote our program are also welcome.
Expected commitment is 5 to 7 hours per month for 3 months at a time. 
Specific roles are available.
Contact spokes@uvic.ca for more information and how to get involved!