Sustainability Action Teams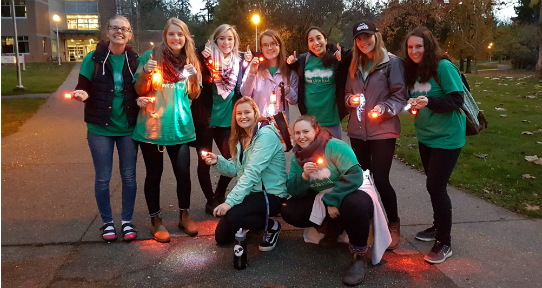 At UVic, we see sustainability as a shared responsibility - everyone has a role to play in making where we work and go to school a place where we incorporate environmental responsibility into everything we do.

The sustainability action team (SAT) program is a series of initiatives to green our offices, our student residences and our labs that promote sustainability and energy savings. You can get directly involved by contacting the sustainability office - we can help you connect with your colleagues already involved, or help you set up a team of your own. Learn lots, make new friends and make a difference!
The Green Office (GO!) Program is specifically designed to promote sustainability with staff in offices across campus.
While many sustainability "champions" and committees already exist across campus doing amazing work, we need to create a better way to support, coordinate, acknowledge, reward, expand, and enhance these individual and team efforts. Our Green Office (GO!) program includes:
the opportunity to connect with other sustainability leaders accross campus
team competitions for most sustainability actions pledged and taken
rewards and recognition
funding for the maintenance of the GO! program (for workshops, luncheons, communications, etc.) at the institutional level, and for sustainability initiatives initiated by groups themselves
Contact action@uvic.ca to set up a Green Office (GO!) program in your office today!
Our Green Labs program is run in partnership with the Occupational Health, Safety and Environment, and Facilities Management. The on-going energy saving labs program is now running in the Bob Wright Centre. The broader green labs initiative, involving chemical subtitution, lab glassware recycling, and Mercury thermometer replacement project is running across campus. See the
OHS website
for more details.
Looking to make UVic and Residences more sustainable? Get involved with the Res Green Team! The Green Team has its roots in the Sustainability Living Learning Community, which is located in themed residences (South Tower Building) but is open to students from all Residences.
Through the Res Green, you will:
have access to campus sustainability volunteering opportunities
be empowered to create a group initiative
be engaged through monthly meetings
receive a personalized Green Team t-shirt
receive access to training in sustainability
receive a reference letter upon completing your commitments to the program
If you live in Res and are interested in joining the Green Team, email action@uvic.ca for more info.