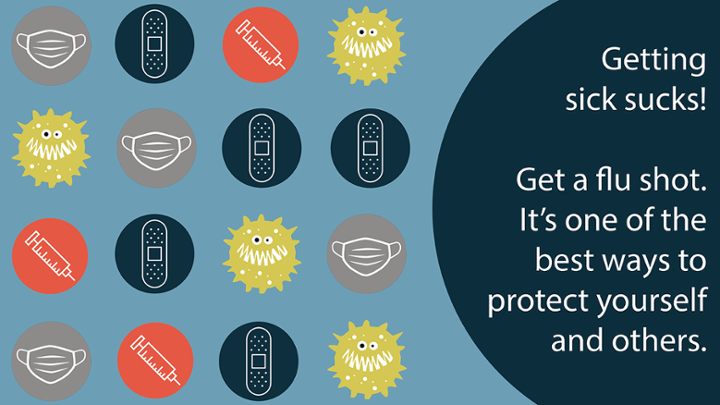 Remember, a few simple measures will help to keep us all safe this flu season. Help limit the spread of germs in our community by:
getting vaccinated
doing your daily health check
washing your hands regularly
keeping your distance
wearing a mask
Free flu shots for students
UVic students can get a free influenza vaccination (ie. flu shot) on campus this fall.
Clinic open to all students
Drop in at the Bibliocafe
Monday, Nov. 22
10:30 a.m. - 2:30 p.m.
No appointments are necessary.
Nasal spray immunization (Flumist) is available for students aged 17 years and younger.
This clinic is open to all current students, including out-of-province and international students. Please bring your health card if you have one.
Indigenous community
Free flu shots are available to Indigenous students, staff, faculty and community at the First Peoples House. Contact the Nurse Liaison for Indigenous students to arrange your vaccination.
Staff, faculty, and community
Students are prioritized at on-campus flu shot clinics. However, faculty, staff and community will not be turned away from on-campus clinics if supplies and capacity allow.
We recommend non-UVic students seek flu vaccinations in the community. Check the ImmunizeBC website for details.
Why get the jab?
Avoid getting sick: The best way to avoid getting sick with the flu is to get a flu shot. It's safe and it works.
Don't play catch up: Flu season tends to overlap with crunch times in the academic calendar. No one wants to play catch up at such a busy time! The flu shot will help to keep you healthy so you won't have to miss class.
Do your part: COVID-19 hasn't gone away. You can help to limit the spread of germs and prevent further strain on the health care system by getting your flu shot.
COVID-19 vaccinations
The COVID-19 vaccine is not available at flu shot clinics.
Current students: call the Student Wellness Centre to make an appointment for your first or second COVID-19 vaccination.
BC residents: find a drop-in clinic in your community to get a COVID-19 vaccination