Chris Hildreth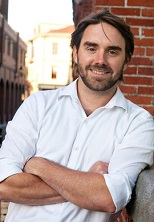 Position
Founder/Owner
TOPSOIL - Innovative Urban Agriculture INC.
Credentials
Double Major Sociology and Environmental Studies. Minor in Business. - BA (2015)
Chris Hildreth is the founder of TOPSOIL, an award winning urban agriculture business which utilizes unused space by implementing productive gardens. All the produce is sold directly to the surrounding restaurants and community. Chris graduated from UVic in 2015 with a minor in business and a double major in environmental studies and sociology. In 2013 Chris began visualizing a business that would increase local production by supplying sustainable fresh local produce to local restaurants. The idea quickly grew from a 400-square-foot pilot project supplying one restaurant to a 20,000-square-foot urban agriculture business supplying over 30 restaurants. TOPSOIL has grown and delivered tens of thousands of pounds of produce to near by restaurants and the surrounding community. TOPSOIL's mission is to increase local food production in any community by providing a fully integrated modular farming system which will empower people through education, production and employment.
Be sure to use University and not let it use you.