Sexualized violence prevention workshops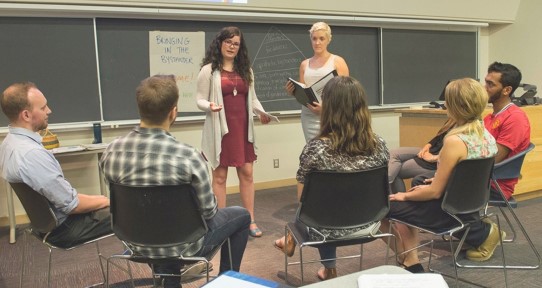 The Office of Student Life offers two ways to participate in bystander intervention training:
Step in, Speak Up: an online training program intended for students new to UVic
Bringing in the Bystander: an online workshop available for all students at UVic
Step In, Speak Up
Step In, Speak Up is a 45-minute online training program on Brightspace that introduces students to the concepts of pro-social bystander intervention and community expectations.
Workshop overview
Students will complete a series of modules that include videos and questions related to bystander intervention and sexualized violence. The following topics are covered:
identifying a continuum of inappropriate sexual behaviours
understanding the impacts of sexualized violence for survivors and communities
identifying situations where bystander intervention is appropriate 
overcoming barriers to successful intervention  
Why participate?
This program is intended for new students entering UVic, with a focus on students living on-campus in residence. The program introduces students to community expectations, language and concepts important for those in the campus community.
All students who complete Step In, Speak Up will be entered into a draw for a $250 UVic Tuition credit, drawn at the end of each semester.
How to participate
Participation in this program is intended for students new to UVic. Students can self-enroll using the link below. For returning or continuing students, we recommend the Bringing in the Bystander workshop.
Self-enroll in Step In, Speak Up
If you have a group of students who are interested in taking Step In, Speak Up, please email us for group registration details.
Bringing in the Bystander
As of fall 2022, the Bringing in the Bystander workshops are under review and are being re-envisioned. Please email svptraining@uvic.ca with any questions.
Other sexualized violence prevention workshops
Additional sexualized violence prevention workshops are offered by other departments and campus groups at UVic.
Tools for Change: Preventing Sexualized Violence at UVic: Tools for Change is a peer-led, highly interactive workshop focused on developing a deep understanding of sexualized violence, learning practical tips and every day language to meaningfully ask for and give consent, developing strategies for preventing sexualized violence and gaining knowledge of campus resources and supports.
Supporting a Survivor: Throughout this workshop, facilitators will cover the very important differences between support, disclosure and reporting, and provide some foundations for supporting survivors of sexualized violence. Facilitators will discuss different approaches and tools that can be used when supporting someone, including: active listening, believing survivors, busting myths, showing empathy and making referrals.
Understanding Consent Culture: This workshop is intended to provide folks with the information, skills and opportunity to understand and practice consent. Through activities and discussion, facilitators and participants will bust myths about sexualized violence and gender, explore the concept of rape culture and learn about consent (what it is, why it's required, how to practice it).