UVic Alerts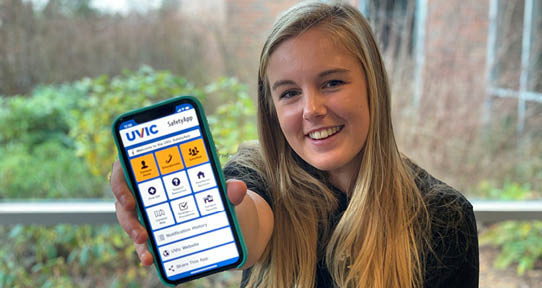 Stay Safe: Get the UVic SafetyApp
The new UVic SafetyApp is now live!
The UVic SafetyApp is a new way to receive emergency notifications from the university on your mobile phone.
Find important safety information, contacts, maps and procedures—all in one place!
It's free to download at the Apple App Store or Google Play.
In your app settings, make sure you allow notifications to be "enabled" in order to receive emergency notifications via the app.
Download the poster here (pdf, 429 KB)
---
See more videos from the UVic Safety App playlist on YouTube.
---
Commonly asked questions about the app:
Why download the app?
The UVic SafetyApp is the fastest way to receive emergency messages from the university
The app works together with other communications tools that are part of the UVic Emergency Alerts
The app has a variety of useful information, including key emergency phone numbers, at your fingertips. We encourage people to explore what the app has to offer.
 Where do I get it?
The app can be downloaded from the Apple App Store or Google Play
The app is free and can be downloaded by anyone
 Emergency notifications
The app will receive emergency notifications if it is connected to WiFi or to the cellular network
The app does not need to be open to receive emergency alerts
When downloading the app make sure to go into the app to enable the emergency notifications. The app will not receive emergency messages until you do this.
Check uvic.ca regularly during an emergency. It will be updated as new information becomes available.
UVic Alerts
UVic Alerts is a notification system that allows us to quickly and efficiently contact you with important information during a disruptive event.
UVic Alerts uses these communication tools to notify you:
UVic SafetyApp
email
text
VoIP messages to desk phones
digital signage
social media
mobile text messaging
uvic.ca website.
Testing
The UVic Alerts System is tested twice a year. Thank you for your patience and cooperation – testing is essential to ensure UVic can provide an effective notification system. During tests the voicemail message to office and classroom VoIP phones will be broadcast for up to 15 minutes. You can stop the broadcast by lifting the handset.
It is important to note that the alerts system, or any of its components, can experience service interruptions beyond our control. This type of service disruption, while rare, could render part or all of the notification system unable to send timely messaging via all communications channels.
Register your mobile phone to receive text messages
Visit uvic.ca/personal-profile. If you are not already signed in to UVic My page, you will need to log in with your NetLink ID and password.
Add a mobile phone number to your personal and account profile if you wish to receive text messages on your mobile phone.
Without current contact information, UVic will not be able to reach you with important information and instructions during disrupting events.
For more information, please contact the Manager of Emergency Planning, at 250-721-6355.