UVic Astronomy Open House
The UVic Observatory Open House program for this Fall will begin on next Wednesday, Sept 23 at 7:30pm, and will continue weekly at the same time and day till Dec. Given the continued Covid restrictions, the open house will run on a Zoom platform, please see joining details below. Each week, we will have discussions of astronomy headlines, a Q&A session followed by an astro themed presentation by researchers from UVic and other institutions.
Topic: Fall 2020: Observatory Open House
Time: 07:30 PM Pacific Time (US and Canada). Every week on Wednesdays starting on September 23, 2020 until December, 2020.
Zoom link: Please contact observatory@uvic.ca to obtain the link.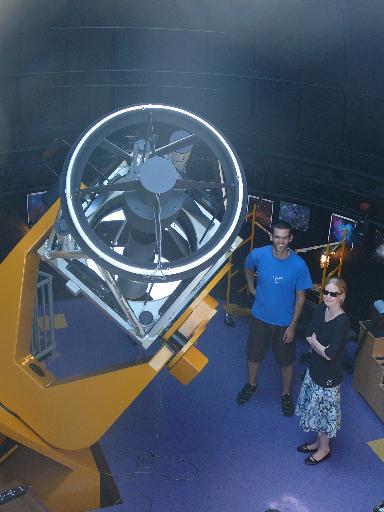 ---
Wednesdays
8-10pm September-April
9-11pm May-August
Rain or Shine
5th floor Bob Wright Centre
Admission Free
Parking $3.50

You say you do not know a red dwarf from a black hole? A giant star from a globular cluster? Well here's your chance to discover everything you've wanted to know about the sky!
In addition to our regular Wednesday night open houses, we also invite groups of twenty to visit our dome facility for a daytime tour April through July. The tour includes an entertaining educational presentation, a look through the big, fully automated telescope in the Observatory on the Bob Wright Building, and weather permitting, an opportunity to search for sunspots using the smaller telescopes on the roof. The tours are free but space is limited. We strongly encourage interested parties to call 721-7700 to book a date. We are proud to serve the Victoria community and especially encourage schools to come and visit.