Teaching Excellence
Science recognizes the quality and impact of our faculty annually by presenting an Award for Teaching Excellence. 
In 2019-2020, two recipients were recognized: Louise Page (Biology) and Christopher Eagle (Mathematics and Statistics).
Louise Page
2019-2020 Recipient: Award for Teaching Excellence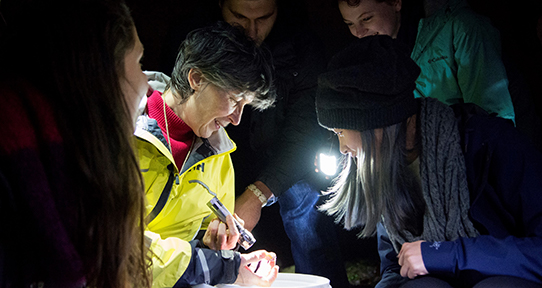 For more than two decades, Louise Page has provided among the best experiential learning opportunities in the Department of Biology, and her enthusiasm is undiminished. Louise has been a passionate advocate for experiential learning throughout her career – long before the term "experiential learning" became well recognized.

At UVic, Louise designed BIOL 321 Survey of Invertebrates and BIOL 322 Biology of Marine Invertebrates, and has inspired more than 3000 students with her beautifully crafted lectures and hands-on attention in the labs. She created and leads BIOL 248, Topics in Organismal Biology, a course linking studies of whole organisms to investigations in other disciplines of biology.  In addition, Louise has introduced dozens of undergraduate and graduate students to the wonder and excitement of research in functional biology and the evolution of development.  
Dr. Page taught me how to really observe, make inferences on observations, compare findings, and to understand that this was the point of science. -biology student
Louise is always ready to don her lab coat and assist any undergraduate or graduate student with a tricky problem. Louise "lives her passion for teaching and learning, and inspires everyone along the way."

Beyond the campus, Louise has provided rich experiential learning opportunities at the Bamfield Marine Sciences Centre and the University of Washington Friday Harbour Laboratories, on local field trips and through community outreach. No matter the weather or the hour, Louise leads her students on low tide field trips to the intertidal zone, and shares her knowledge and enthusiasm for the diversity of animals at our doorstep. On the beach, in the rain, with flashlights in hand, and in toques and raingear, Louise creates those "ah-ha" moments for students that last a lifetime. Always, Louise mentors and inspires students to "learn through reflection on doing."
Christopher Eagle
2019-2020 Recipient: Award for Teaching Excellence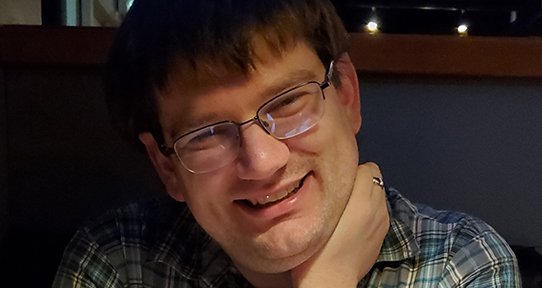 Christopher Eagle joined the Department of Mathematics and Statistics as Assistant Teaching Professor in January 2016. In his short time at UVic he has become renowned for his teaching style, scholarship of teaching, subject knowledge, mentorship, and accessibility.
The Math & Stats Department has always had high teaching standards, but with the addition of teaching professors like Chris the bar has been raised.
As an early career teaching professor, Chris initially taught mainly 1st and 2nd level courses, but soon added 3rd and 4th level courses as well. According to the Acting Chair at the time, his CES scores (which were still explicitly given at the time) were astounding, particularly given that most students take lower level courses, reluctantly, as course requirements. Their comments were almost universally and consistently highly positive. He has mentored several senior undergraduate research students for USRA, JCURA and honours research projects.

Chris is a truly inspirational teacher. In their support letters, two students attested that they chose to switch from Engineering to Mathematics as a result of Chris's teaching style, enthusiasm and mentorship during their first year. Another student stated that Chris's enthusiastic delivery of the Math 100 material solidified her decision to complete her degree with a major in Mathematics. Each student letter writer enthusiastically commented on his "open door policy" during office hours. Letters from colleagues spoke eloquently on his teaching style, his ability to attract and retain students, his influence on fellow faculty, and his scholarship of teaching.

Chris freely gives his time for other teaching and research related activities. He continues to publish subject related research in peer evaluated journals, present at national and international conferences, and organise research events.

With such compelling evidence of superb teaching and mentoring qualities, generosity in making time for students, collegiality and willingness to serve on committees, and skills in integrating subject-specific research with teaching, Chris is a most worthy recipient of the Faculty of Science Award for Teaching Excellence.
Past Recipients: Award for Teaching Excellence
2019/2020
Mary Lesperance (Mathematics and Statistics)
2017/2018
Gregory Beaulieu (Biology)
2016/2017
Alexandre Brolo (Chemistry)
2015/2016
Patrick von Aderkas (Biology)
2014/2015
Eileen van der Flier-Keller (Earth and Ocean Sciences)
2013/2014
Dante Canil (Earth and Ocean Sciences)
2012/2013
Scott McIndoe (Chemistry)
2011/2012
George Spence (Earth and Ocean Sciences)
2010/2011
Laurence Coogan (Earth and Ocean Sciences) and Gary MacGillivray (Mathematics and Statistics)
2009/2010
Jill Simmons (Mathematics and Statistics) 
2008/2009
Penny Codding (Chemistry)
2007/2008
Alex van Netten (Physics and Astronomy) and Margaret Wyeth (Mathematics and Statistics)
2006/2007
Tom Fyles (Chemistry) and Barbara Currie (Biochemistry and Microbiology)
2005/2006
Stan Dosso (Earth and Ocean Sciences)
2004/2005
Edward Ishiguro (Biochemistry and Microbiology) and David Berg (Chemistry)
2003/2004
David J. Leeming (Mathematics and Statistics)
2002/2003
Richard Ring (Biology) and Michel Lefebvre (Physics and Astronomy)
2001/2002
Francis Choy (Biology)
2000/2001
Walter Balfour (Chemistry)
1999/2000
Ann C. Gower (Physics and Astronomy)
1998/1999
J. Thomas Buckley (Biochemistry and Microbiology)
1997/1998
Reginald H. Mitchell (Chemistry)
1996/1997
Gerald A. Poulton (Chemistry)
1995/1996
Bruce R. Johnson (Mathematics and Statistics)
1994/1995
Terry W. Pearson (Biochemistry and Microbiology)