Research Excellence
The Faculty of Science recognizes the quality and impact of our faculty members annually through the Award for Research Excellence.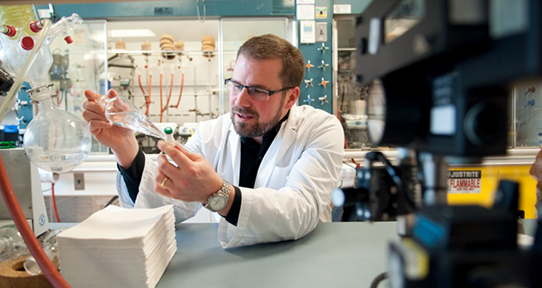 Jeremy Wulff
2019-2020 Recipient: Award for Research Excellence
Jeremy Wulff is a synthetic organic chemist, who was appointed as a Canada Research Chair at UVic in 2012. His research programs are high profile and world-renowned. In 2019, he published papers in Nature and Science. The latter article describes a mechanistic understanding of a cross-linking tool used in chemical biology to create a 'universal adhesive' that is making a huge and immediate impact in polymer and materials science. The media has dubbed the invention 'hyper glue' because it can bond together any polymer, and it is already being used to strengthen fabrics and to weld polyethylene. Various expert perspectives and news reports have highlighted how it will have 'applications in clothing, medical implants, corrosion-resistant plumbing and ballistic protection fabrics'.
Professor Wulff is unique in how he uses deep molecular mechanistic understanding to solve problems in remarkably diverse areas of science and technology, from cancer to influenza to neurogenesis to the environmental impact of anti-bacterials and insect hormones to materials science.
In 2014 he was recognized for his local contributions by a Vancouver Island Top-20-Under-40 Business and Community Achievement Award. His has acquired many, lucrative partnership grants that serve to get his discoveries out into the real world.
Jeremy has a very strong record of mentorship and training in research, particularly of undergraduate students through direct supervision in his research group. Worth special mention is his role as the sole creator of a new UVic Chemistry course that partners whole classes of undergraduate research students with a Danish Pharma company, which is a groundbreaking educational initiative that has earned widespread positive media and government attention.
Past Recipients: Award for Research Excellence
2018/2019
John Burke (Biochemistry & Microbiology)
2017/2018
Fraser Hof (Chemistry)
2016/2017
Colin Goldblatt (Earth and Ocean Sciences)
2015/2016
Julia Baum (Biology)
2014/2015
Boualem Khouider (Mathematics & Statistics)
2013/2014
Rogerio de Sousa (Physics & Astronomy)
2012/2013
Pavel Kovtun (Physics and Astronomy)
2011/2012
Marty Boulanger (Biochemistry and Microbiology)
2010/2011
Jody Klymak (School of Earth and Ocean Sciences/Physics and Astronomy)
2009/2010
Adam Monahan (School of Earth and Ocean Sciences) and Alexandre Brolo (Chemistry)
2008/2009
Sara Ellison (Physics and Astronomy)
2007/2008
Byoung-Chul Choi (Physics and Astronomy)
2006/2007
Alisdair Boraston (Biochemistry and Microbiology)
2005/2006
Robert Kowalewski (Physics and Astronomy)
2004/2005
Robin Hicks (Chemistry)
2003/2004
Arif Babul (Physics and Astronomy)
2002/2003
Julio Navarro (Physics and Astronomy)
2001/2002
Cornelia Bohne (Chemistry)
2000/2001
Brad Anholt (Biology)