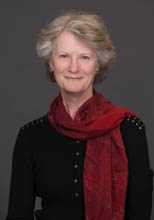 Position
Professor
Biology
Contact
Office: BWC A325
Areas of research focus
Deep-sea ecosystem structure and function
Marine community responses to environmental stress
Hydrothermal vent fauna and biogeographic patterns
Anthropogenic change in the deep sea
Verena Tunnicliffe is a marine biologist with a joint appointment in School of Earth and Ocean Sciences.  She holds a Canada Research Chair in Deep Ocean Research.
The Tunnicliffe Lab researches the nature and functions of deep-sea communities including BC fjords, seamounts, hot vents and subsea volcanoes making hundreds of dives with SCUBA and then,with manned and remotely operated submersibles. She works with interdisciplinary teams exploring hot vent systems around the Pacific Ocean and near British Columbia where her research helped establish Canada's first MPA, the Endeavour Hot Vents Marine Protected Area.
For a decade, she helped to make the "Ocean On-line" a reality as Director of the subsea observatory, VENUS, in British Columbia where a long-term program examines the impact of climate change on ocean communities.
Current research focuses on deep ocean conservation, including environmental management around deep-sea mining.
BIOL466: Frontiers in Marine Research
EOS525: Research Frontiers in Earth and Ocean Science
Gasbarro*, R, D Wan, V Tunnicliffe. 2018. Composition and functional diversity of macrofaunal assemblages on vertical walls of a deep northeast Pacific fjord. . Marine Ecology Progress Series, 597: 47-64.
Chu*, JWF, C Curkan* and V Tunnicliffe. 2018. Time scale dependent processes structure epibenthic communities in a seasonally hypoxic ocean basin. Royal Society Open Science, 5: 172284. http://dx.doi.org/10.1098/rsos.172284.
Chapman*, ASA, V Tunnicliffe, AE Bates. 2018. Both rare and common species make unique contributions to functional diversity in an ecosystem unaffected by human activities. Diversity and Distributions 24 (5) Editor's Choice. (doi.org/10.1111/ddi.12712).
Van Dover, CL, S Arnaud-Haond, M Gianni, S Helmreich, JA Huber, AL Jaeckel, A Metaxas, LH Pendleton, S Petersen, E Ramirez-Llodra, PE Steinberg, V Tunnicliffe, H Yamamoto. 2018. Scientific rationale and international obligations for protection of active hydrothermal vent ecosystems from deep-sea mining. Marine Policy 90: 20-28.
Goffredi, S, S Johnson, V Tunnicliffe, D Caress, D Clague, E Escobar, L Lundsten, J Paduan, G Rouse, DL Salcedo, LA Soto, R Spelz-Madero, R Zierenberg, R Vrijenhoek. 2017. Hydrothermal vent fields discovered in southern Gulf of California clarify role of habitat in augmenting regional diversity. Proc Royal Soc B. 284, 1859, 20170817.
Rossi*, GS and Tunnicliffe, V. 2017. Trade-offs in a high CO2 habitat on a subsea volcano: condition and reproductive features of a bathymodioline mussel. Marine Ecology Progress Series, 574, 49-64.
Baker, ET, JA Resing, RM Haymon, V Tunnicliffe, JW Lavelle, F Martinez, V Ferrini, SL Walker & K Nakamura. 2016. How many vent fields? New estimates of vent field populations on ocean ridges from precise mapping of hydrothermal discharge locations. Earth and Planetary Science Letters, 449, 186-196.
Tunnicliffe, V, M. Roux, M. Eléaume, D. Schornagel.  2016. The stalked crinoid fauna (Echinodermata) of the Molucca and Celebes Seas, Indonesia: taxonomic diversity and observations from remotely operated vehicle imagery. Marine Biodiversity, 46: 365–388
Breusing, C, SB Johnson, V Tunnicliffe and RC Vrijenhoek. 2015. Population structure and connectivity in Indo-Pacific deep-sea mussels of the Bathymodiolus septemdierum complex. Conservation Genetics DOI 10.1007/s10592-015-0750-0
Tunnicliffe, V., C. St. Germain and A. Hilario. 2014. Phenotypic plasticity and fitness in a tubeworm occupying a broad habitat range at hydrothermal vents. PLoS ONE 9(10): e110578. doi:10.1371/journal.pone.0110578
*Students