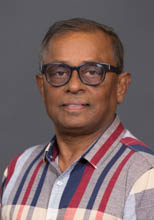 Position
Professor
Biology
Contact
Office: CUN 028a
Areas of research focus
Nutrient-Foodweb ecology of freshwater and marine ecosystems
Comparative ecology of temperate, subtropical and tropical ecosystems
Transport and pathways of nutrients and contaminants in aquatic foodwebs
Isotope biogeochemistry of aquatic foodwebs
Ecology and molecular microbiology of waterborne pathogens, waterborne disease & public health
My research activities cover multiple areas of aquatic sciences: nutrient-foodweb ecology of freshwater and marine ecosystems; land-use and climate impacts on loading of nutrients, contaminants and pathogens to freshwater ecosystems; genomics of fecal bacteria to track animal sources.
Nutrient-foodweb ecology research has been focusing on feeding ecology, growth and survival of juvenile pacific ecosystems in coastal marine ecosystems.
Land-use and climate impact research have been focusing on community watersheds of lakes, reservoirs and rivers on Vancouver Island and northern and interior of BC.
Bacterial source tracking using genomics of fecal bacteria in collaboration with several regional water districts on Vancouver Island, Gulf Islands, Kelowna, Kamloops and Vernon, and the results are being used in regional land-use planning for water safety.
BIOL 346: Freshwater Ecosystems
BIOL 446: Advanced Aquatic Ecology
Hurley, T. and A. Mazumder 2013. Spatial scale of land-use impacts on riverine drinking water source quality. Water Resources Research 49: 1591-1601.
El-Sabaawi, W., M. Trudel, and A. Mazumder. 2013. Zooplankton stable isotope as integrators of bottom-up variability in coastal margins: A case study from the Strait of Georgia and adjacent coastal waters. Progress in Oceanography 115: 76-89.
Chandran, A. and A. Mazumder 2013. Prevalence of diarrheagenic virulence genes and genetic diversity in Escherichia coli strains isolated from fecal materials of diverse animal hosts. Applied and Environmental Microbiology 79: 7371-7380.
Jacques St Laurent, and Asit Mazumder 2014. Influence of seasonal and inter-annual hydro-meteorological variability on surface water fecal coliform concentration under varying land-use composition. Water Research 48: 170-178.
Hertz, E., Trudel, M., Brodeur, R.D., Daly, E.A., Eisner, L., Farley Jr, E.V., Harding, J.A., MacFarlane, R. B., Mazumder, S., Moss, J.H., Murphy, J.M., Mazumder, A. 2015. Continental-scale variability in the feeding ecology of juvenile Chinook Salmon along the coastal Northeast Pacific Ocean. Marine Ecology Progress Series. 537: 247-263.
Saunders, L., A. Mazumder, C. Lowe. 2015. Pharmaceutical concentrations in municipal wastewater in Victoria, British Columbia: A comparison with prescription rates and predicted concentrations. Environmental Toxicology and Chemistry. 35: 919-929.
Hertz, E., Trudel, M., El-Sabaawi, R., Tucker, S., Dower, J.F. Beacham, T.D., Edwards, A.M., Mazumder, A. 2016. Hitting the moving target: modeling ontogenetic shifts with stable isotopes reveals the importance of isotopic turnover. Journal of Animal Ecology 85: 681-691.
Yang, Q. Luo, Y. Liang, and A. Mazumder 2016. Processes and pathways of ciguatoxin in aquatic foodwebs and fish poisoning of seafood consumers. Environmental Reviews 24:144-150.
Hertz, E., Trudel, M., Tucker, S., Beacham, T.D., Parken, C., Mackas, D., Mazumder, A. 2016. Influences of ocean conditions and feeding ecology on the survival of juvenile Chinook Salmon (Oncorhynchus tshawytscha). Fisheries Oceanography 25: 407-419.
Hertz, E., Trudel, M., El-Sabaawi, R., Tucker, S., Beacham, T.D., Mazumder, A. 2017. Overwinter shifts in the feeding ecology of juvenile Chinook salmon. ICES J. of Marine Science. 74: 226-233.