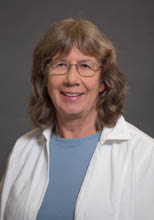 Position
Professor
Biology
Contact
Office: CUN 218b
Area of expertise
Ecology and Evolutionary Biology | Environmental Biology
Areas of research focus
Flowering plant diversity
Phylogeny and phylogeography of plants
Evolutionary processes, esp. the role of hybridization
Plant reproductive ecology and dioecy
Conservation genetics
I am interested in all aspects of plant evolution. With my students, I have worked on a variety of plant groups to investigate their phylogenetic and phylogeographic history, the origins of polyploids, the role of hybridization, and the demography and genetic structure of rare species. We have contributed to status reports and management plans for rare species, and I have written taxonomic treatments for regional and continent-wide floras.
Recent projects in my lab include the origins and migration history of widespread boreal and arctic plants, especially in relation to Pleistocene glacial history; the hybrid origins of rare species; and molecular tools for identifying an invasive wetland species. These projects have offered students a variety of opportunities to learn new field, lab, and analytical skills and to increase their knowledge of plant diversity.
Biology 355 – Evolution
Biology 449 – Flowering Plant Diversity
Biology 248 – Topics in Organismal Biology
Allen, G.A., McCormick, L.J., Jantzen, J., Marr, K.L., Brown, B.N. 2017. Distributional and morphological differences between native and invasive Common Reed (Phragmites australis) in western Canada. Wetlands, DOI 10.1007/s13157-017-0914-4.
Wang, Q., Liu, J.-Q., Allen, G. A., Ma, Y., Yue, W., Marr, K. L., Abbott, J. 2016. Arctic plant origins and early formation of circumarctic distributions: a case study of the Mountain Sorrel, Oxyria digyna. New Phytologist 209 (1): 343-353, doi:10.1111/nph.13568.
Allen, G. A., Marr, K. L., McCormick, L. J., Hebda, R. J. 2015. Geographic origins, migration patterns and refugia of Sibbaldia procumbens, an arctic-alpine plant with a fragmented range. Journal of Biogeography 42 (9): 1665-1676.
Gussarova, G., Allen, G. A., Mikhaylova, Y., McCormick, L. J., Mirré, V., Marr, K. L., Hebda, R. J., Brochmann, C. 2015. Vicariance, long-distance dispersal and regional extinction-recolonization dynamics explain the disjunct circumpolar distribution of the arctic-alpine Silene acaulis. American Journal of Botany 102 (10): 1703 – 1720.
Guest, H. J., Allen, G. A. 2014. Geographic origins of North American Rhodiola (Crassulaceae) and phylogeography of the western roseroot Rhodiola integrifolia. Journal of Biogeography 41 (6): 1070-1080.
Zhang, J.-Q., Meng, S.-Y., Allen, G. A., Wen, J. and Rao, G. Y. 2014. Rapid radiation and dispersal out of the Qinghai-Tibetan Plateau of an alpine plant lineage, Rhodiola (Crassulaceae). Molecular Phylogenetics and Evolution 77 (August): 147-158.