Craigdarroch neighbourhood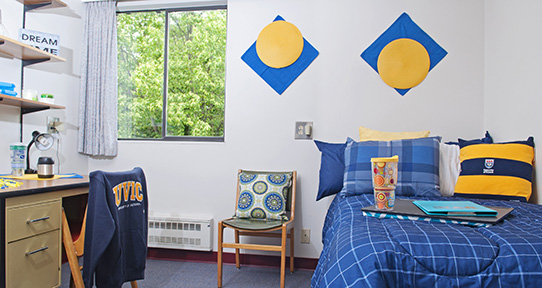 Our Craigdarroch neighbourhood consists of four buildings:
Emily Carr (EC)
Margaret Newton (MN)
David Thompson (DT)
Sir Arthur Currie (SAC)
Residences in the Craigdarroch neighbourhood feature double rooms and single rooms. These four buildings face into a shared courtyard and each is home to 80 to 90 students. In each building there are three common areas featuring cable television and lounge seating. Being in a larger building, you are sure to meet lots of people!
Emily Carr and Margaret Newton have community bathrooms on each floor.
Sir Arthur Currie and David Thompson have single user bathrooms on each floor. 
Single bedrooms are approximately 3.0m × 3.6m (11.1 m²) or 10' × 12 ' (120 sq ft). Double bedrooms are approximately 180 sq ft.