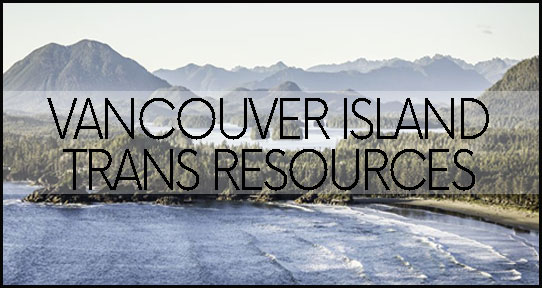 ---
The Chair in Transgender Studies is proud to host this resource and information site for trans and gender diverse people and their allies on Vancouver Island.  If you wish to add your business and/or service, or if you wish to update a current listing, please contact us.
DISCLAIMER: We have not vetted nor do we endorse any listed organizations/services. They are listed by their request. 
(last name alphabetical order) 
---
Greater Victoria Area
---
Trans Newcomers Resource Hub (MOSAIC)
This hub is an online community that provides information and support to newcomer transgender folks, including information and resources, peer and mentor support, and a platform to build a network of support.
---
2-Spirit, Trans and Non-Binary Family Swim
This is a private event open to anyone in the community who identifies as 2-Spirit, trans and/or non-binary as well as their friends and family (all ages welcome!). Regular drop-in rates apply, but if you cannot afford it, ask for the free Rainbow Pass
---
Ambit Gender Diversity Consulting
Ambit offers training and policy support on a variety of topics, including "Gender Diversity in the Workplace: Positive approaches to supporting trans, non-binary, and Two-Spirit colleagues and clients" and "The Major Problem of Microaggressions: Active Allyship in Challenging Moments." These offerings are open to all organizations who are committed to creating accessible and affirming work environments for diverse teams.
---
AIDS Vancouver Island
3rd Floor – Access Health Centre, 713 Johnson ST, Victoria, BC, V8W 1M8
800-665-2437
Aims to strengthen community, prevent infection, provide support, and combat stigma. Services include Positive Wellness Programs, Street Outreach, Health Promotion and Community Awareness, Men's Wellness Programs and Volunteer Programs.
---
AIDS VI Westshore
AVI Health Centre, #111-2787 Jacklin Road, Langford, BC, V9B 3X7
250-940-3605
Aims to strengthen community, prevent infection, provide support, and combat stigma. Services include Positive Wellness Programs, Street Outreach, Health Promotion and Community Awareness, Men's Wellness Programs and Volunteer Programs.
---
alt pride is an alternative pride organizing collective committed to an accessible, affordable, political, and all-ages alternative to mainstream pride on the stolen territories of the Lekwungen and W̱SÁNEĆ peoples.
---
Department of Women's Studies
University of Victoria, PO Box 1700 Stn CSC, Victoria, BC, V8W 2Y2, Canada
Antidote works with youth, families, schools, community groups, service providers, policy makers and researchers to promote the visibility and needs of racialized minority and Indigenous girls and women.
---
Camas Bookstore & InfoShop
2620 Quadra St., Victoria, BC, V8T 4E2
250-381-0585
A not-for-profit and collectively-run infoshop, bookstore and autonomous space located on Lekwungen Territory. Camas first opened its doors in September 2007, with the intention of providing a voice for anti-authoritarian and anti-colonial perspectives and local struggles
---
Camosun College Pride Centre
Richmond House 
103, 3100 Foul Bay Road, Victoria, BC, V8P 5J2
---
2125 Main Mall Suite 2621 Vancouver, BC, Canada, V6T 1Z4
877-678-CAMP
A social justice summer camp for queer, trans, Two-Spirit, questioning, and allied youth ages 14-21 from across BC or the Yukon.CampOUT! provides a supportive space for LGBTQ2S+ youth to celebrate and be celebrated for who they are.
---
Chair in Transgender Studies, University of Victoria
University of Victoria, PO Box 3050 STN CSC, Victoria, BC, V8W 3P5, Canada
250-721-7577
The world's only research and community-outreach Chair dedicated to the development and communication of research and building community support of trans, non-binary, and Two-Spirit people.
---
Creating Connections Discussion Group
Creating Connections is a common posting Facebook page for events (mainly queer) of interest to the IslandZ community.
---
Crush Collective
Crush is a night club in Victoria for the queer community and its allies.
---
250-384-2366 ext. 3113
Queer peers is open to all queer, trans, 2-Spirit, and non-binary youth ages 14-25 who wish to train to become peer educators and leaders in their community. The youth start with 8 weeks of training on topics such as HIV, sexual health, and harm reduction, and end their series with an 8-week project designed, organized, and implemented by themselves. In past years, Queer Peers youth have organized the creation of a zine, a night of art and performance, and a sexual health symposium! 
TransAction is a local collective of activists, advocating for the rights of, and striving to create community with and for Trans and Gender-Variant people in the Greater Victoria Area, Coast Salish Territories, through direct action, awareness raising activities and the ongoing project of creating safer spaces.
The Transgender Archives at the University of Victoria holds the world's largest collection of archival material related to trans, non-binary, and Two-Spirit activism and research. The records span over 160 meters or 530 linear feet (1.5 football fields long), go back over 120 years, and are in 15 languages from 23 countries on six continents.  The Archives are accessible to everyone, free of charge.
The Trans Tipping Project brings together trans, non-binary, and other gender-varient youth from accross the country. Through a series of 2 to 3 weekend retreats in Victoria BC, they work with experienced trans mentors to build skills and create something beautiful. In the past they have written an anthology, put on an art exhibition, put on a youth cabaret, and continue to create a strong, loving community.
205-1120 Yates Street, Victoria, BC, V8V 3M9
Tel: 250-382-7927 TF: 1-877-382-7929 Fax: 250-382-3232
VPWAS is the only peer run HIV/AIDS organization on Vancouver Island and provides practical and therapeutic support services (Peer Navigation, peer support, treatment information, education, complementary health services and advocacy) to persons living with HIV/AIDS and/or HepC.
Resource website for Victoria and Vancouver Island
The Victoria Pink Pages is a way for LGBTQ communities in Victoria to connect with organizations that are openly safe and welcoming, find products and services that meet our communities' needs and interests, support businesses and community organization that are owned or run by LGBTQ folks.
Mid Island 
Salt Spring Island
A transgender speaker, educator and advocate.
---
North Island 
---
Greater Victoria Area
Katherine Sebastiano is a wig consultant and specialized retailer located on Vancouver Island. The Katherine Collection provides local consultations along with Canada wide access to a comprehensive selection of reputable brand-named wigs.
250-816-6194
kellymckee@kellymckeecounselling.com
Kelly McKee works with trans and gender queer teens (14-18) and adults who are navigating issues related to gender identity. Kelly also offers support for social transitioning and hormone readiness assessments. Sessions are available through Telehealth video calls.
---
Vanessa A. Bailey. Registered nurse and registered clinical counsellor. LGBQT+ inclusive, offers hormone readiness assessment.
Queer-identified psychotherapist specializing in the needs of LGBTQ2S+ folks and their loved ones, Free 30 minute consultations. 
Elizabeth is a Registered Clinical Counsellor who works with teens and adults exploring issues of gender and sexuality, and provides a safe and welcoming space for trans people to work with other issues, including depression, anxiety, trauma, relationships, and the stresses of life.
Ocean Lum (Bsc, MA), is a Registered Clinical Counsellor, a Yoga therapist, Yoga teacher and a mindfulness instructor. She conducts hormone assessments.
1600 Bay Street, suite 201
250-816-4716
Reg. Clinical Counsellor, performs hormone readiness assessments. Queer friendly therapist with offices in Nanaimo and Victoria. Services include relationship counselling, hormone readiness assessment, sextherapy, trauma. Trained in EMDR.
250-380-9924
Psychotherapist. Centre for Counselling & Therapy and Victoria Women's Counselling. Performs hormone readiness assessments.
250-889-4930
"I offer support, information and counselling for folks who are exploring their gender identity and who want support with any of the following: social transitioning; hormone readiness assessments/support; and/or considerations pertaining to medical transitioning. I also offer support and counselling for partners of trans folks and for parents of trans and gender creative children."
I am a counsellor with extensive experience working with trans and queer clients, as well as their partners and family members.I specialize in working with trauma, including developmental trauma and critical incident trauma, as well as issues related to identity, relationships, gender, sexuality, and spirituality. I am located in downtown Victoria and am able to offer a limited number of sessions on a sliding scale. Phone and video sessions are available as well.
Third floor, 818 Douglas Street, Victoria
250-383-3552
The Victoria Youth Clinic is a Not-for-Profit, Registered Charity that provides CONFIDENTIAL Primary Health Care Clinic for all youth aged 12 to 24 years.
---
Mid Island
---
Please submit Mid Island Health & Wellness providers
---
North Island
Tall Tree Counselling and Consulting Services
4711 Elizabeth St., Port Alberni, BC
250-735-8822
LGBTQ+ friendly counselling and consulting in Port Alberni.
Genderqueer relational somatic therapist, expressive arts therapist and counsellor for adults and youth (15+) on the territory of the Ligwilda'xw people, Wei Wai Kum Nation (Campbell River, BC). Offering in person, online, and phone sessions. Providing gender affirming training and consultation for service providers.
491 A 4th Street, Courtenay, BC, V9N 1G9
Kazimea offers individual couples and family counselling at the Resonance Arts office in downtown Courtenay. 
Suite #9, 1787 Comox Avenue, Comox, BC
250-792-2501
As a Registered Clinical Counsellor I have assisted families in their desire to support transgender relatives generally, and to transition into systems (ie – schools) specifically. 
---
Rebekah Hutchison, Liquid Capital West Coast Financing Corp.
Transfriendly corporation providing working capital solutions for small and medium sized businesses as well as middle market companies.
---