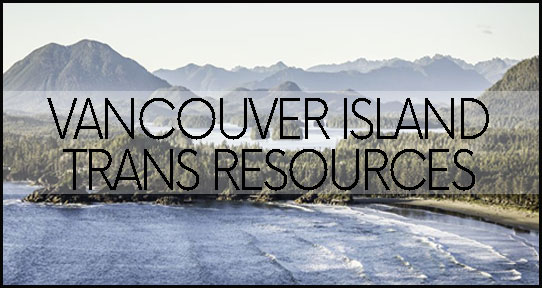 ---
The Chair in Transgender Studies is proud to host this resource and information site for trans and gender diverse people and their allies on Vancouver Island.  If you wish to add your business and/or service, or if you wish to update a current listing, please contact us.
DISCLAIMER: We have not vetted nor do we endorse any listed organizations/services. They are listed by their request. 
---
Greater Victoria Area
Department of Women's Studies
University of Victoria, PO Box 1700 Stn CSC, Victoria, BC, V8W 2Y2, Canada
Antidote works with youth, families, schools, community groups, service providers, policy makers and researchers to promote the visibility and needs of racialized minority and Indigenous girls and women.
University of Victoria, PO Box 3050 STN CSC, Victoria, BC, V8W 3P5, Canada
250-721-7577
The world's only research and community-outreach Chair dedicated to the development and communication of research and building community support of trans, non-binary, and Two-Spirit people.
---
250-384-2366 ext. 3113
Queer peers is open to all queer, trans, 2-Spirit, and non-binary youth ages 14-25 who wish to train to become peer educators and leaders in their community. The youth start with 8 weeks of training on topics such as HIV, sexual health, and harm reduction, and end their series with an 8-week project designed, organized, and implemented by themselves. In past years, Queer Peers youth have organized the creation of a zine, a night of art and performance, and a sexual health symposium! 
TransAction is a local collective of activists, advocating for the rights of, and striving to create community with and for Trans and Gender-Variant people in the Greater Victoria Area, Coast Salish Territories, through direct action, awareness raising activities and the ongoing project of creating safer spaces.
The Transgender Archives at the University of Victoria holds the world's largest collection of archival material related to trans, non-binary, and Two-Spirit activism and research. The records span over 160 meters or 530 linear feet (1.5 football fields long), go back over 120 years, and are in 15 languages from 23 countries on six continents.  The Archives are accessible to everyone, free of charge.
We host weekend writing retreats for young trans folk with workshops by trans superstars!
110-1139 Yates Street, Victoria, BC, V8V 3N2
887-382-7927
VPWAS is the only peer run HIV/AIDS organization on Vancouver Island and provides practical and therapeutic support services (Peer Navigation, peer support, treatment information, education, complementary health services and advocacy) to persons living with HIV/AIDS and/or HepC.
Resource website for Victoria and Vancouver Island
The Victoria Pink Pages is a way for LGBTQ communities in Victoria to connect with organizations that are openly safe and welcoming, find products and services that meet our communities' needs and interests, support businesses and community organization that are owned or run by LGBTQ folks.
Mid Island 
Cowichan Valley
A transgender speaker, educator and advocate located in the Cowichan Valley
---
North Island 
(last name alphabetical order) 
---
Greater Victoria Area
---
Bailey Counselling Therapy
221-560 Johnson Street, Victoria, BC
Vanessa A. Bailey. Registered nurse and registered clinical counsellor. LGBQT+ inclusive, offers hormone readiness assessment.
---
Danelle Barnard, BSW, MA, MScA, RCC
1505 Fell Street #2, Victoria, BC, V8R 4V9
Queer-identified psychotherapist specializing in the needs of LGBTQ2S+ folks and their loved ones, Free 30 minute consultations. 
---
Elizabeth is a Registered Clinical Counsellor who works with teens and adults exploring issues of gender and sexuality, and provides a safe and welcoming space for trans people to work with other issues, including depression, anxiety, trauma, relationships, and the stresses of life.
Ocean Lum (Bsc, MA), is a Registered Clinical Counsellor, a Yoga therapist, Yoga teacher and a mindfulness instructor. She conducts hormone assessments.
250-217-5963
Registered Clinical Social Worker. Performs hormone readiness assessments.
Moss Street Healthcare, 143 Moss Street, Victoria, BC, V8V 4M2
250-816-4716
Reg. Clinical Counsellor, performs hormone readiness assessments. Queer friendly therapist with offices in Nanaimo and Victoria. Services include relationship counselling, hormone readiness assessment, sextherapy, trauma. Trained in EMDR.
250-380-9924
Psychotherapist. Centre for Counselling & Therapy and Victoria Women's Counselling. Performs hormone readiness assessments.
250-889-4930
"I offer support, information and counselling for folks who are exploring their gender identity and who want support with any of the following: social transitioning; hormone readiness assessments/support; and/or considerations pertaining to medical transitioning. I also offer support and counselling for partners of trans folks and for parents of trans and gender creative children."
I am a counsellor with extensive experience working with trans and queer clients, as well as their partners and family members.I specialize in working with trauma, including developmental trauma and critical incident trauma, as well as issues related to identity, relationships, gender, sexuality, and spirituality. I am located in downtown Victoria and am able to offer a limited number of sessions on a sliding scale.
Third floor, 818 Douglas Street, Victoria
250-383-3552
The Victoria Youth Clinic is a Not-for-Profit, Registered Charity that provides CONFIDENTIAL Primary Health Care Clinic for all youth aged 12 to 24 years.
---
Mid Island
---
Please submit Mid Island Health & Wellness providers
---
North Island
---
---
James Cowan R.C.C.
Tall Tree Counselling and Consulting Services
4711 Elizabeth St., Port Alberni, BC
250-735-8822
LGBTQ+ friendly counselling and consulting in Port Alberni.
---
Providing counselling and expressive arts therapy for adults, youth (12+) and caregivers on Ligwilda'xw territory, Wei Wai Kum Nation (Campbell River). Also providing gender affirming care training and consultation for service providers.
---
Kazimea Sokil, M.A., R.C.C
Resonance Arts Counselling and Creative Arts Therapy
491 A 4th Street, Courtenay, BC, V9N 1G9
Kazimea offers individual couples and family counselling at the Resonance Arts office in downtown Courtenay. 
---
SpiritFirstCounseling at Comox
245 Denman Street, Comox, BC, V9M 3B5
250-792-2501
As a Registered Clinical Counsellor I have assisted families in their desire to support transgender relatives generally, and to transition into systems (ie – schools) specifically. 
---
---
Rebekah Hutchison, Liquid Capital West Coast Financing Corp.
Transfriendly corporation providing working capital solutions for small and medium sized businesses as well as middle market companies.
---