About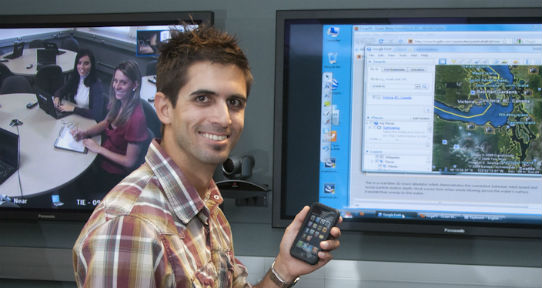 Purpose of the Lab
The Technology Integration and Evaluation (TIE) Lab is a Canadian Foundation for Innovation funded research laboratory that unites the research interests of co‐Principal Investigators, Dr. Valerie Irvine and Dr. Allyson Hadwin of the Faculty of Education at the University of Victoria.
The purpose of the TIE lab is to strengthen research excellence regarding the appropriate use of networked and computer‐mediated technologies for enhanced communication, learning, and motivation across educational, professional, and health sectors.
The TIE lab provides state‐of‐the‐art infrastructure for systematically researching optimal e‐learning conditions, tools, processes and products. TIE Lab infrastructure will be used for research purposes only. Research conducted through the TIE Lab will help to maintain Canada's ranking as a leader in the field of innovation and technology.
Importance of TIE Lab Research Activities
The TIE lab infrastructure supports contemporary calls for rigorous research in the area of e‐learning as well as priorities set by the federal and provincial governments and the University of Victoria.The Government of British Columbia Premier's Technology Council aims to make B.C. a leader in all areas of e‐learning and recommends that the Government:
Continue research on e‐learning in post‐secondary education
Work with other provinces to research and evaluate e‐learning strategies in post‐secondary settings.
The researchers' programs of research and the scope for this project cover three themes identified as priorities by the University of Victoria (UVic):
Cognition and Learning
Health and Society
Information Technologies.
Furthermore, UVic has identified research on computer assisted learning, information and communication technology (ICT) as foci for research and development. There are over 50 researchers at the University, with whom linkages have been made, including those from Health Information Science and Computer Science.