Flourishing Children & Youth Program Fair
CFYS 20th Anniversary Edition — May 19th, 2022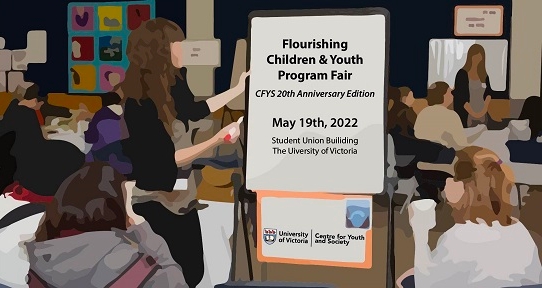 Organized in collaboration between the Centre for Youth & Society and the CRD Community Health Network, the program fair will showcase the community- and school-based programs and initiatives created to support children and youth. The event will bring together researchers, practitioners, educators, counsellors, community leaders, and students for a day filled with panels, booth presentations, and more. The fair will conclude with a forum discussion on how to support programs and initiatives in the community and in schools.
This program fair will also be the opportunity to celebrate the 20th anniversary of the establishment of the Centre as a UVic research centre. Programs created at the Centre will be presented during the fair.
CFYS Program Fair

May 19th from 9:00 am - 4:30 pm
Michèle Pujol Room
Student Union Building
University of Victoria

Tentative schedule

9:00 am: Welcome
9:30 am: Panel #1
10:30 am: Program fair #1
12:00 pm: Lunch buffet
1:00 pm: Panel #2
2:00 pm: Program fair #2
3:30 pm: Forum discussion 
4:30 pm: Conclusion
If you are interested in attending or presenting a program, please contact cfysassistant@uvic.ca.