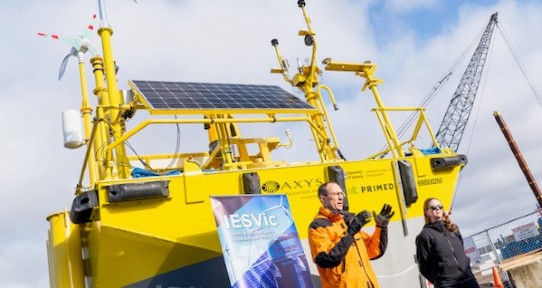 IESVic-CESAP

The IESVic Clean Energy Systems Accelerator Program, or IESVIC-CESAP, provides technical advice and services to small and medium sized Canadian companies, and assist in the development of technologies, processes, and services related to clean energy systems. Potential research areas include: wave energy system development, water treatment, building energy optimization, risk and resilience analysis, battery system characterization, wind and tidal energy technology, E-bike development, industrial energy efficiency, energy efficient thermal systems, thermal optimization and design.

For more information contact iesvic.info@uvic.ca.
photo credit: Desmond1234 (cropped)

It is the mission of the Pacific Regional Institute for Marine Energy Discovery (PRIMED) to accelerate the development and adoption of marine renewable energy technologies, including wind, wave, and tidal solutions. This is achieved by working with both communities and the private sector in order to identify the resources, assess the technology, and weigh the economics.
PRIMED's aim is to act as the connective tissue between BC's remote communities and marine renewable energy project developers. PRIMED provides second party assessment of MRE devices and we can help communities identify candidate technologies for their projects.

PRIMED is supported with funding from Pacific Economic Development Canada.

The Building and Energy Simulation Optimization and Surrogate-modelling (BESOS) platform is a cloud-based portal that makes modular, reusable software components for integrated energy systems analysis available to researchers. Buildings, renewable energy generation and storage technologies and associated energy systems all pose complex operational challenges. Finding high-performing solutions to these problems requires a new generation of computational tools, blending aspects of simulation, optimization, machine learning and visualization.

The Sustainable Energy Systems Integration & Transitions (SESIT) group's research is based on the understanding that innovative modelling techniques, combined with stakeholder engagement, can help guide our decision-making during the sustainable energy system transition. SESIT considers how energy systems integration- coordinating energy systems operation and planning across multiple pathways and scales - can unlock flexibility, and seeks to identify the most promising climate mitigation solutions.

This collaboration of atmospheric scientists and engineers seeks to improve modelling capacity of environmental and energy systems in Northern Canada, with a particular focus on coastal communities. FRENCA explores the range of possible renewable energy futures in the region, examining the relationship of wind and solar power in a coastal community with larger-scale weather variations.

In partnership with Dr. Simon Parkinson at the  International Institute for Applied Systems Analysis (IIASA, www.iiasa.ac.at), IESVic offers a research and scholarship program on the integrated assessment of the the water-energy-land nexus. This is a valuable opportunity for graduate students to contribute to applied scientific projects at IIASA. The training provides a foundation of technical research skills complemented with experience in an applied research environment. It aims to develop new state-of-the-art tools with high potential for future applications.

The 2060 project plays a key role in examining potential impacts of integration on large-scale energy systems in Canada under various carbon policies and global growth scenarios. The project produces knowledge that can be used effectively by policymakers, academics, industry and others to shape programs to reduce greenhouse gas emissions.

The West Coast Wave Initiative (WCWI) is a multi-disciplinary group of academics and industry members committed to quantitatively determining the feasibility, impacts and possible structure of wave energy conversion on the west coast of Canada. The group is developing industry leading wave energy resource assessment methods, numerical simulation tools for Wave Energy Converters (WEC) and numerical grid integration toolboxes to create the most accurate possible assessment of the feasibility of wave energy conversion in British Columbia.