Executive
Contact

Dr. Curran Crawford

Director

Dr. Curran Crawford is a Professor in Mechanical Engineering and current director of the Institute for Integrated Energy Systems (IESVic) working to strengthen the broad energy systems focus of IESVic across disciplinary boundaries and with external partners of all types. He also co-directs the Pacific Regional Institute for Marine Energy Discovery (PRIMED) with Dr. Buckham, focusing on assisting community energy planning and demonstration projects to integrate marine renewables into remote Indigenous community micro-grids to displace diesel. His research group, the Sustainable Systems Design Lab (SSDL), is focused on energy system technology modeling, optimization and control. The group has a particular focus on multi-disciplinary/fidelity optimization techniques, uncertainty quantification and machine learning applied to energy systems optimization and digital twinning. These tools are used in projects together with a range of industrial, local/provincial/federal government and academic partners to innovate in the area of renewable energy systems. Particular technology foci include wind energy variants including offshore and airborne, tidal generation, e-transportation, battery degradation, and demand response, with recent efforts directed at carbon capture storage and utilization (CCS/CCUS) and E-fuels production utilizing stranded offshore wind.

Office: EOW 539
250-721-7960
iesvic.director@uvic.ca 

Madeleine McPherson

Associate Director

Dr. Madeleine McPherson is an Assistant Professor in the department of Civil Engineering at the University of Victoria and the principal investigator of the Sustainable Energy Systems Integration & Transitions (SESIT) Group. McPherson and her team are developing a platform to explore electrification and energy systems integration to co-create decarbonization pathways. Dr. McPherson serves as an Executive Member on the Energy Modelling Initiative, which is convening a national dialog between modelers and stakeholders around decarbonizing Canada's energy system.

Office: EOW 343
250-472-5083


Jeremy Riishede

Administrative Coordinator

Jeremy joined the IESVic team in June of 2019.  He worked in a variety of positions at UVic over the previous 13 years, including several research centres. Most recently he was the Program Coordinator for NTCO CREATE, a national student training program based in UVic Physics and Astronomy. 
Jeremy manages the daily operations and finances of the Institute, and contributes to the strategic direction and implementation of its programs and projects.

Office: EOW 108
250-721-6295
iesvic.admin@uvic.ca

Pauline Shepherd

Administrative Assistant

Pauline joined IESVic in 2014 after working for several years at the Pacific Institute for Climate Solutions as a research assistant on the Climates 101 short course. Prior to working for PICS, Pauline lived for 20 years in the UK, working in graphic design as an account manager in both Bristol and London. From 1997 until her return to Canada in 2009 she spent her time as a full-time mum. Before moving to the UK, Pauline graduated from UVic with a double major in History and Sociology.

Office: EOW 108
250-721-8931
iesvic.sec@uvic.ca

Jack Pawlyna

Administrative Assistant

Jack joined IESVic as an Administrative Assistant in 2022. They completed their Bachelors in Professional Communications at MacEwan University. Jack worked for The Office of the Dean of Arts and Science and the Students' Association of MacEwan University. Before this, they received their Diploma in Broadcasting from NAIT. Jack speaks basic French and elementary Michif.

Office: EOW 108
250-721-5589
iesvic.assist@uvic.ca

Jacob Monroe

Research Analyst

Jacob completed his B.Sc. in Environmental Engineering and Ph.D. in Civil Engineering at North Carolina State University in the United States in 2016 and 2020, respectively. His Ph.D. dissertation was on simulating evolution of low-voltage electric grids with distributed energy technology adoption using agent-based modeling techniques. His dissertation was funded by the United States National Science Foundation through the Graduate Research Fellowship Program.

Jacob's research applies sociotechnical modeling techniques to simulate water and energy networks as complex adaptive systems. His work has developed an array of agent-based modeling frameworks to analyze critical infrastructure protection, ecotourism, solar PV technology diffusion, decentralized water systems, and peer-to-peer energy markets. He is currently a Research Analyst at the Institute and performs energy system modeling and optimization research to analyze electrification and decarbonization pathways for the Canadian economy.

Office: EOW 113
jgmonroe@uvic.ca

Tim Crownshaw

Research Coordinator

Tim joined IESVic in January 2022. He completed his PhD at McGill University in 2021, focussing on stochastic dynamic modelling of energy transition pathways under uncertainty. Prior to this he worked in electricity system operations in New Zealand. Tim has collaborated in a variety of research projects related to renewable energy and emerging technologies, including identifying distributed generation hosting capacity in low-voltage distribution networks and the integration of rising intermittent generation into power system operations. Tim holds a Master of Energy degree and a Graduate Diploma in Engineering from the University of Auckland, and a Bachelor of Science in physics and mathematics from the University of Otago. His primary research interests involve non-renewable energy dependency in industrial societies, quantitative modelling approaches including system dynamics and stochastic optimization, Post-Normal Science, Energy Return on Investment (EROI), exergy economics, degrowth theory, and societal metabolism.

Tim has published several peer-reviewed articles on topics including the potential political ramifications of declining energy supplies, reconsidering possible futures given the limits to economic growth, and the potential for global environment-economy decoupling via a shift towards knowledge-based economies.

Office: EOW 115
tcrownshaw@uvic.ca

Jay Sui

Research Fellow and Coordinator

Dr. Jay Pang-Chieh Sui's work experience includes Professor at Wuhan University of Technology, China (2016-present), Director Deputy of the Institute for Electrochemical Energy Materials and Devices of the Tsinghua-Sichuan Energy Internet Research Institute, China (2018-2022), Senior Researcher and Tech Lab Manager at the IESVic (2003-2015), and Research Scientist at the National Advanced Driving Simulator, USA (1997-2003). He is a recipient of the Hanse-Wissenschaftskolleg Fellowship of Germany and two provincial talent plans from China.

Dr. Sui's areas of expertise include modeling and simulation of the transport phenomena of electrochemical energy conversion, such as fuel cells, electrolysis, electrodialysis, and flow batteries; mesoscopic modeling and characterization of porous electrodes; hydrometallurgical recycling of lithium-ion battery materials.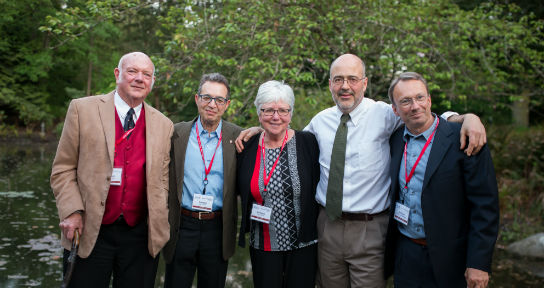 Executive Emeritus

Andrew Rowe

Executive Director, 2017-2021
Andrew Rowe completed his undergraduate work in mechanical engineering at Royal Military College in 1992 and went on to serve in the Canadian Navy as a Marine Systems Engineering Officer. He has a MASc in fuel cell modeling and a PhD in magnetic cycles. He joined the Department of Mechanical Engineering at the University of Victoria in 2002 where he teaches and performs research in the areas of energy conversion, thermal design, and energy systems. Dr. Rowe is an editor for Cryogenics, a member of the advisory board for the International Conference on Magnetic Refrigeration, a registered Professional Engineer in the province of British Columbia, and a member of ASHRAE. In 2017, he became IESVic's Executive Director.

Office: EOW 515
250-721-8920

Susan Walton

Administrator, 1992-2019
Susan joined IESVic in 1992 after a year with the Agency for Hydrogen Systems, a BC government initiative promoting hydrogen research. She was responsible for IESVic's day-to-day operations, from managing the budgets to ensuring the office ran smoothly. Susan thoroughly enjoyed her job, especially interacting with students and keeping in touch with alumni. In her spare time she enjoys walking, playing the piano, gardening and spending time with her husband and two Westies at their Nelson Island cabin. She retired from IESVic in 2019. 

Even in retirement, Sue continues to contribute to IESVic through the Sue Walton IESVic Student Enrichment Fund, which is used to support student learning and networking opportunities. For more information or to donate, contact the Development Office. 

swalton56@gmail.com 

Dr. Peter Wild

Executive Director, 2012-2016
Acting Director, 2004-2005



Dr. Lawrence Pitt

Associate Director, 2002-2008

 

Dr. Ged McLean

Director of Strategic Plannning, 2016-2017
Director, 2000-2002

Dr. Ned Djilali

Director, 2002-2007
Acting Director, 1999-2000 & January - June 2022

Dr. Bez Tabarrok

Interim Director, 1997-1999

Dr. David Scott

Founder and Director, 1988-2001 

David earned his B.Sc. and M.Sc. from Queen's University and his doctorate in mechanical engineering and astronautical sciences from Northwestern University in Chicago. He is Vice-President emeritus of the International Association for Hydrogen Energy. 

David taught at the University of Toronto for 22 years, served as chair of Mechanical Engineering and founded the University's Institute for Hydrogen Systems. He chaired the Canadian Advisory Group on Hydrogen Opportunities that produced the seminal report, Hydrogen: National Mission for Canada. After moving to the University of Victoria in 1989, David founded the Institute for Integrated Energy Systems.  

For his work in energy systems and hydrogen, many honours have been bestowed on David, among them the internationally prestigious Jules Verne Award, for "outstanding contributions to hydrogen physics, hydrogen energy, sociology and philosophy."