Global Talks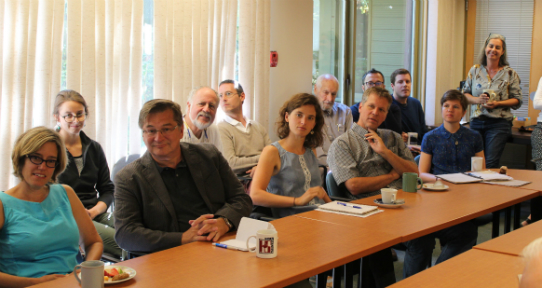 One of the central objectives of the Centre for Global Studies is the creation of a community of scholars and of scholarship. "Global Talks" are weekly discussions/presentations set aside where we are able to listen to presentations from researchers within CFGS, the university more broadly, and also invited guest speakers. Essentially, this is our dedicated time that we can get together to learn from each other and the broader scholarly community in a shared space.  
These take place weekly on Wednesdays from 10:30-noon. Usually we have presenters speak for 45 minutes and then have a round table discussion for the remaining time.
---
Adapting Global Talk during COVID-19
As a research centre, we want to continue providing an enriching environment where our members can share ideas and insights while fostering a sense of community. As such, we have resumed our Global Talks using an online format and we have made many of our old event recordings publically available.
While we do not currently have the technological ability to make all these talks public, we will be making the recordings available to watch here. 
THIS WEEK!
Geoengineering: Scenarios of potential geopolitical threats and governance responses with Edward A. (Ted) Parson
WHEN: May 20th, 2020
TIME: 10.30am - Noon PDT (please note the time zone)
DETAILS: The potential of engineered responses to actively manipulate the global environment and partly offset risks from elevated greenhouse gases has been a disruptive force on the margins of climate-change policy debates for a decade, which has grown more salient due to continued delays in enacting serious emissions controls and the current pandemic.  A recent scenario exercise examined several possible forms of future geopolitical challenge from various actors' pursuit of geoengineering deployment, and implications for near-term initiatives to develop international governance capacity.

Edward A. (Ted) Parson is a CFGS Associate Fellow. He is Dan and Rae Emmett Professor of Environmental Law and Faculty Co-Director of the Emmett Institute on Climate Change and the Environment at the University of California, Los Angeles. Parson studies international environmental law and policy, the societal impacts and governance of disruptive technologies including geoengineering and artificial intelligence, and the political economy of regulation. Parson co-directs the AI Pulse program at UCLA Law, and organized the 2019 Summer Institute on AI and Society.

Parson has led and served on multiple advisory committees, for the National Academy of Sciences, the U.S. Global Change Research Program, and other national and international bodies.

Click here for full bio
Watch Edward A. (Ted) Parson's presentation here!
-------
PAST WEEKS
"Intergenerational Collaboration and Interspecies Coexistence:  Youth climate activism amid the COVID crisis" with Katia and Kelly Bannister
WHEN: May 13th, 2020
TIME: Noon-1:30 PDT (please note the time change)
COVID-19 has put an end to the organizing of youth climate activists in the streets, but youth are continuing to fight for climate justice. Since social isolation requirements were put in place, youth have been climate striking digitally every week on Fridays. Despite the COVID crisis, the climate remains in peril so continuing to draw attention to the climate crisis is crucial. And the root cause of the current pandemic is more climate-related than one might think. But the dramatic response to the COVID-19 pandemic is in stark contrast to the lack of effective action on climate change, despite a number of similarities between the two threats. The visceral and immediate feelings that COVID-19 can trigger in the general public are not that different from the ones many youth activists feel about climate change–and a future earth that is inhospitable to humans within their lifetime. The time for climate action remains now and intergenerational collaboration is key.
Watch Katia and Kelly Bannister's presentation here!
-------
"Israel's Borders - As Yet Unfinished Business" with David Newman

WHEN: May 6th, 2020
TIME: 10.30am - Noon PDT (please note the time zone)
Borders between Israel and her neighbours remain fragile, at the best, and undemarcated at the worst. Out of Israels' five borders, only two (with Egypt and Jordan) have de jure international status, two (with Lebanon and Syria) remain to be finally agreed and demarcated, while a potential fifth border (with a future Palestinian State) remains undetermined as to whether it will eventually emerge.The traditional mantra of returning to the 1967 Green Line has largely been obliterated by Israeli de facto annexation and mass settlement activity (now numbering 500,000 settlers ). The recent Trump Peace Deal (the so called deal of the century) has attempted to change the ground rules for border demarcation by accepting Israel's right to formally annex most of the settlements, enable land / territorial exchanges between the two sides, but still leaving any future Palestinian State with far less  territory than that of the  West Bank.
This presentation examines the changing dynamics of Israel's borders, with a particular focus on Israel, the West bank and a future Palestinian State

Watch David Newman's presentation here!

View the downloadable presentation here!
-------
"Solidarity in the Time of Corona: Why Cuban Medical Internationalism Matters for 21st Century Global Health" with Robert Huish
WHEN: April 29th, 2020
TIME: 10.30am - Noon PDT (please note the time zone)
On April 29th, CFGS Visiting Fellow Robert Huish spoke about Cuba's medical internationalism, which is of exponential importance especially in times of corona. 

In Cuba, it has been normal practice for decades to send health workers to various countries around the world to assist in emergencies. The well-being of the population is seen as the most important task of the state. Dr. Huish emphasized that benefits are generated there through cooperation and solidarity, and that it is therefore of enormous advantage to take Cuba as an example and model to follow and understand our options in uncertain times.

Watch Robert Huish's presentation here! 
-------
"Emancipation Through the Participation of Civil Society in Contemporary Peace Building: A Case Study of Peacebuilding Efforts in Colombia"with David Romero Espitia 
WHEN: April 22th, 2020
TIME: 10.30am - Noon PDT (please note the time zone)
On April 22nd, CFGS Graduate Student David Romero Espitia presented his Global Talk all the way from Columbia! 

In his talk "Emancipation Through the Participation of Civil Society in Contemporary Peacebuilding: A Case Study of Peacebuilding Efforts in Colombia", David argued that a new peacebuilding framework, one that reconsiders the terms of engagement between international, national and local actors is needed in order to foster effective peacebuilding efforts in contested transitional states. To support his argument, David used Columbia as a case study where he says a liberal "minimalist" peacebuilding effort is underway and the international community is contributing to the space for emancipation and the participation of civil society.  
Watch David Romero Espitia's presentation here! 
-------
"COVID-19 and Borders: North American Borders, Trust, and the Coronavirus" with Emmanuel Brunet-Jailly and Elisabeth Vallet 
WHEN: April 15th, 2020
TIME: 10.30am - Noon PDT (please note the time zone)
On April 15th, Dr. Emmanuel Brunet-Jailly and Dr. Elisabeth Vallet offered a special joint presentation on the effects of COVID-19 on borders and boundary lines.
Dr. Brunet-Jailly began by exploring the various policy options that have been implemented around the world and discussed why international boundary lines are not the best place to implement health policies to control the spread of COVID-19. Then, Dr. Vallet continued the discussion on how, globally, states have reacted to COVID-19 by closing borders, and how public policies have been urgently defined at boy local and national levels. Arguing that the outcomes of the global health crisis rests on the notion of trust (or lack of trust) at the heart of the relationships not only between those who govern and those who are governed but also between states. 
Watch Emmanuel Brunet-Jailly and Elisabeth Vallet's presentation here. 
-------
"Knowledge, Democracy and Action: Progress and Challenges in the Work of the UNESCO Chair in Community-Based Research and Social Responsibility in Higher Education" with Budd Hall
WHEN: April 8th, 2020
TIME: 10.30am - Noon PDT (please note the time zone)
Budd Hall and Rajesh Tandon, a UVic Honorary Doctorate recipient, and founding President of Participatory Research in Asia have worked together on matters of research and social justice for 40 years.  In 2012, they were invited by UNESCO to apply for a Chair on the topic of Community-Based Research and Social Responsibility.  Their mandate is to build research capacity in the global South and the excluded North in the field of community-based participatory research. Their work has involved several major global studies, extensive policy and advocacy work and since December of 2017, the creation of the Knowledge for Change Global Consortium on Training for Community Based Participatory Research.  
 
Budd's presentation will briefly cover the mandate of the Chair, major activities to date and will explore a number of the challenges which currently engage both Budd and Rajesh Tandon.


Watch Budd Hall's presentation here! 
-------
"Stock Market Swings & the Economic Outlook in the Era of COVID-19" with Michael R. King and Chris Lawless
WHEN: April 1st, 2020
TIME: 10.30am - Noon PDT (please note the time zone)
Concerned about the wild gyrations in global stock markets over the past three weeks? Wondering what the impact of COVID-19 will be on the economy? Or curious about the impact of government policy measures and how investors may be addressing these challenges? Prof. Michael R. King and Chris Lawless, Executive-in-Residence and former Chief Economist at BCI, discuss historical precedents that provide insights for today's events. 
The first portion of the presentation reviewed the timeline of events and market reactions to date, while the second portion focused attention on the economic outlook and implications.
Watch part I of here and part II here. 
-------