Seminars and events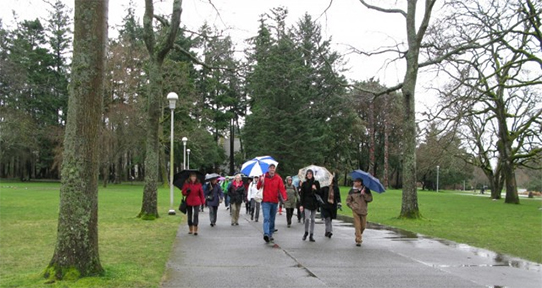 Forest Biology Seminar Series - FORB 560
Seminars are held on Wednesdays, 2:30-3:30 p.m. in Cunningham 146 unless otherwise posted.
Fall 2018
| Date | Topic | Presenter |
| --- | --- | --- |
| October 24 |  "So, what do we do at the Pacific Forestry Centre" | Dr. Anthony Hopkin, Canadian Forest Service, Pacific Forestry Centre |
| October 31  | The invasive elm pathogen Ophiostoma novo-ulmi   ("Nightmare on Elm Street – Return of the Fungi") | Dr. Paul de la Bastide, Centre for Forest Biology |
| November 7 | "Understanding the role of climate change and policies in driving large scale forest disturbances" | Dr. Chris Bone, Department of Geography |
| November 14 | Grad Symposium | |
| November 21 | | Marty Kranabetter, BC Ministry of Environment |
| November 28 | "Research Opportunities and Challenges Associated with Managing Pine Stem Rust NRisks in a Changing Climate" | Richard Reich, College of New Caledonia |
The Forest Biology Seminar Series features recent work of Centre faculty, postdoctoral fellows, students and visitors, and is held as part of FORB 560 (a required course for all graduate students conducting research through the Centre).
In addition to the Forest Biology Seminar Series, those of interest to Centre research staff may be sponsored by other UVic departments and Centres including:
Events
March 8, 2018 from 12:00 - 1:30 p.m., meet at the First Nations House
Enjoy a guided tour around campus with researchers from the Centre for Forest Biology while learning about the plant constituents that gave rise to the traditional uses of trees and shrubs that grow here at UVic. Featuring classic West Coast trees like the Western Red-cedar, Black Cottonwood and Red Alder, along with local berries, this year's Campus Tree Walk will focus on chemical constituents of forest plants. Enrich your ecological knowledge as you find out why these species are useful for medicine, dyes, building materials and other uses. , Part of Ideafest 2018.