Seminars and events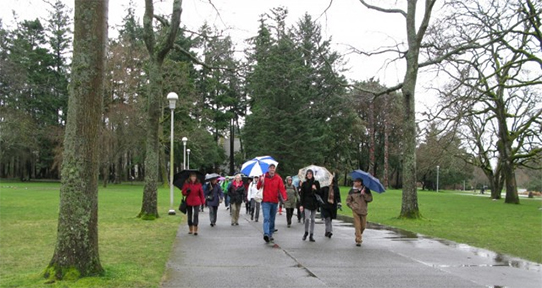 Forest Biology Seminar Series - FORB 560
Seminars are held on Wednesdays, 2:30-3:30 p.m. in Cunningham 146 unless otherwise posted.
Schedule Spring 2018
Date
Topic
Presenter
Jan 24
Swiss Needle Cast symptom severity in a British Columbia Douglas-fir breeding population
Jess Wyatt, PhD Student, Centre for Forest Biology (Ehlting Lab)
Jan 31

Developing nitrogen fixing crops: A review of current progress

Allen Good, Department of Biological Sciences, University of Alberta
Feb 7
Characterization of two UDP-glycosyltransferases, candidate salicinoid pathway enzymes in poplar
Christin Fellenberg, Postdoctoral Fellowm, Centre for Forest Biology (Constabel Lab)
Feb 14

No seminar - reading break

Feb 21
Science Journalism, Propaganda and the Growing Politicization of Science
Peter Fairley, Freelance Science Journalist, Victoria
Feb 28
Adaptation to climate in trees: genomic potential and constraint

Jason Holiday, Department of Forest Resources and Environmental Conservation, Virginia Tech University

Mar 7
Rande Kanne - Utilizing DNA sequence data to examine the
phylogeographic patterns of Garry oak (Quercus garryana); Malcolm Cowan - Climate Change and Mass Mortality Events

Rande Kanne and Malcolm Cowan, MSc Students, Centre for Forest Biology

Mar 14
Using Functional Genomics to Characterize Novel Secondary Cell Wall-Related Genes in Poplar
Lan Tran, PhD Student, UBC Botany and Centre for Forest Biology, UVic
Mar 21
How tree domestication and cultivation triggers the emergence of novel pathogens: the invasion history of a poplar leaf-spot and canker disease
Nicolas Feau, Department of Forest Sciences, UBC
Mar 28
Adaptation of lodgepole pine to climatic extremes: Implications for assisted migration
Miriam Isaac-Renton, Postdoctoral Fellow, MFLNORD and David Montwé, Postdoctoral Fellow, U of Alberta
The Forest Biology Seminar Series features recent work of Centre faculty, postdoctoral fellows, students and visitors, and is held as part of FORB 560 (a required course for all graduate students conducting research through the Centre).
In addition to the Forest Biology Seminar Series, those of interest to Centre research staff may be sponsored by other UVic departments and Centres including:
Events
March 8, 2018 from 12:00 - 1:30 p.m., meet at the First Nations House
Enjoy a guided tour around campus with researchers from the Centre for Forest Biology while learning about the plant constituents that gave rise to the traditional uses of trees and shrubs that grow here at UVic. Featuring classic West Coast trees like the Western Red-cedar, Black Cottonwood and Red Alder, along with local berries, this year's Campus Tree Walk will focus on chemical constituents of forest plants. Enrich your ecological knowledge as you find out why these species are useful for medicine, dyes, building materials and other uses. , Part of Ideafest 2018.