Alcohol consumption
Alcohol consumption in BC during COVID-19
We estimated per capita alcohol consumption using alcohol sales data from the British Columbia (BC) provided by the British Columbia Liquor Distribution Branch (BCLDB) and the population data projected by BC Stats during the period from January to December 2012-2019 and January to July 2020.
Estimates were made of the monthly number of standard drinks (SD=17.05 mL or 13.45 g of pure alcohol) consumed per adult aged 15 years or older in total, by type of outlets (restaurant, bar, government liquor store and private liquor store) and type of alcoholic beverages (beer, cooler, spirit and wine) during the period from January to December 2012-2019 and January to July 2020. Given that the sales data here represents when the BCLDB sold wholesale products to outlets and not when someone purchased the product at a licensed establishment or liquor store, there is a delay between the sale to the outlet and the purchase by the individual consumer.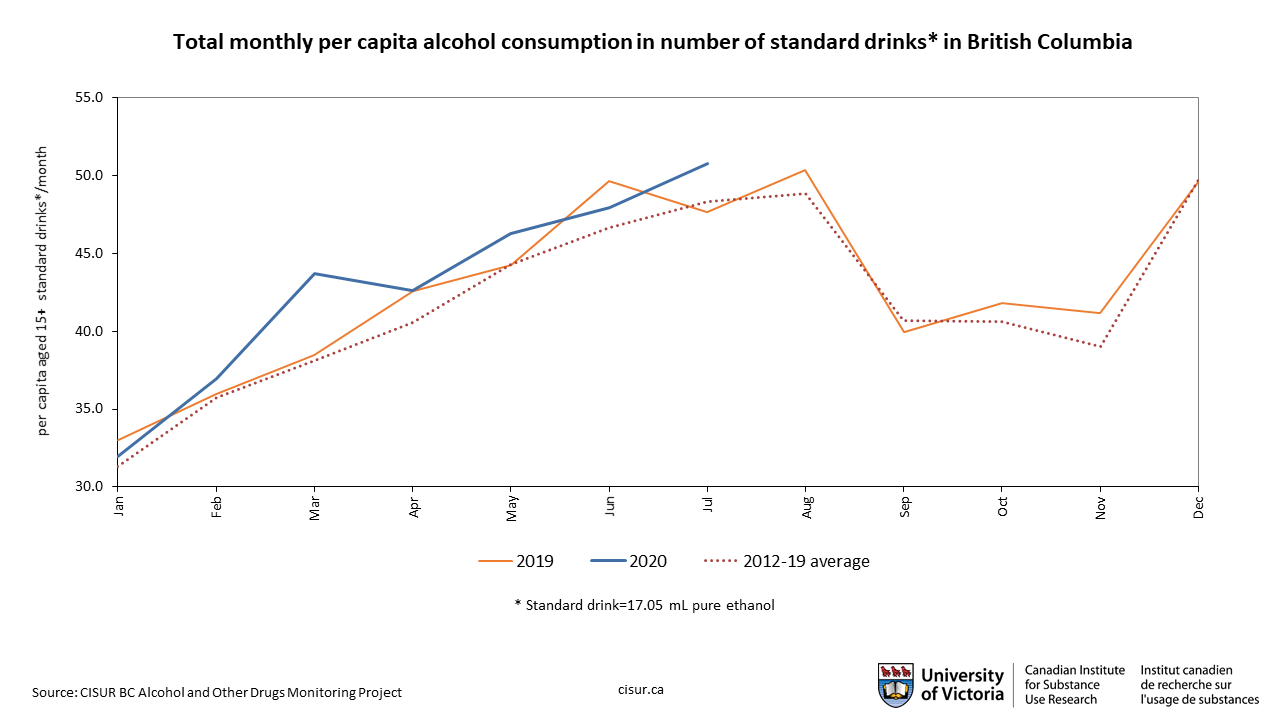 The above chart shows estimates of per capita monthly standard drinks of total alcohol consumption during the pandemic period from January to July 2020, January to December 2019 and average of per capita monthly standard drinks in 2012-2019. There have been seasonal changes in alcohol consumption in BC over years, with lowest consumption in January and February of every year, with peaks over the summer and in December. However, consumption during the pandemic in 2020 tended to have a different pattern. There was a marked increase in March, a slight decrease in April and gradually increased since May. This suggests an effect related to the pandemic and related restrictions declared by the provincial and federal governments. Further research is needed.
In July 2020, the most recent month for which we have sales data, alcohol consumption peaked at about 50 standard drinks per month for every person aged 15+ in BC, which is almost two drinks a day. According to the 2017 Canadian Tobacco, Alcohol and Drug Survey, the current male and female drinkers accounted for 77.29% and 73.34% of population aged 15. Adding unrecorded alcohol consumption such as home-made to the estimates would further increase average consumption. Current low-risk drinking guidelines recommend no more than 10 standard drinks per week for women and 15 for men, meaning that many British Columbians are drinking above these limits, especially when we consider that this number includes all people over the age of 15 in BC, not just drinkers of legal drinking age. Monthly alcohol consumption in BC in the first half of 2020 was mostly higher compared with previous years.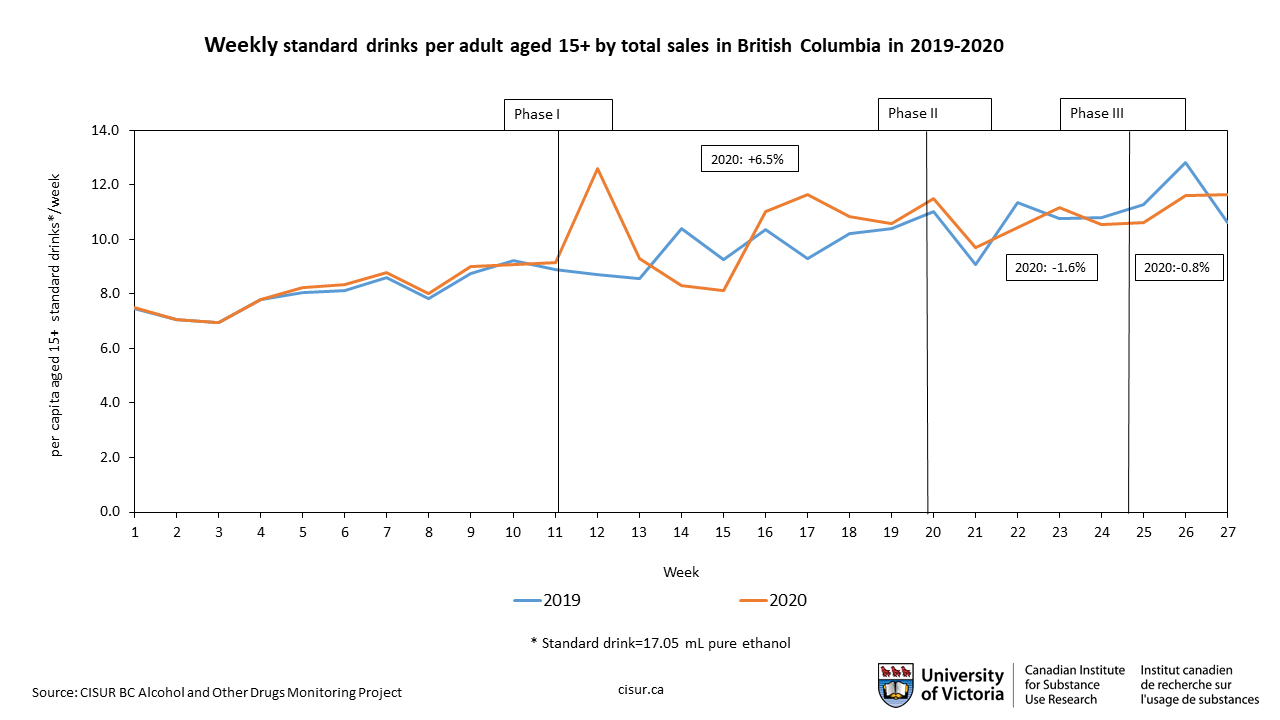 This figure shows per capita weekly 2020 consumption compared to that of 2019, with various Phases of BC's Restart Plan marked. As we can see, the largest increase in consumption (over 40 percent) was immediately after Phase 1 in March (the first major lockdown) was announced, although it was also the phase with two weeks of the lowest consumption drops, likely due to stockpiling early on in the phase. However, overall consumption in this phase remained above 2019 levels, with slight dips in Phase 2 and the beginning of Phase 3, with consumption starting to go above 2019 levels by July.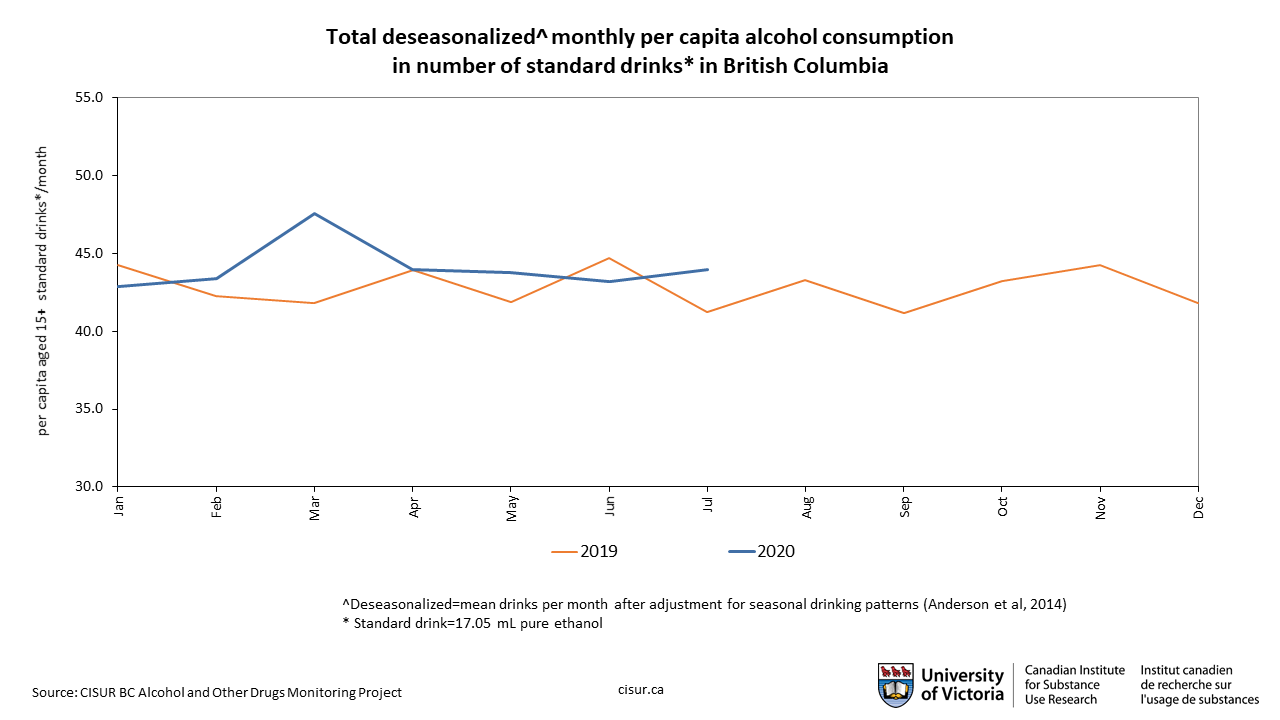 This chart and all following figures all present 'de-seasonalised' data to see how monthly alcohol consumption compares with the levels typically seen previously for that time of year. This figure shows a peak of increased consumption during the lockdown in March 2020, followed by levels that were mostly equal to or higher than in 2019.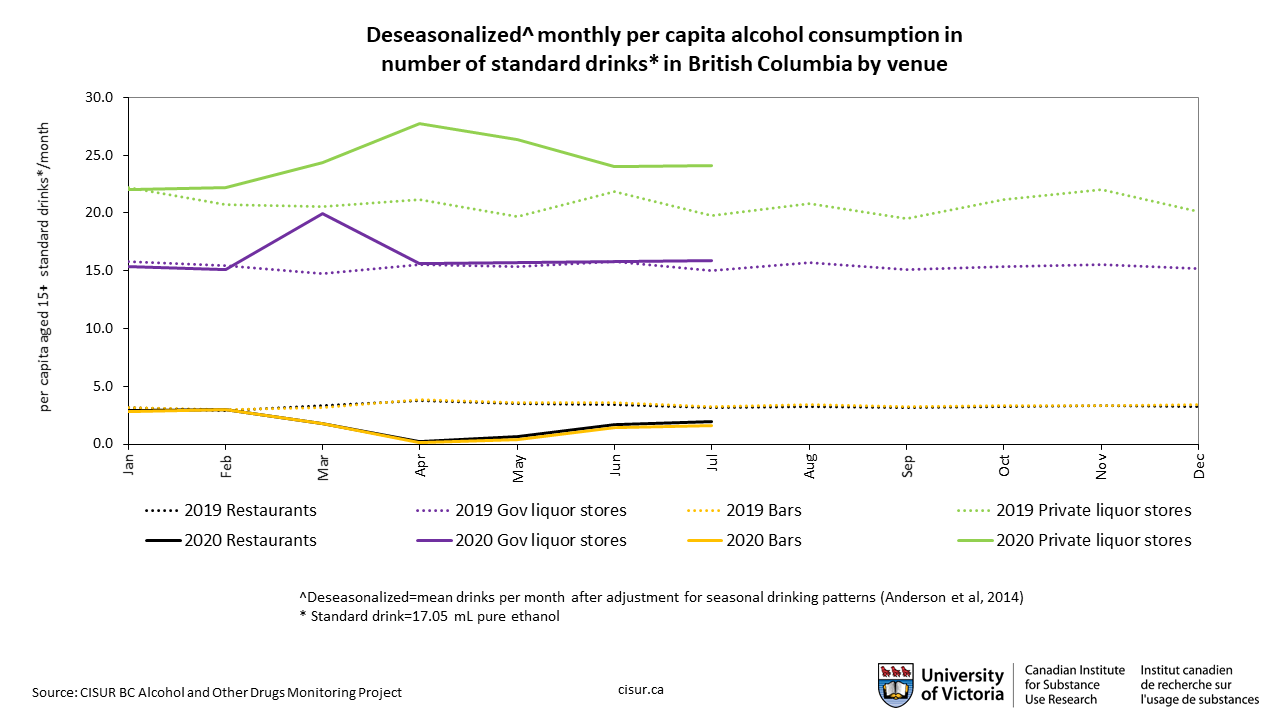 This figure presents the estimates of per capita monthly standard drinks by establishments (restaurant, bar, government liquor stores and private liquor stores) in January-July of 2020 and all of 2019. After removing the seasonality, we see that private liquor stores had the largest sales increase over 2019, with government stores seeing a small increase after a March bump. Sales at bars and restaurants declined during COVID-19, which is unsurprising given the closure of many on-premise venues at the beginning of the lockdown.
As lockdown measures were relaxed, in-person dining was allowed to resume and restaurants were allowed to sell take-away alcohol with food orders, restaurants and bars did see some sale increases over the summer, but only to about half of what they were during the same period in 2019. While both private and government liquor stores saw a large increase in sales at the beginning of the lockdown in March, the greatest increase in alcohol sales occurred for private liquor stores.
Private stores saw their sales peak in April (government stores saw their peak in March, which may be because data for government sales is point-of-sale, as opposed to when venues purchasing from the government wholesaler) and have remained well above their average for the same time period in 2019. This may be due to the fact that private stores have expanded services such as home deliveries, many of which require minimum order thresholds which could encourage bulk buying. Private stores were also permitted to change their operating hours from 7am-11pm, although it is unclear if many outlets have taken advantage of this. Alcohol delivery from liquor stores has also been increasingly available on food-delivery apps, but not for government liquor stores. Further research is needed.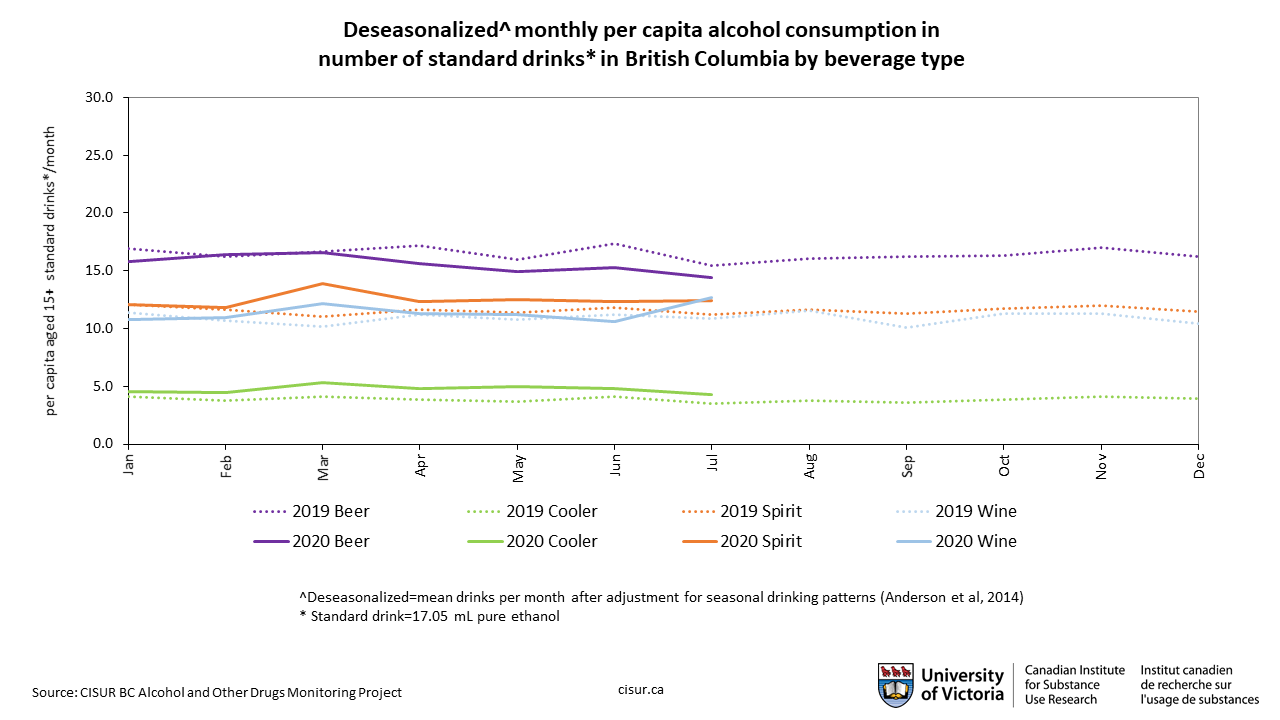 This chart presents the estimates of per capita monthly standard drinks by types of alcoholic beverages (beer, cooler, spirit and wine) in January-July of 2020 and for all of 2019. Compared to monthly 2019 data, spirits and coolers showed the most consistent increase in sales, with wine and spirits experiencing a noticeable bump in March 2020 when lockdown orders came into effect (wine sales have varied slightly compared to the same monthly periods in 2019, but are seeing stronger sales overall). Beer sales have declined compared to 2019 since the COVID-19 pandemic hit.
Annual alcohol consumption in BC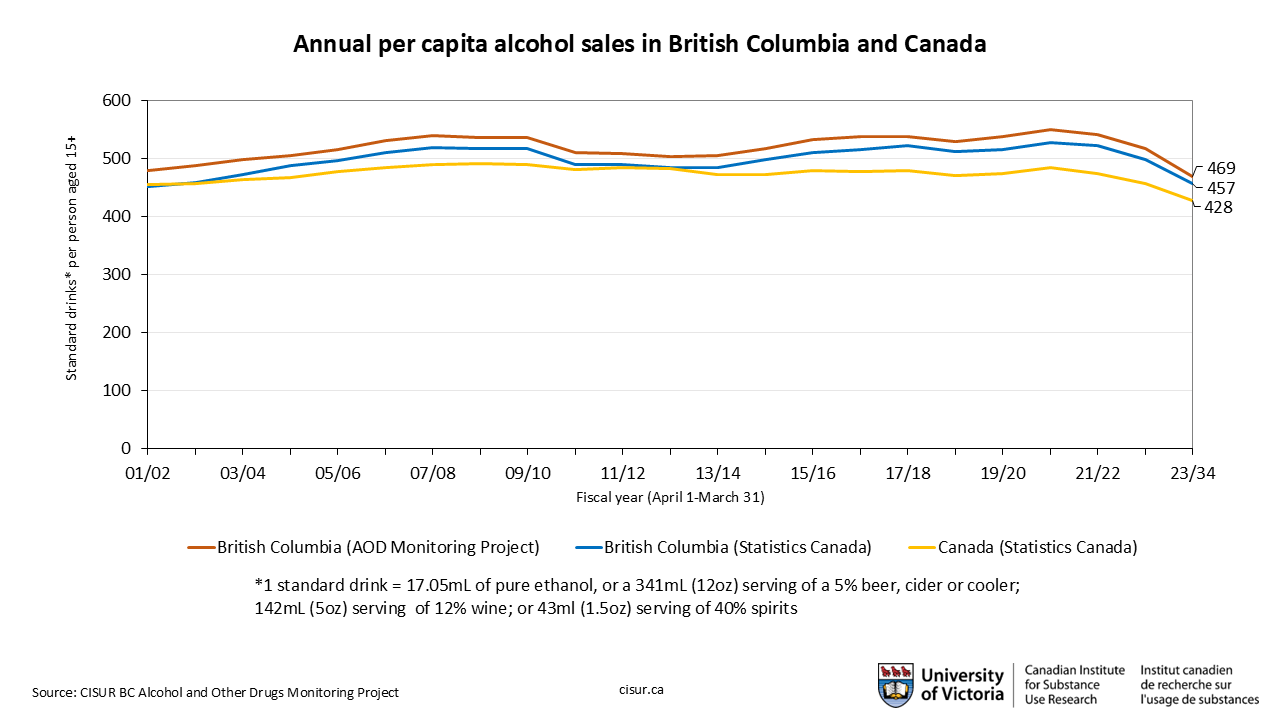 Data is reported in litres of absolute alcohol. 1 Litre of absolute alcohol = 58.65 standard drinks
Want to know how many standard drinks are in an alcohol container? Try our drink calculator.
In the most recent year of our BC AOD Monitoring Project data (2019/20), BC recorded a very slight increase (0.1L) in per capita pure alcohol (ethanol) consumption, up to 9.16L from 9.06 (just over 1%) Age 15+ per capita alcohol consumption of 9.16 L equates to the average British Columbian drinker aged 15+ consuming 537 bottles of beer a year, 10.3 per week or just under 1.5 per day (regular strength 5% 341 mL bottles) or 102 average strength bottles of wine a year (12%, 750 mL bottles) or nearly two bottles of wine per week or 1.5 medium glasses per day.
In general, per capita alcohol consumption in BC has been sustained at a relatively high level for the past five years, having previously increased since the last financial crisis. Per capita alcohol consumption tends to follow the strength of the economy and is important to monitor because it directly predicts the numbers of people becoming injured or seriously ill as a result of their drinking.
The most recent Statistics Canada data for per capita pure alcohol consumption in Canada (2018/19) saw a slight downturn over the previous year, for a total of 8.L per person aged 15+ per year (or 469 bottles of 5% beer each per year). Their data saw a 0.1L decrease in BC from 8.9L to 8.8L, well above the Canadian average. These slight downward trends for 2018/19 are similar to the decreases we saw during the same period for our BC AOD Monitoring data.
Our BC AOD Monitoring Project is able to provide more accurate data than Statistics Canada for a number of reasons:
U-Brew and U-Vin sales are included in the per capita consumption estimates
More accurate estimates of the ethanol strength of typical alcoholic beverages is used
More up-to-date population estimates from BC Statistics are used
Read more about our methodology.
You can view and download interactive maps and data tables of alcohol consumption in BC (2002-2019, broken down by Health Authority, Health Service Delivery Area and Local Health Area, as well as venue and beverage type) via our AOD Trend Analyzer Tool.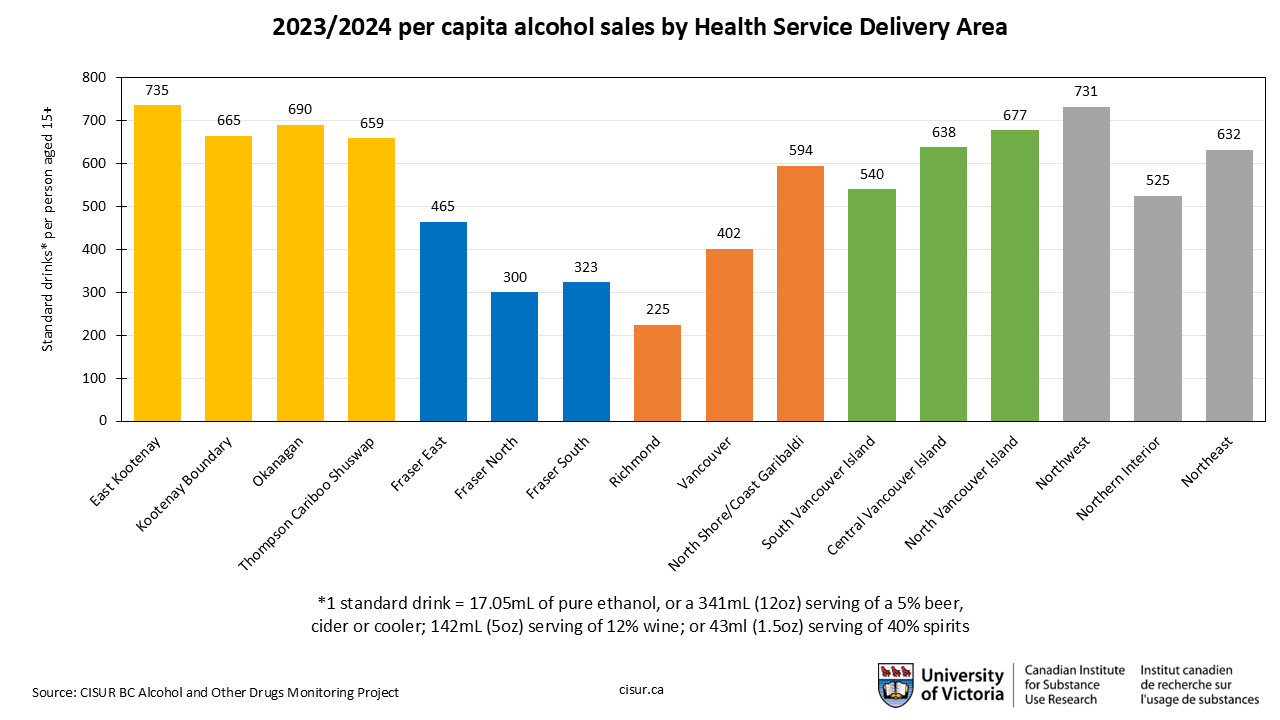 The Health Service Delivery Areas with the highest alcohol consumption in 2018 were both in the Interior: 11. East Kootenay (14.42L) and 13. Okanagan (13.78L). Consumption was lowest in 22.  Fraser North (6.01L) and 31. Richmond (4.29L).
For more detailed, interactive maps, please visit our AOD Trend Analyzer tool.
When broken down to Local Health Authority, highest 2018 consumption was recorded in 4. Windermere (26.25L), 48. Howe Sound (25.92L)  and 14. Southern Okanagan (25.11L). Lowest was in 166. Vancouver-South (4.21L) 94. Telegraph Creek (0.0L) and 89. Nisga'a (the independent health authority reported 0L of alcohol consumption).
For more detailed, interactive maps, please visit our AOD Trend Analyzer tool.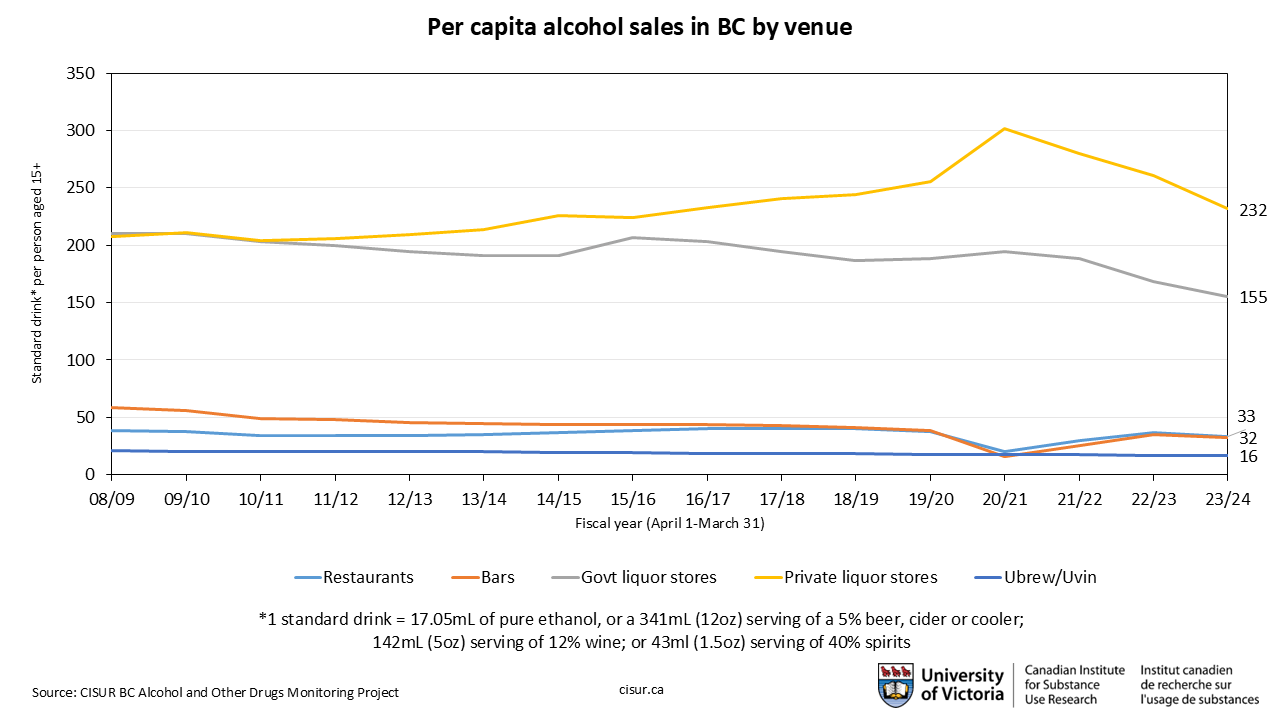 In 2010, private liquor stores became the leading purveyor of alcohol in BC, overtaking government liquor stores, and accounting for 47% (or 18.8 million litres) of the total volume of pure alcohol sold in the province in 2019/20. This increase in private liquor store sales has been ongoing for nearly a decade.
Our data also shows that alcohol sales from bars are going down. Roughly 85% of alcohol sold in BC is from liquor stores rather than bars and restaurants. It is likely that the increasing sales from private liquor stores are driving some of the upward trend in alcohol consumption and maybe this increasingly competitive liquor store market is taking business away from the bars. Our previous BC research shows how private liquor stores contribute to increased consumption and harm.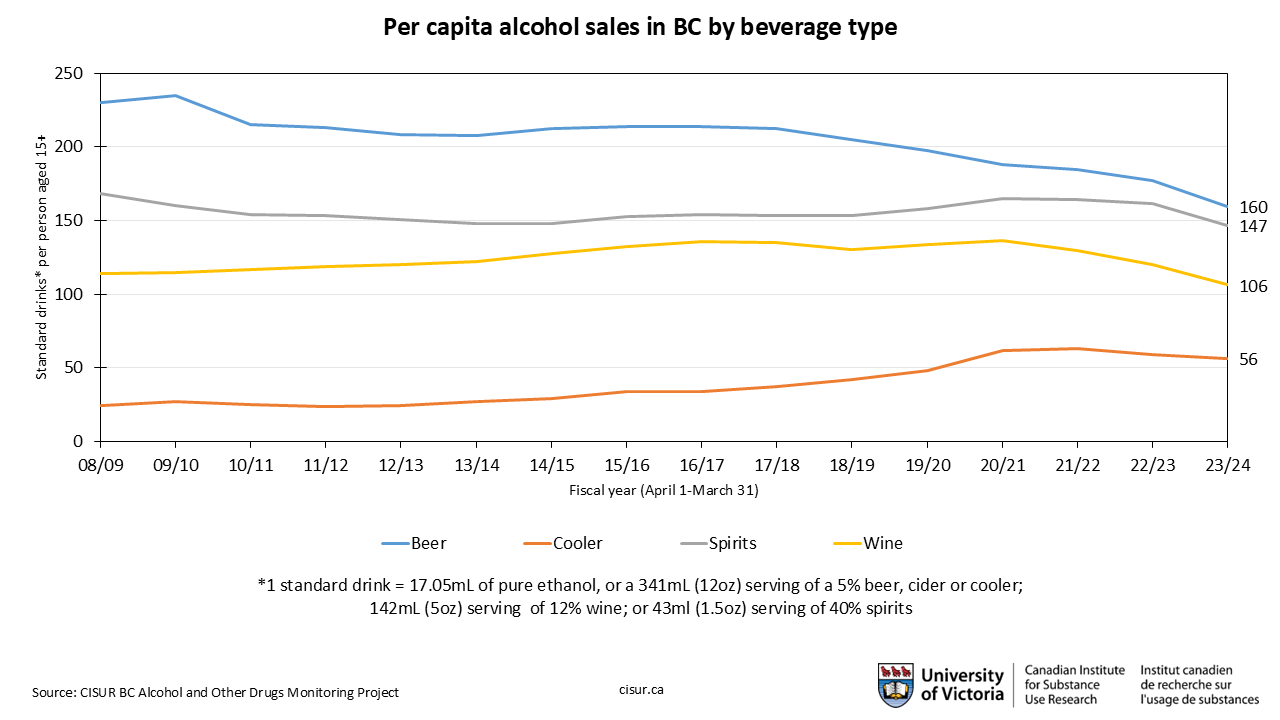 Data is reported in litres of absolute alcohol. 1 Litre of Absolute Alcohol = 58.65 Standard Drinks
Want to know how many standard drinks are in an alcohol container? Try our drink calculator.
Beer has consistently remained the most popular beverage type since 2002 (British Columbians bought the equivalent of over 862 million bottles of 5% beer in 2019/20, or an average of 198 bottles per year for every citizen aged 15+), although its popularity is declining. Cooler sales have been increasing and wine is now slightly more popular than spirits.
As of 2019/20, there are a total of 7,927 alcohol outlets in BC, including restaurants, bars, and government and private liquor stores.  These figures show the rise in the number of private liquor stores in BC, both in sheer numbers and on a per-capita basis. The ratio of private to government-owned stores has increased from 2.5:1 to 7:1 over the past 20 years.