ThunderFest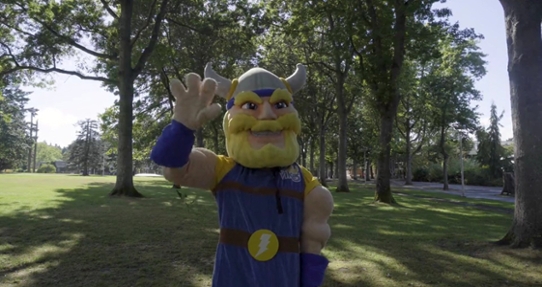 Friday, September 11, 2020
12 p.m. - 4 p.m.
ThunderFest is an annual campus event that is going virtual for the first time ever! Join us for this virtual information fair to learn about the opportunities, supports and resources available at UVic and engage in fun, interactive activities. ThunderFest will be hosted in Microsoft Teams- all new students will be added to the Team on Friday morning! 
Get to know your campus and community
Visit different MS Teams channels and engage directly with UVic's services and supports. Get instant answers to your questions about UVic services!
Tune in to live events... some of which will have prize giveaways
Join in a variety of different events- everything from demos, Q&As, and panels to interactive games
---
Live Events
All live events will be hosted in a specific channel with the Thunderfest Team in Microsoft Teams. 
Time
Event
Host Teams channel
12:15 p.m.

Money talks

Work study, bursaries, scholarships oh my! Meet the Student Awards and Financial Aid office and learn about how you can get access to funding.

Student Awards and Financial Aid
12:30 p.m.

Sustainabilty in action

An interactive session where students can participate in trivia and learn about sustainability practices at UVic. Join in for a chance to win a prize!

Live Sustainability
1 p.m.

Finding fitness & recreation outside

Get the inside scoop on some of Vancouver Island's best hikes, outdoor views, and outdoor activities! Tune in for a chance to win a prize!

VIKES - Get up and moving
1:30 p.m.

Problems? The Ombuds can help!

The ombuds office is an independent, impartial, and confidential resource for undergraduate and graduate students. The ombudsperson helps resolve student problems or disputes fairly. Come learn more about this resource, and meet the UVic ombudsperson!

Meet the Ombudsperson
2:00

Train like the Vikes with group fitness

Learn all about the aquatics programming and group fitness classes offered by Vikes Athletics & Recreation! Tune in for a chance to win a prize!

VIKES - Maximizing your CARSA membership
2:30 p.m.

Talking about consent: Live

Join Serena (the Anti-Violence Project) and Torry (Office of Student Life) for a live panel discussion on establishing consent in sexual activities and everyday life, online and in-person. We'll discuss consent during COVID-19, with a stranger, while using alcohol and drugs, and much more! Feel free to bring your questions.

Talking About Consent
2:30 p.m.

Virtual tour of UVic climate toolkit

Join the Pacific Institute for Climate Solutions (PICS) for a sneak peek of new resource for UVic students, the Climate Toolkit! Designed with students in mind, the toolkit celebrates the researchers, student groups and university initiatives working towards climate solutions at UVic. Join us for a virtual tour of the website and to learn more about PICS during our live presentation!

Live Sustainably
3:00 p.m.

Registering for leagues, sports clubs and e-sports

Looking to get involved in intramurals & sports clubs? Tune into this session to find out how. Plus, learn how we've integrated e-sports into our intramural leagues! Tune in for a chance to win a prize!

VIKES - Living the active and social student life
3:30 p.m.

How to opt-out of the health and dental plan (for graduate students)

Meet Neil, the Graduate Student Society's event coordinator, as he demonstrates a walk-through of how to opt out of the health and dental plan through screen share. This applies to graduate students– undergraduates should contact the UVSS.

The Grad Zone
3:30 p.m.

Q&A with the Native Students' Union

Learn about what the Native Students' Union is and how to get involved! This is your chance to participate in a live Q&A. 

Indigenous student services
---
Access information
ThunderFest will take place on Microsoft Teams. All new UVic students will be automatically enrolled in the ThunderFest Team the day of the event. You will be able to view the Team, called ThunderFest, in your MS Teams dashboard on Friday, September 11. 
Not familiar with Microsoft Teams? Here's how to get started:
Activate your free Microsoft 365 account by visiting onlineservices.uvic.ca
Log in to Microsoft 365 at portal.office.com
Open the Teams app
Click on the ThunderFest Team
Need help? Email orientation@uvic.ca!
Learn more about Microsoft 365 at UVic
---
UVic Orientation is committed to making our events as accessible and barrier-free as possible. If you have any accessibility needs in order to participate in our events, please provide details when you register and/or contact us at orientation@uvic.ca.