September orientation events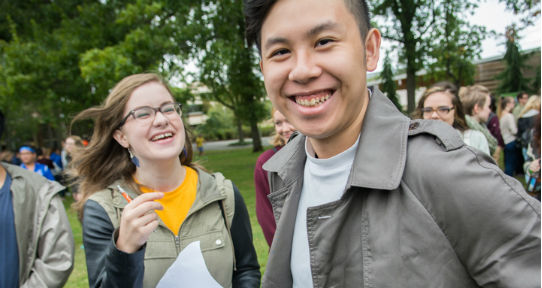 Every September, over 4500 students start their studies at UVic. In order to help our new students learn their way around campus, meet other new students and start the year off on the right foot, UVic Orientation runs a number of different orientation events. 
Campus-wide calendar of events
View the full calendar of events for September 2023, including UVic, UVic Undergraduate Student Society (UVSS) and Graduate Student Society (GSS) events.
New Student campus tours
Sign up for a campus tour! Don't miss out on the opportunity to get a tour from current students who will show you the campus services and resources UVic has to offer.

You'll also get to learn about some of the favourite campus hangouts, including faculty buildings, athletic facilities, dining services, and more.
Registration is now closed.
For questions about New Student campus tours, please contact orientation@uvic.ca.
Undergraduate student faculty sessions 
Get ready to attend your first class by attending your faculty's academic session. You'll learn a bit about what you can expect academically, what is expected of you, and have a chance to meet some of the professors you may be seeing at the front of the classroom.
View the schedule for your faculty session
New Student Welcome
This September, start the year off in a good way at the New Student Welcome to campus. Join students, staff and faculty as we celebrate a new academic year and welcome new students to UVic.
Learn more about New Student Welcome
---
Other orientation programs
In addition to the main orientation events listed above, several other events exist that are targeted to specific populations. You are encouraged to register for and attend any additional programs that may be applicable to you.