Peredo, Lai win Community Leadership Awards
Peter B. Gustavson School of Business
- Tara Sharpe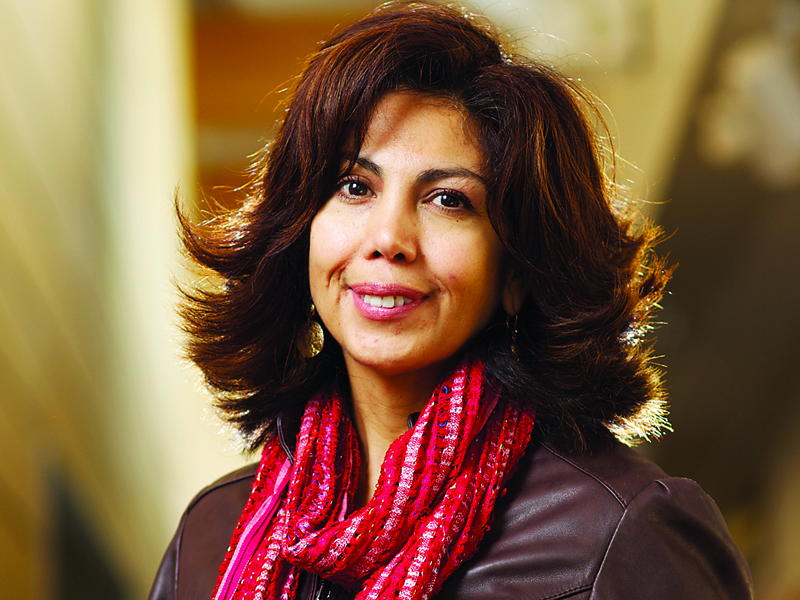 On Feb. 25 at the annual Victoria Leadership Awards (VLAs), 21 local heroes were honoured including Drs. Ana Maria Peredo and David Chuenyan Lai, recipients of the 2013 University of Victoria Community Leadership Awards.
"Because of my strong relationship with the Chinese community," says Lai, a UVic professor emeritus (geography) and research affiliate in UVic's Centre on Aging (COAG), "I have been able to get funding to create scholarships and travel grants for students to study and visit China and Chinatowns. How can students know China without going to see the real situation? And without travel grants, they would not have enough funds to go there as a student. This is why I'm glad for the community support." Copy of Lai's acceptance speech

Peredo is the director of UVic's Centre for Co-operative and Community-Based Economy and a professor in UVic's Gustavson School of Business. She says, "It is a tremendous honour to be included even as a nominee for this award, let alone a winner. I am grateful to the support of UVic and I am in debt to many people—I hope they know who they are!—who contribute to my everyday work that is being recognized here. These are really team awards."

UVic is a founding partner of the annual program established in 2004 to recognize the commitment of community champions who work collaboratively to resolve the complex challenges facing the communities of Greater Victoria.

Lai was born in Guangzhou (Canton), China and came to UVic in 1968. He retired in 2003. In addition to his work with the COAG, he is an adjunct professor in SFU's David Lam Centre for International Communication. Over the past 40 years, he has worked tirelessly to preserve local heritage. Among his many accomplishments, he classified and transferred the Chinese Archives of the Chinese Consolidated Benevolent Association to the UVic library and helped rehabilitate Victoria's historic Chinatown as well as beautify the Chinese Cemetery. Both have now been officially designated as National Historic Sites.

"A Chinese saying states you will learn more from traveling thousands of miles than studying thousands of books," he adds. "I wish to train students not to be an armchair geographer."

Lai is a member of the Order of Canada and the recipient of many other national, provincial and local community awards. He is also a member of the Multicultural Advisory Council of BC and continues to work closely with the Royal BC Museum. Recently he completed The Chronology of Chinese Canadian History: from Segregation to Integration, and the history of Chinatowns in Victoria, Vancouver and Toronto. "I wish to use this chart as a model for other ethnic groups to do a similar chart of their migration history to Canada. I think, if we want to promote multiculturalism, we must first know each other's migration history. For example, how much do we know about people who come here—Filippino, Indian, Scottish, Irish, Ukrainian? If we don't get the 'history of coming' then we don't know each other. That's why I think it's so important."

Peredo has also created numerous opportunities for graduate and undergraduate students. Through her teaching, research and inspirational leadership, she continues to link the university and the community. Her research reclaims the ecological, social and cultural dimensions of economics; she has motivated businesses and programs to address these dimensions.

Her efforts—both here on Vancouver Island and well beyond our country's borders—unite people from different disciplines, sectors and communities to share wisdom and knowledge. She specifically explores how business can be an instrument for poverty alleviation and community wellbeing, and as an anthropologist, she has worked for various overseas development agencies. Her specific interest in the Andes arose from her earlier work as a journalist reporting on rural development for one of Peru's leading dailies.

"What got me into university life in the first place was an admiration for the way that communities, even communities that we think of as poor and disadvantaged, are rich with resources in their traditions and their people.

"The leadership ceremony is an example of a community coming together to celebrate the finding of solutions to social challenges. We in Victoria have a special social ecosystem that makes us a vibrant community. The diverse ways in which communities come together is what keeps me excited in my academic life."

All 2013 VLA nominees were celebrated at the gala event, including:
Chris Wright, a third-year student completing a major in biochemistry and minor in commerce;
Donna Greschner, law professor and dean of the faculty (2008-13), whose research and scholarship have focused on constitutional law and, more recently, health-care law;
Marie Zarowny (alumna, BEd), Province Leader for the Sisters of St. Ann;
Rupinder Prihar (alumna, BA - Political Science), Research Analyst with BC Ministry of Health.

Led by Leadership Victoria, the awards are a partnership with UVic, the Rotary Clubs of Greater Victoria, the Victoria Foundation and the United Way of Greater Victoria. The leadership program itself is a national phenomenon and includes a Leadership Vancouver and a Leadership Ottawa.

The VLA announcement on Feb. 25 is posted on the UVic news page and a full list of all nominees is available here.
 
Photos
In this story
Keywords: award, community, research, China
People: Ana Maria Peredo, David Chuenyan Lai, Chris Wright, Donna Greschner, Marie Zarowny, Rupinder Prihar