Grads team up to help kids with disabilities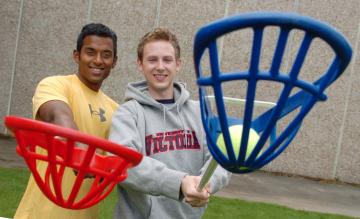 Convocation is imminent and it is time for the graduating class of 2008 to step out of the safety of the university classroom and into reality. Our days no longer consist of lounging by the fountain between classes; the future we had planned for is upon us and the real world is calling. For my friend Sean Burr and I, the real world for the next few months will be a small town in Siberia by the name of Khanty-Mansiysk. How did a biology major and a Russian major combine their experiences to launch an international development project in Siberia? Read on for the answer.
I would consider my academic experience at UVic to be eclectic. My classes ranged from religious studies to a directed studies in clinical oncology. I had the option to choose from a diverse base of courses, and in retrospect I am glad to have done so. This exposed me to many interesting topics in the arts and sciences that inspired me to become involved in activities outside of the school walls.
In my second year I chose to volunteer with Recreation Integration Victoria (RIV), a local non-profit organization that facilitates active lifestyles for people with disabilities. My volunteer work involved engaging in recreational activities with a teen with a disability. This experience led me to apply for my first biology co-op job with RIV as an inclusion facilitator, responsible for promoting the inclusion and integration of youth with disabilities into summer camps alongside "typical" youth. I have remained with RIV ever since and I am truly grateful for the opportunity presented by the biology co-op program. My studies have also exposed me to wonderful organizations such as CanAssist, where I am currently working until my departure for Russia.
At UVic, I became good friends with Sean Burr, who is convocating this June as well, with a BA in Russian and Slavonic studies. Sean, like me, has had the privilege of a very diverse and varied education at UVic. Sean took classes from Russian and Slavonic studies professor Dr. Megan Swift, who, knowing Sean's interest in international relations and development, recommended he apply for a grant offered by the Canadian International Development Agency (CIDA). Entitled Partnerships for Tomorrow Phase II, this grant program helps in the rehabilitation process in Eastern Europe by establishing partnerships between organizations there and in Canada.
This past September, I introduced Sean to RIV, where he began to work with children with disabilities in an afterschool program and developed an interest in advocacy for people with disabilities. It is with this interest that he approached me to collaborate on a program for persons with disabilities. Knowing that persons with disabilities are a population hugely marginalized in Russia, Sean and I decided to embark on creating a project based on what we had learned at RIV, where recreation is used as a means to integrate and include persons with disabilities into society as a whole.
Working alongside UVic graduate student Svetlana Esenkulova, Sean and I established communication with an orphanage in Khanty-Mansiysk, which had a number of youths with disabilities. The orphanage director expressed interest in hosting Sean and me, and the groundwork was laid. We developed a program entitled "Integration Through Recreation," and with the support and sponsorship of RIV, we submitted our idea to CIDA and were awarded $10,000 to commence our project this coming July.
It is a multi-faceted six-week project that will involve developing an inclusive program for the children with disabilities there; our hope is to help decrease the stigma surrounding disability and do our best to integrate the children into the community.
We will be training the staff at the orphanage in inclusive techniques with the hopes that we can develop a long-lasting partnership and sustainable program.
Both Sean and I truly value our experience at UVic and believe it plays an integral role in inspiring us. Where else would students with such diverse academic interests come together to work on a project like Integration Through Recreation?
For continuing news and information on this project, visit www.integrationthroughrecreation.blogspot.com
Written by Robin Mazumder

Photos
In this story