First class of grads from Indigenous law program
- Ivan Watson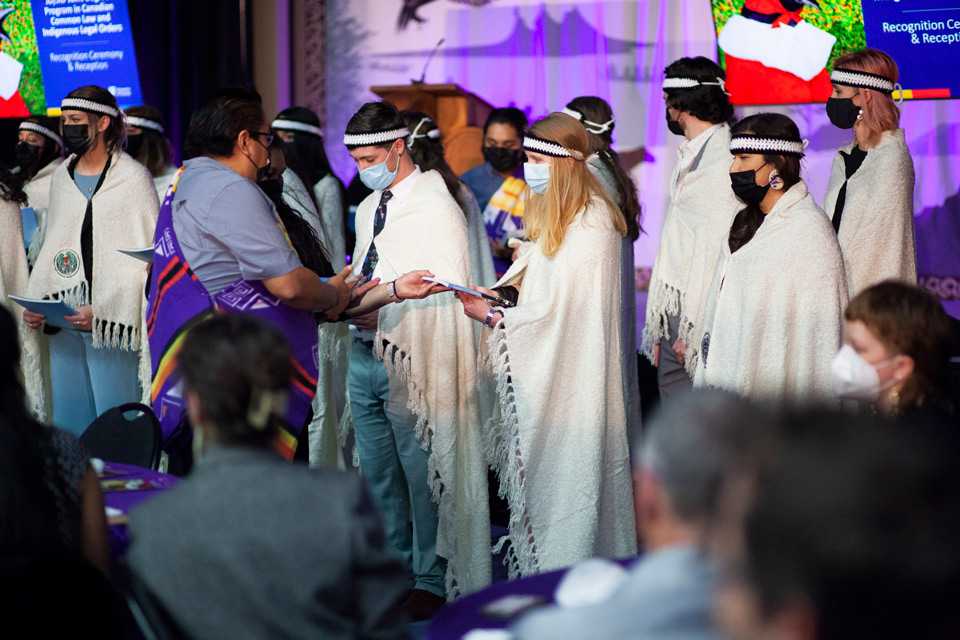 Four years ago, UVic launched the world's first law degree to combine the study of Indigenous and non-Indigenous laws. The innovative joint degree program in Canadian Common Law and Indigenous Legal Orders (JD/JID) is breaking new ground for legal education in Canada and has earned UVic's Faculty of Law a well-deserved national and international reputation for leadership in Indigenous legal education and research.
During convocation ceremonies this June, this memorable first cohort of 23 graduates will cross the stage to receive their degrees.
This is an historic moment, and I am honoured to recognize and congratulate the graduating students of the first JD/JID cohort. They are equipped with unique knowledge, skills and experiences that will enable them to build bridges between multiple legal systems. I look forward to seeing the impact they make on the legal landscape in Canada, and on our ability to move meaningfully and collaboratively towards resolution of the significant and ongoing problems caused by colonialism."

—UVic President Kevin Hall
In April, the class of 2022 gathered with family and friends to celebrate their upcoming graduation at a special recognition event hosted at the Songhees Wellness Centre. Greetings and congratulatory messages were sent by prominent leaders from across the country, including Governor General Mary Simon, Justice Minister and Attorney General of Canada David Lametti, BC's Advanced Education Minister Anne Kang and former Senator and Chief Commissioner of the Truth and Reconciliation Commission Murray Sinclair.
"Congratulations to the graduating students in this unique program. They are leading the change that we hoped for when we issued the TRC Report," said Sinclair. "I encourage them to go out into the world and to be bold and creative with their unique legal skills and knowledge."
Interim Dean of Law and JD/JID co-founder Val Napoleon hosted the recognition event, and expressed great enthusiasm for how the new graduates are poised to positively impact law and society.
"Indigenous law is an essential part of Indigenous peoples being peoples and it is foundational to Canada's multi-juridical system," she said. "Law is an essential ingredient of every society because it is a part of governance, it is a part of how we manage ourselves and it is a part of how we are responsible to ourselves, to each other, and to our global community. I hope our graduates will take with them the ability to centre Indigenous law in the world as a collaborative and principled way to solve problems, so that is never reduced to just words on paper, because it is so much more than that."
Looking ahead, UVic is continuing to build upon its position of leadership and will be home to the National Centre for Indigenous Laws in the coming years. 

Jolene Ashini
Jolene Ashini is the first Labrador Innu woman to become a lawyer. She grew up on reserve and within the Innu territory of Nitassinan, and is a member of the Sheshatshiu Innu First Nation, located in Labrador. She has mixed non-Indigenous and Inuit roots, with ties to Nunatsiavut on her mother's side, while her father was Innu.
She was raised in the Innu way of life, while keeping in touch with influences of Inuit culture. Living in Nutshimit, her life and work have been intertwined with strong Innu principles, knowledge, and experiences.
She served as a band councillor for the Sheshatshiu Innu First Nation, where she realized that to do more for her community and others, she needed to further her education to apply the law, fairly, to Indigenous peoples. Before UVic Law, Jolene completed a BSc in geology at Acadia University, where she was vice president of the Indigenous Student Society of Acadia.
"One of my life's great privileges was to be able to walk the path of law school alongside the rest of my cohort," she says. "With this program, I had the opportunity to meet people who are now my closest friends and who I would consider my family, and we were able to learn from some of the most well renowned Indigenous professors, First Nations communities, Hereditary Chiefs and educators—no other law school could provide that type of education."
She will soon article with Olthius Kleer and Townshend LLP (OKT), in Toronto. OKT is a law firm that specializes in Aboriginal law, representing First Nation and Indigenous clients from across Canada.

Beth Fox
Beth Fox is a Blood Tribe member from Treaty 7 territory in Southern Alberta. She graduated with a bachelor's and then a master's of social work from the University of Calgary before entering the JD/JID program.
She is one of three siblings to graduate with a law degree from UVic, and plans on joining her siblings in private practice later this year.
A highlight of law at UVic was the time spent at Ye'yumnuts learning about Coast Salish law from professor Morales and community Elders.
"This was particularly special to me because we had a foundation in Coast Salish law and language that started in the classroom, and being physically present on the land created a new level of understanding and insight to me," she says.
Looking ahead, she plans to complete her articles, get called to the bar and dedicate her skills to work for Indigenous rights and communities.
"The opportunities to learn from some of the leading Indigenous legal scholars has made my law school experience special," she notes. "I would encourage any student interested in enrolling in the program to take opportunities to learn from and be mentored by the professors here."

Thomas Hawthornthwaite
Thomas Hawthornthwaite was born and raised in Nanaimo and is a member of the Squamish Nation. Before enrolling in the JD/JID program, he completed his undergraduate degree in business and commerce at UVic's Peter B. Gustavson School of Business.
He has had a passion for law throughout this life and was attracted to UVic Law because of its innovative and progressive approach to legal education.
"My favourite moment of the JD/JID program was when John Borrows first took us out onto the land to demonstrate a new pedagogy I had never experienced, it was at that moment I knew the program was something special," he says. "It has really been the people who have made this experience special. From my peers, to my professors, to the guest speakers and to the those we've met through the field schools. I would tell future applicants to take the plunge, and know that they have a myriad of extraordinary people who will support them at every step towards their goals."
Looking ahead, his plans are to draw from his experiences in corporate law and his commerce degree to assist First Nations in creating business opportunities, with an ultimate goal to one day create a new separate-entity structure that protects First Nations and adheres to the specific indigenous legal order in which it is applied.  

Skeena Lawson
Skeena Lawson is a settler who grew up on Wet'suwet'en territory in Smithers. After completing her undergraduate degree in history at Mount Allison University, she worked on Parliament Hill through the non-partisan Parliamentary Internship Programme, and taught middle school English in France before starting law school at UVic in 2018.
"My favourite moments were where we could see sources of law outside the classroom and ground what we were learning in a place or activity," she says. "Some highlights were drum making in First Peoples House, learning how to build fishing spears at Ye'yumnuts during our Field School on Coast Salish territory, digging up rice lily bulbs at Cluxewe and our entire cohort paddling two dugout canoes in Kwakiutl territorial waters." 
She is particularly interested in the nexus between environmental and Aboriginal law pertaining to conservation, resource use, and land rights and title. Looking ahead, she sees a future working in this field and would like to help Indigenous Nations assert sovereignty over their own lands. In her spare time shes loves to ski, cycle, do crosswords and play the piano.
Last summer, she worked with OKT Law in Yellowknife where she learned more about environmental law and land use and its connection to Aboriginal rights and title, treaty rights and the Crown's fiduciary obligations to First Nations.
She will be articling in Victoria with the Ministry of Attorney General's Legal Services Branch.
Photos
In this story
Keywords: convocation, Indigenous, law, reconciliation, colonialism
People: Jolene Ashini, Beth Fox, Thomas Hawthornthwaite, Skeena Lawson
Publication: The Ring