Concrete improvements
- Suzanne Ahearne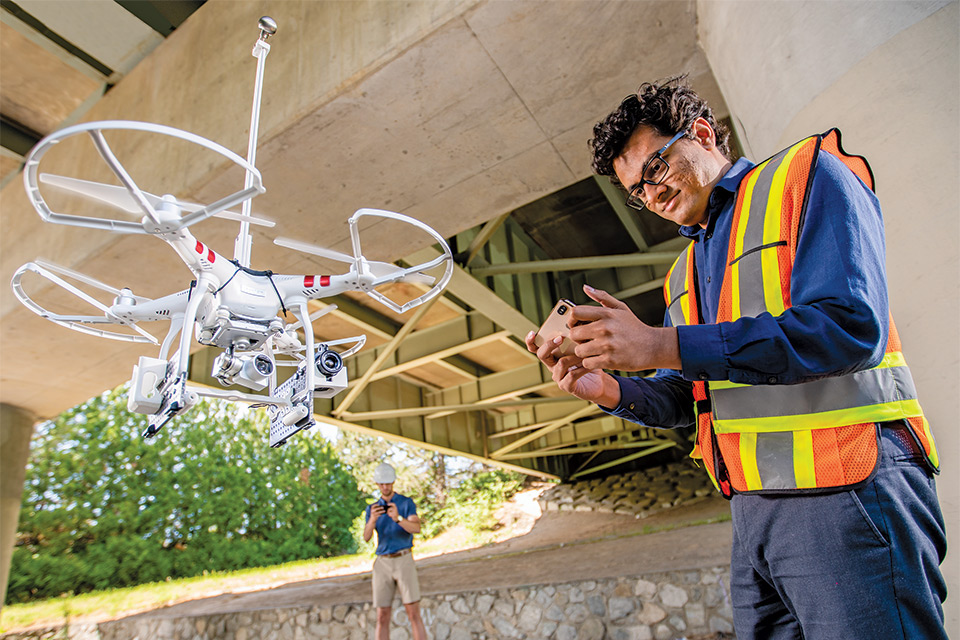 Harsh Rathod was studying at the University of Victoria when a disaster 12,000 kilometres away set his career path in stone—or at least in concrete. 
The civil engineering PhD candidate was developing new technologies to assess the structural integrity of aging bridges and dams when he heard that a 100-year-old bridge had been swept away by the flooding Savitri River in India. The bridge on the busy Mumbai-Goa highway was part of the daily commute for his family members. He stopped everything and picked up the phone.  
The 2016 disaster claimed close to 30 lives but no members of his family were among the dead. Still, it was too close to home. He hit pause on his research to find out what happened. He discovered that the bridge had collapsed due to lack of proper inspection. 
"As soon as I heard that, I felt extremely angry and didn't know what to do," Rathod says. The bridge had already been twinned with a modern replacement, but the colonial-era bridge was still in use. 
He recalls asking himself: "How could this still happen in the 21st century? Considering the technological advancements happening in so many fields, how has the construction industry gotten so far behind?"
Currently, most bridge inspections around the world are done manually and visually, sometimes by crews hanging over bridge decks suspended by ropes. The work, Rathod says, is often expensive and dangerous, while reports are highly subjective and reference data is rarely available for future inspections. 
In a number of bridge and overpass collapses, explains Rathod, people had noticed cracks emerging and engineers had inspected them, but no one had yet determined whether the cracking was just superficial­—or if it indicated major structural damage or corrosion in the steel-reinforced concrete. 
He intensified his research pace and with start-up help from the Coast Capital Innovation Centre at UVic, Rathod incorporated HRG Infrastructure Monitoring in 2017 with his PhD supervisor Rishi Gupta.
They've developed a drone-based inspection system which collects data from an onboard acoustic recorder, an optical camera and an infrared (heat-sensing) camera. The three layers of data are then paired with HRG's patent-pending software to detect and quantify any defects such as cracks and holes. Inspectors use the results to identify the width, length, depth and significance of these defects. The system also tracks any damage over time to plan preventive maintenance.
While Rathod had previously made significant research breakthroughs integrating robotics and artificial intelligence to inspect aging infrastructure, before the Mumbai bridge collapse, he'd had no intention of commercializing any of his inventions himself. The collapse was his "trigger point."
He realized that if he took his technology to market, he could expedite the immediate social impact—in India, Canada and around the world.  
For structures essential to public infrastructure, the focus on maintenance and safety will save money and lives, Rathod says. 
I'd like to see our technology being deployed not only in North America, but also in Europe and in Asian countries where much of the infrastructure is much older. If the technology is good, why not for all, right?
—Civil engineering PhD candidate Harsh Rathod
---
EdgeWise
Concrete is the world's most commonly used construction material. It's used in everything from bridges and buildings to dams, breakwaters, ski lift towers and cell towers. But it's also one of the world's biggest sources of carbon dioxide emissions: every tonne of cement produces a tonne of carbon dioxide. Extending the life of concrete structures has a huge beneficial impact on the environment.
Roughly one-third of Canada's municipal infrastructure is in fair, poor or very poor condition, increasing the risk of service disruption (Canadian Infrastructure Report Card--, 2016). Preventive maintenance is a key to limit this. 
Extreme weather events will place additional risk of failure on dams, bridges and other infrastructures, adding to the vulnerabilities of living in the Cascadia subduction zone. Less expensive and more frequent monitoring can play a key role in disaster preparedness.
What if concrete could actually heal itself? It's not so far-fetched. UVic engineer Rishi Gupta, who is Harsh Rathod's PhD supervisor and HRG's co-founder and chief technology officer, has been working on "smart concrete" research for nearly a decade. Using various fibre additives and crystalline waterproofing admixtures, his lab is working on concrete mixtures designed to be more resistant to cracking and to self-seal when cracks appear. 
Rathod's research is funded by the Canada-India Research Centre of Excellence, Canadian Foundation for Innovation, National Research Council Canada, Innovate BC, Coast Capital Savings Innovation Centre and Mitacs. 
Photos
In this story
Keywords: graduate research, transportation, research, technology, civil engineering
People: Harsh Rathod, Rishi Gupta
Publication: knowlEDGE