Connecting Indigenous peoples from Tanzania and Canada
- Anne MacLaurin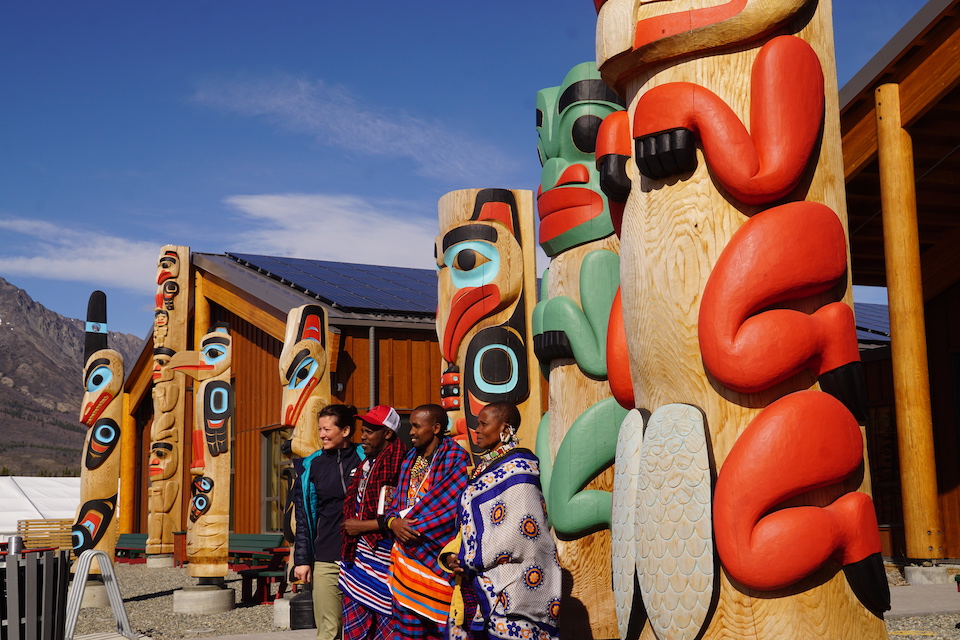 Maasai and First Nations share knowledge
UVic geography professor Phil Dearden recalls the scene: mountains towered above, geese filled the air and ducks dabbled in the wetland behind the Carcross-Tagish peoples' cultural centre near Whitehorse, Yukon. A delegation stood outside with heads bowed, silent, as each person was cleansed by burning sage wafted by an eagle wing to bring good thoughts and clarity of mind. This was the auspicious beginning to a full two-day interaction between First Nations hosts and Maasai visitors from Tanzania and UVic.  
During a two-week stay in Canada, three Maasai from Tanzania exchanged cultural knowledge and practices with First Nations from the T'souke and Tla-o-qui-aht on Vancouver Island to the Selkirk and Carcross-Tagish peoples of the Yukon, accompanied by UVic faculty.  
"We watched dugout canoes being made, participated in cedar stripping ceremonies, made ropes together, sang on the beach, swapped stories and toured the Clayoquot sound territory of the Tla-o-qui-aht," notes UVic geographer and Special Advisor on Community Engaged Scholarship Crystal Tremblay.
"There is a shared urgency that was felt by all on the rapidly changing world," she says. "Elders of Carcross and Selkirk Nations shared they have never seen the Yukon river so low in their history; that the soapberries—an important traditional food source—have dwindled in supply due to lack of water and extreme heat.
"Likewise in Tanzania, other pressures such as drought and change in climate are also threatening the Maasai's traditional way of life as nomadic peoples," adds Tremblay.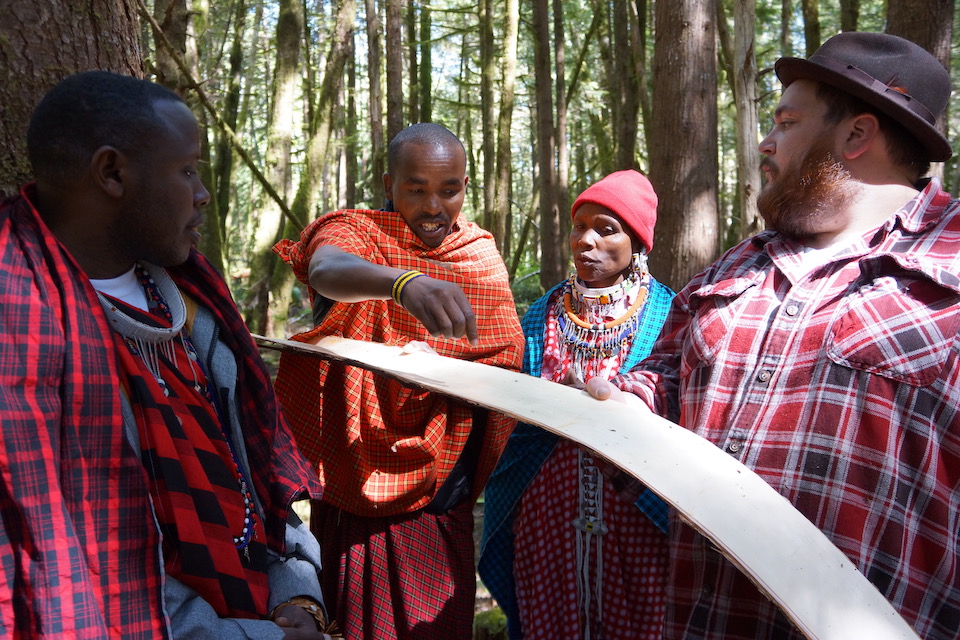 Sharing common experiences from across the world
The Maasai people negotiated a settlement over traditional lands with the Tanzanian government about a decade ago, but now they need to prove they can manage it.  Their Indigenous rights work is ongoing and the right to stewardship of the land is a common theme of the Maasai and First Nations communities they visited.
"The Yukon First Nations have treaty settlements with the government; the Vancouver Island Nations are still trying to achieve those rights," says Dearden, "but both have active planning and management activities in their territories."
Dearden, the principal investigator, explains that it was a SSHRC Connections grant. UVic supplied the funds to bring several First Nation communities in BC and the Yukon together with members of the Maasai community to offer guidance on issues such as governance and improved technical approaches to land-use management.
UVic facilitated the connection with the Maasai through the efforts of geography adjunct professor, Bruce Downie, but our role is also to learn from and engage with Indigenous cultures.
—UVic geography professor Phil Dearden
Furthering the connection
Dearden and Downie will be leading a UVic geography field school to Tanzania later this summer where students will spend time living and working with the Maasai in their remote territory close to the Kenyan border for a unique insight into their traditions and practices. 
Read about the conservation field school in Tanzania this summer.
For the Maasai, next steps include pursuing Indigenous land-use planning as they witnessed firsthand during their trip to Canada and solidifying their use rights on the land.
We learned a lot about tribal parks, and community control of resources and decision-making. We learned the Nations have long term plans that consider the next generation, and are the future of the forests and the generations.

—Samwel Nangiria Taresero, one of the Maasai participants
"These kinds of global connections, that were initiated through this project, are invaluable in both sharing and strengthening indigenous models of self-determination and sovereignty, but also in helping to support global indigenous solidarity," says Tremblay.
Photos
In this story
Keywords: international, administrative, Indigenous, geography, field schools
People: Phil Dearden, Crystal Tremblay, Bruce Downie, Samwel Nangiria Taresero
Publication: The Ring