Spring 2019 Convocation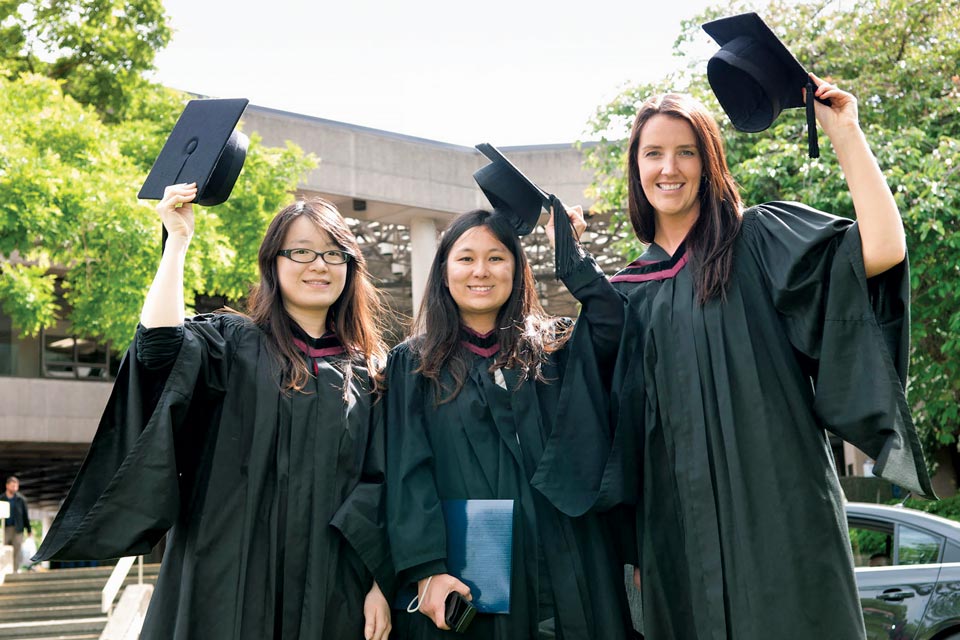 Thousands of UVic students and their families and friends gathered on campus through June to celebrate the achievement of an academic milestone. During Spring Convocation from June 10–14, ceremonies will confer 3,777 degrees, diplomas and certificates.
Convocation ceremonies are webcast live and available for six weeks following Convocation. View the schedule.
Featured convocation stories
Honorary degree recipients
Honorary degrees—the university's highest academic honour—will be presented to six exceptional individuals during the Spring Convocation ceremonies:
STOLȻEȽ John Edward Elliott Sr., Honorary Doctor of Education (DEd)

Simon Asher Levin, Honorary Doctor of Science (DSc)

Joe Gallagher, k̓ʷunəmɛn, Honorary Doctor of Laws (LLD)
Neil Gold, Honorary Doctor of Laws (LLD)
Andy Lamb, Honorary Doctor of Education (DEd)
Sti'tum'at Ruby Peter, Honorary Doctor of Laws (LLD)
Read more about our honorary degree recipients
Spring 2019 major medal winners
Governor General's Gold Medal: Danielle Claar—PhD, Biology
Governor General's Gold Medal: Justin Karr—PhD, Psychology
Lieutenant Governor's Silver Medal (thesis): Jennifer Magel—MSc, Biology
Lieutenant Governor's Silver Medal (other than thesis): Su Yen Chong—MA, Art History & Visual Studies
Governor General's Silver Medal: Rai Goyal—BSc, Mathematics & Economics
Jubilee Medal for Humanities: Novella Nicchitta—BA, Greek and Roman Studies
Jubilee Medal for Science: Jamie Kihira—BSc, Computer Science & Mathematics
Jubilee Medal for Social Sciences: Jenna Matijevic—BSc, Psychology
Jubilee Medal for Social Sciences: Maxwell Nicholson—BA, Honours in Economics
Law Society Gold Medal: Andrew Tigchelaar—JD
Certificate Distinction in the Faculty of HSD: Rebecca Steel—BCYC, Child and Youth Care
Victoria Medal in Fine Arts: Laura Gildner—BFA, Visual Arts
Canadian Society for Exercise Physiology Undergraduate Student Award: Katelyn Jeffries—BSc, Kinesiology
Canadian Society for Exercise Physiology Undergraduate Student Award: Kristen Leech—BSc, Kinesiology
Maxwell A. Cameron Memorial Award: Dominique Rochefort—BEd, Elementary Teacher Education
Maxwell A. Cameron Memorial Award: Regina Elizondo de la Fuente—BEd, Secondary Teacher Education
Canadian Society for Mechanical Eng. Medal: Noah Varley—BEng, Mechanical Engineering
Department of Computer Science Graduation Medal: Mohammed Abousaleh—BSc, Computer Science
Department of Computer Science Graduation Medal: Kulvir Sekhon—BSc, Computer Science & Mathematics
IEEE Victoria Section Gold Medal in Computer Engineering: Jiefei Li—BEng, Electrical and Computer Engineering
IEEE Victoria Section Gold Medal in Electrical Engineering: Lyden Smith—BEng, Electrical Engineering
IEEE Victoria Section Gold Medal in Software Engineering: Rhiannon Tully-Barr—BSEng, Software Engineering
IEEE Victoria Section Gold Medal in Biomedical Engineering: Toren Huntley—BEng, Biomedical Engineering
Photos
In this story
Keywords: convocation
Publication: The Ring