A dream made real through learning
- Kate Hildebrandt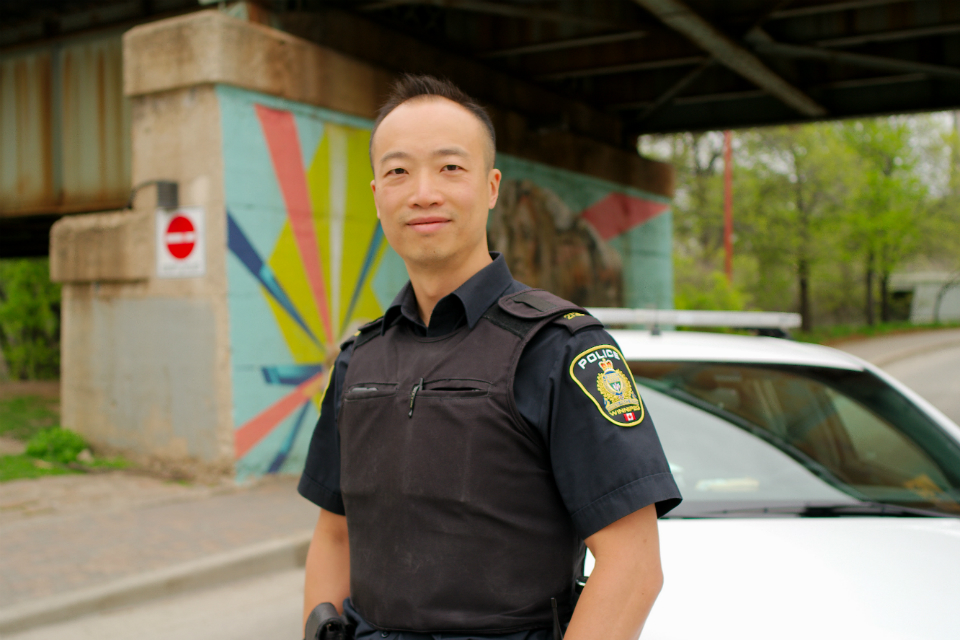 From Hong Kong to Canada
As a kid growing up in Hong Kong, Ka Wong was hooked on Wuxia, a superhero genre of hugely popular books and multimedia about modernday martial arts warriors. Graphic novelists of the 1980s and '90s crafted stories of altruistic, imperfect, mythical heroes who travelled the world to right historic wrongs and rescue innocent victims.
"In our culture, heroism is a very big thing," says Wong, now 36 and preparing to graduate with a BA in Health and Community Services, specializing in Indigenous health, from UVic's School of Public Health and Social Policy.
At 13, Wong experienced his own big adventure when his family moved from Hong Kong to Canada.
"It was a huge culture shock," says Wong— made more so after living through his first Winnipeg winter. Picked on at school, being the only Chinese student who could not speak English, he struggled with his studies for years.
"My parents gave up on me becoming a doctor."
Renamed Tony, "my Canadian name," he coped as any teenager might, imagining a future for himself of superhero proportions. That's when he decided he wanted to be a policeman. While his parents' response was lukewarm, he says, "they agreed I should have the freedom to try."
Experiences through police service
Wong has served with the Winnipeg Police Service for 12 years now. He worked for eight years as a beat cop and spent the past four years in community policing. While he still gets picked on, he sees such behaviour stemming from a lack of understanding.
"It's not malicious."
"Bullying and racism are small matters to me," says Wong. He is confronted daily by much bigger wrongs that cannot be righted because of policy and law, and the lack of opportunity for unemployed people living in poverty.
"There's so much I want to do. I see situations and I want to help, but often that's not the role of a police officer. I find this difficult to accept." Working night shifts, with limited time with family—Wong and his wife, Christa, have three sons under 10—pressures began to feel overwhelming.
"Some things just stay with you," he confides. As with the tragic murder of Angela Poorman, a 29-year-old Indigenous woman who was stabbed to death on the street one winter morning in 2014 after an argument with a young man. Wong was one of the first officers on the scene.
"It was such an undignified death," he says, shaking his head. Police tracked down Poorman's killer, who was under 18 at the time of the stabbing. During the sentencing hearing, Poorman's mother and daughter addressed the court and forgave the young man.
"Their forgiveness changed that guy," says Wong. "He broke down, apologizing for what he had done. At that point I just went 'wow.'"
"You know, I'm not Indigenous but I certainly know what racism is, and this killing was something I just couldn't grasp. People say that's just the way it is and I keep thinking, no, there must be something I can do."
Choosing UVic
Wong chose to go back to school, a decision his family supported wholeheartedly. After two years of evening classes at the University of Manitoba, wife Christa, a dental assistant, went searching online for a distance degree program her husband could complete while still working.
"My amazing wife. She's so supportive. She's the one who found out about UVic and this BA program," says Wong. Haunted by old fears of failure, Wong had the opposite experience and soared. "All I had to do was work hard and I say that with all sincerity."
The learning, he says, was a "game changer."
This program made me feel like I woke up, like something inside me finally became alive. I discovered a different kind of thinking. I learned what it really means to be an ally. This was the driving force that led me to apply for a law degree.
— UVic School of Public Health and Social Policy graduate Ka (Tony) Wong
Wong was recently accepted at Osgoode Hall Law School with York University and is in the process of relocating his family to Toronto. He starts this September and upon completion in four years plans to practice law for social justice.
"I learned through the community engagement work I did later in my policing career that helping people is about doing things with them, not to them or for them; that's the difference between the dominating factor of heroism—that us-against-them mentality—and the communal factor of serving as an ally, a reflective partner. That's my dream now."
Photos
In this story
Keywords: convocation, graduate studies, public health
Publication: The Ring