on the Verge Writing Contest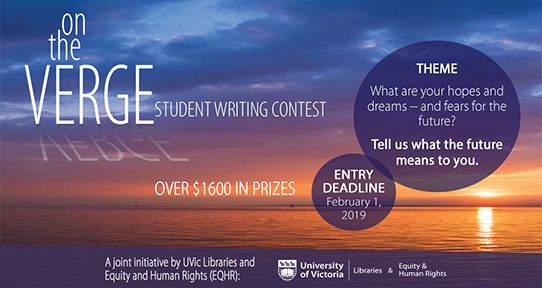 What is on the Verge ?
on the Verge Writing Contest showcases and celebrates emerging UVic student voices with an annual theme under the broad rubric of equity, diversity and human rights. As a reformulation of the 10-year running Diversity Writing Awards, we carry forward the spirit of diversity under a broader umbrella and with a renewed spirit of creative exploration. The contest is co-sponsored by UVic Libraries and Equity and Human Rights (EQHR) with significant support from other units on campus.
How do I enter?
Writing Contest guidelines:
Entries to the writing categories must be attached as a Word or PDF document
Entries to the spoken word category must be attached as an audio or video file
Do not include your name or student number in your attached submission
In the body of your email, include the following information:
Full name
Student number
Title of submission
Category
Preferred contact email address
Enter one of the four categories below:

Poetry (150 lines maximum)
Fiction (1500 words maximum)
Non-fiction (1500 words maximum)
Spoken Word (3-minute maximum - video or audio file formats accepted)
Open to UVic students only
Only one entry per student will be accepted
Graphic novel/comic formats will be accepted
Visual and graphic works are eligible
Submissions must be original and unpublished (this includes personal blogs, etc.)

The 2018/19 celebrity judge is author Julie Paul, award-winning Victoria writer of fiction, non-fiction and poetry.

Theme
The 2018/2019 theme is THE FUTURE.
Theme description: Every day, we make choices and perform actions that impact our lived and shared experiences as humans on this planet. The past informs the present, and the present shapes the future. How do our social locations influence these experiences, or alter them? Can we change the future? And in the age of the Anthropocene, what does the future really mean? What are your hopes and dreams -- and your fears? Tell us what the future means to you.
Judging criteria
All entries will be evaluated on the following criteria:
Excellence and proficiency in writing and technique
Engagement with the theme in a meaningful way
Awareness of equity, diversity and human rights dimensions related to the theme
Fit within the word/time limits for submission
Prizes
Contest winners will receive the following:
$250 first place; $150 second place (in each category)
Award certificate
Cash prize
Free enrollment in Julie Paul's workshop in 2019
Winning entries will be published on the UVic Libraries website and highlighted on other UVic sites, including EQHR
Contact us
For more information email otvcontest@uvic.ca.
Thank you, sponsors!
A big thank you to the UVic Libraries, Equity and Human Rights (EQHR), VPAC and our fabulous Faculty and Departmental sponsors: Business, Continuing Studies, Education, Engineering, Fine Arts, Humanities, Human and Social Development, Law, Science, Social Sciences & the UVic Writing Department.