Podcast contest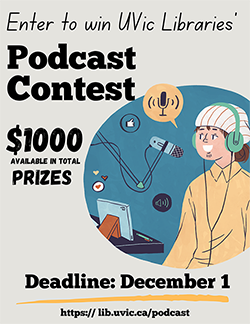 The University of Victoria Libraries student podcast award is intended to recognize and celebrate the high-quality work being created by UVic students in the world of podcasting. The contest is meant to highlight and demonstrate the ways students are living UVic's values of "engaged learning and real-life involvement to contribute to a better future for people and the planet."
$1000 in prizes
Candidates may only submit one episode of their podcast, to a maximum of 90 minutes in length. Please choose the episode that best represents your podcast. 
All genres of podcast are welcome.  
Podcasts can be ongoing or complete. Episodes can be standalone or part of a series. 
Podcasts created as part of a school assignment or the result of independent work (including previously published work) are eligible for consideration. 
Video podcast submissions will not be accepted at this time. Audio submissions only.   
Entrants must include a 250-word summary description of their podcast and its intended impact in the submission form
To be eligible for this contest, entrants must be current UVic students (including undergraduate, graduate, continuing, full or part-time). 
Podcasts must follow university guidelines on academic integrity. 
Individual submissions will be judged based on technical excellence, creative and engaging storytelling, and impact.
Contest winners will receive the following:
Two individual cash prizes of $500
Award certificate
Winning entries will be published in UVicSpace (UVic Libraries' open access institutional repository) and highlighted on UVic Libraries' social media channels
Check out these podcasting resources at UVic Libraries:
The Podcasting Room at Mearns Learning Centre – McPherson Library has professional quality microphones along with a Windows PC with sound editing software (Audacity) installed. Room booking and access is available through Mearns-McPherson Ask Us desk. 
Additional podcasting tools like microphones, audio recorders, and headphones can be borrowed from the Mearns-McPherson Ask Us desk. 
Check out Taapwaywin: talking about what we know and what we believe, a UVic Libraries podcast about truth and reconciliation 
All entries must be submitted to Library Awards (libraryawards@uvic.ca) with a link to the podcast (either as a file or Dropbox) and with a completed contest submission form. Audio files should be in mp3 format. 
Submissions will be accepted until 11:59 p.m. on December 1, 2023. Winners will be announced before the end of December 2023. 
Contact Library Awards at  libraryawards@uvic.ca for more information about the contest.