Pooja Parmar
Assistant Professor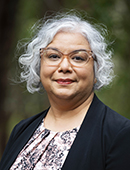 Pooja Parmar joined the Faculty of Law in 2015. She received a PhD in Law from UBC, and has previously taught at Carleton University, Osgoode Hall Law School, and UBC Faculty of Law. Prior to commencing graduate research, she practiced law in New Delhi for several years.
Professor Parmar's current research focuses on the legal profession in Canada and India, indigeneity, and human rights. Her research is informed by her interest in questions of legal epistemology and plurality. She is currently working on four research projects. The first is a study of lawyers who represent Indigenous peoples. The second is a legal history project (in collaboration with John McLaren) about lawyers who represented unpopular causes in BC in the early twentieth century. A third study focuses on the legal profession in India and examines the relationship between legal training and access to justice for Indigenous peoples in the country. Her fourth project focuses on international law and Indigenous peoples. Her published research has examined aspects of human rights, right to water, claims of indigeneity, oral history, translation across legal worlds, intersections of law and colonialism, and law and development. Her latest publication is a book titled Indigeneity and Legal Pluralism in India: Claims, Histories, Meanings published by Cambridge University Press in 2015.
Professor Parmar teaches courses in legal ethics and professionalism, property law, and international human rights law. She has previously taught a range of courses including Public International Law, Law & Development, International Economic Law, Human Rights & Social Justice, and Contracts. She is currently supervising graduate research on law and colonialism, Indigenous rights, environmental & social justice, and legal history.
Professor Parmar is a member of the board of directors of the Canadian Association for Legal Ethics (CALE). She is also a founding member of the Global South Asia Forum at UVic.
BA (Honours) – Panjab University (1993)

LLB – Panjab University (1996)

LLM – UBC (2006)

PhD – UBC (2013)
Access Pooja's publications through the Social Science Research Network (SSRN).
Book
 Articles in Refereed Journals
'Undoing Historical Wrongs: Law and Indigeneity in India' (2012) 49 Osgoode Hall Law Journal 491
'Prairiecall: The Vulnerabilities of Outsourced Work on America's Near-shore' [with Ruth Buchanan] (2009) 26:4 Journal of Architectural Planning and Research – Special Issue: 'Work Beyond Boundaries' 313
'Revisiting the Human Right to Water' (2008) 28 Australian Feminist Law Journal 77
'TWAIL: An Epistemological Inquiry' (2008) 10:4 International Community Law Review 363
Edited Collections/Special Issues
'Situating Third World Approaches to International Law: Inspirations, Challenges and Possibilities' International Community Law Review (2008) 10:4, Guest Editor, Special Issue (with Karin Mickelson and Ibironke Odumosu)
Book Reviews
Review of Rajshree Chandra, The Cunning of Rights: Law, Life, Biocultures (Oxford University Press, 2016) 52: 3 Contributions to Indian Sociology (2018) pp. 360-362
Collective Review of Constance Backhouse, Claire L'Heureux-Dubé: A Life, (UBC Press, 2017) 56:1 Alberta Law Review, (2018) pp. 263-274 (With Adjin-Tettey, Calder, et. al.)
Review of Narendra Subramaniam, Nation and Family: Personal Law, Cultural Pluralism, and Gendered Citizenship in India (Stanford University Press, 2014) 49:3 Law & Society Review (2015) pp. 807-809
Other
Foreword: 'Situating Third World Approaches to International Law (TWAIL): Inspirations, Challenges and Possibilities' (2008) 10:4 International Community Law Review, Special Issue (with Karin Mickelson and Ibironke Odumosu)