Asad Kiyani
Assistant Professor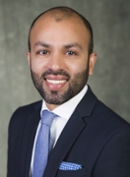 Asad Kiyani
Tel:250 472-5247
Fax:250 721-8146
@AsadKiyani

Faculty of Law
University of Victoria
PO Box 1700, STN CSC
Victoria, BC  V8W 2Y2
Map
Asad G. Kiyani joined the Faculty of Law in 2017. He holds an LL.B from Osgoode Hall, an LL.M from Cambridge, and a PhD from UBC, where he was awarded a Four-Year Fellowship, a SSHRC Vanier CGS Scholarship, the Charles Bourne Graduate Scholarship in International Law, and the Dean of Law PhD Prize. Prior to joining UVic, Asad was an Assistant Professor in the Faculty of Law and an Adjunct Professor at the Centre for Transitional Justice and Post-Conflict Reconstruction at Western University.
Asad researches and teaches in domestic and international criminal law, immigration and refugee law (including national security issues), evidence, postcolonial theory, legal pluralism, and comparative law. His current research projects focus on three areas. The first critically examines the major obstacles to legal pluralism as a practical method in international criminal law, and the role of international bodies and Third World governments in co-opting pluralist practices. The second considers the utility and risks of extending Gladue-based sentencing principles to non-Indigenous communities, and the extent to which those principles turn on the specific colonial experience of Indigenous peoples in Canada. The third examines the racialized effects of contemporary Canadian national security policy, and the commingling of administrative and criminal law.
Asad has written a number of book chapters and articles, including for the Supreme Court Law Review, the American Journal of Comparative Law, the Journal of International Criminal Justice, the NYU Journal of Law & Politics, and the American Journal of International Law: Unbound. He is a recipient of the 2017 Antonio Cassese Prize for International Criminal Law Studies for his article "Group-Based Differentiation and Local Repression: The Custom and Curse of Selectivity", and his article "Al-Bashir & the ICC: The Problem of Head of State Immunity" was cited by the Supreme Court of Appeal of South Africa in its decision on the South African government's obligation to arrest suspects indicted by the International Criminal Court.
Before beginning his doctoral studies, Asad articled with the Department of Justice in Toronto, worked as a Pegasus Scholar with barristers at Garden Court Chambers and 2 Bedford Row in the United Kingdom, and was part of the appeal team for Issa Hassan Sesay before the Special Court for Sierra Leone. He also worked with various Toronto-area legal aid clinics, including Parkdale Community Legal Services and the South Asian Legal Clinic of Ontario, and was posted to Ethiopia as part of a capacity-building partnership between the Canadian Bar Association and the Ethiopian Bar Association.
Asad was called to the bar by the Law Society of Upper Canada in 2006, and is currently a member of the National Council for Canadian Muslims Advisory Panel on National Security. 
BA (Hons) – Wilfrid Laurier University (2001)
LLB – Osgoode Hall Law School (2005)
LLM (First Class) – University of Cambridge (2008)
PhD – UBC (2016)
"R v Lloyd and the Unpredictable Stability of Mandatory Minimum Litigation." (2017) 81 Supreme Court Law Review 2d 117 - 145.
"The Ahistoricism of Legal Pluralism in International Criminal Law." (2017) 65 American Journal of Comparative Law 393 (with James G. Stewart).
"Group-Based Selectivity and Local Repression: The Custom and Curse of Selectivity" (2016) 14 Journal of International Criminal Justice 939.
"International Crime and the Politics of Criminal Theory: Voices and Conduct of Exclusion." (2015) 47 NYU Journal of International Law & Politics 127.
"The Antinomies of Legitimacy: On the (Im)possibility of a Legitimate International Criminal Tribunal". (2014) 7 African Journal of Legal Studies 495.
"Al-Bashir & the ICC: The Problem of Head of State Immunity" (2013) 12 Chinese Journal of International Law 467.