Chris Heslinga
Director of the Law Centre
Assistant Teaching Professor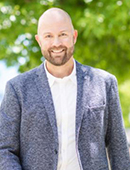 Chris Heslinga
Tel: 250-385-1221



Faculty of Law, University of Victoria
PO Box 1700, STN CSC
Victoria, BC  V8W 2Y2
Map
Chris Heslinga has 8 years of experience with the University of British Columbia's (UBC) Law Students' Legal Advice Program where he supervised all civil files handled by LSLAP students. From 2016-2023, he taught the "LSLAP for Credit"/Law 491 course. He also has experience working at UBC's Indigenous Community Legal Clinic (downtown), where he was a supervising lawyer from August 2019 - April 2022, and Acting Academic Director for two semesters in 2021. Since 2017 he has been on the Community Legal Assistance Society's roster of lawyers who represent clients detained against their will at Mental Health Review Board hearings. 
He has been a member of UBC Law's Indigenous Legal Studies Committee and is currently serving as the Vice-President of the Association of Canadian Clinical Legal Educators, and will be its incoming President. He has volunteered with the provincial Access Pro Bono Society as a lawyer and a supervising lawyer for law students as a lawyer with the Mental Health Law Program Telephone Clinic (2017-19); as a lawyer/supervising lawyer with its Mental Health Law Program (2014-17); and as a supervising lawyer with its Family Law Project. He has also provided advocate training at the Law Foundation of British Columbia's Annual Advocate Training Conference. 
He is a graduate of the University of British Columbia Faculty of Law (JD 2012), and has a Bachelor of Arts (Honours, Social Science, 2009) from the University of Western Ontario.
BA (Hons) Psychology – University of Western Ontario (2009)
JD – University of British Columbia (2012)