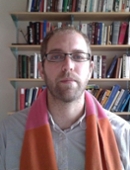 Position
Associate Professor
History
Credentials
BA (McGill), PhD (Pennsylvania)
Contact
Office: Cle B232
Office Hours
By appointment only.
Area
Canadian and American. Race, immigration, inequality, and urban.

Dr. Stanger Ross is Director of: Landscapes of Injustice
Bio
My research and teaching focus on immigration, race, and inequality in twentieth century North America. I am currently the director of Landscapes of Injustice, a 7-year multi-sector and community-engaged project to research and tell the history of the forced sale of Japanese-Canadian-owned property during the 1940s. Throughout my career, I've been inspired by the places where I live. As a graduate student in Philadelphia and Toronto, I wrote about how people in each city experienced and created ethnic community. Since moving to British Columbia I've written about municipal acquisitions of "Indian Reserves" in Vancouver as well as the social, legal, and political history of the dispossession of Japanese Canadians. In all of this work, I have been fascinated by the experiences and choices of individuals within the context of ideological, institutional, and social patterns. In addition to writing for academic audiences, I'm engaged in a variety of "public history" initiatives that communicate scholarly analysis in museums and popular media.
Selected publications
Books:
Articles and chapters:
"Promises of Law: The Unlawful Dispossession of Japanese Canadians," Osgoode Hall Law Journal 54, 3 (2017), with Eric Adams and the Landscapes of Injustice Research Collective.
 "'My Land is worth a million dollars': How Japanese Canadians contested their dispossession in the 1940s" Law and History Review 35, 3 (2017), with Nicholas Blomley and the Landscapes of Injustice Research Collective.
"Suspect Properties: The Vancouver Origins of the Forced Sale of Japanese-Canadian-owned Property, WWII" Journal of Planning History 15, 4 (2016), 271-289, with the Landscapes of Injustice Research Collective.
"Choreographies of Urban Life: Mapping the Social History of the City," in Nicholas Kenny and Rebecca Madgin eds., Cities Beyond Borders: Global Comparative and Transnational Approaches to History (Farnham: Ashgate, 2015), 61-78. 
"Telling a Difficult Past: Kishizo Kimura's Memoir of Entanglement in Racist Policy," BC Studies, 181 (Spring 2014), 39-62.*
with Hildy S. Ross, "Placing the Poor: The Ecology of Poverty in Postwar Urban Canada", Journal of Canadian Studies/Revue d'études canadiennes 46, 1 (2012), 213-240.
"Municipal Colonialism in Vancouver: City Planning and the Conflict over Indian Reserves, 1928-1950s," Canadian Historical Review 89, 4 (2008), 541-580.
"Neither Fight nor Flight: Urban Synagogues in Postwar Philadelphia," Journal of Urban History 32, 6 (2006), 791-812.
"Falling Far From the Tree: Transitions to Adulthood and the Social History of Twentieth-Century America" Social Science History 29, 4 (2005), 625-648, with Christina Collins and Marc J. Stern.
*Recipient of the Canadian Committee on Migration, Ethnicity, and Transnationalism Article Prize
Op-Eds
"Remembering promises – lessons from 75th anniversary of dispossession of Japanese Canadians" Vancouver Sun, 26 March 2017, with Eric Adams (also carried in the Calgary Herald, the Edmonton Journal, and the Montreal Gazette).
"Lessons from the Japanese Canadian Internments: Policies built on fear won't make us safer," Globe and Mail, 19 January, 2016, with Eric Adams and Laura Madokoro.
"Attack on niqab a backward step for Canada", Victoria Times-Colonist, 8 October 2015, with Lynne Marks.
Other
Courses
| | |
| --- | --- |
| HSTR 230B | Canada Since Confederation |
| HSTR 301 | The Historian's Craft |
| HSTR 309 | Race Riots in American Cities |
| HSTR 329G | Race and Ethnicity in Canada since 1900 |
| HSTR 515A | Public History |
Grad students
Recent Graduate and Honours Student Supervisions
Completed:
Kate Siemens, Hon: Witnessing Internment: Captain V.C. Best's Letters to Ottawa (www.witnesstointernment.wordpress.com)
Elspeth Gow, Hon: Reconciliation in Theatres of Living Memory: Unsettling Fort Edmonton Park, with Lynne Marks (2017)
Martin Strong, Hon: Japanese Canadians and Internment: The Role of The New Canadian as an Agent of Resistance, 1941-1945 (2017)
Samuel Biagioni, MA: Homemade Italianita: Italian Foodways in Postwar Vancouver (2016)
Ariel Merriam, Hon: 'Our Appreciation for All Your Goodness and Kindness': Power, Rhetoric, and Property Relations in the Dispossession of Japanese Canadians (2016)
Esther Rzeplinski, MA: 'Although I'm just 12 I'm sure I could do a lot for you': Political Participation in Children's Letters to Pierre Trudeau, March-May 1968 (2015)
Jacopo Miro, MA: Visions of False Creek: Urban Development and Industrial Decline in Vancouver, 1960-1980 (2011)

Current:
Steve Fielding, PhD
Topic: Multiculturalism and Sport in Post WWII Toronto
Kaitlin Findley, MA
Topic: Internment of Japanese Canadians
Julia Bristow, MA
Topic: Muslim Canadians
Shaun Williamson, MA
Topic: Neoconservative Thought and American Prisons