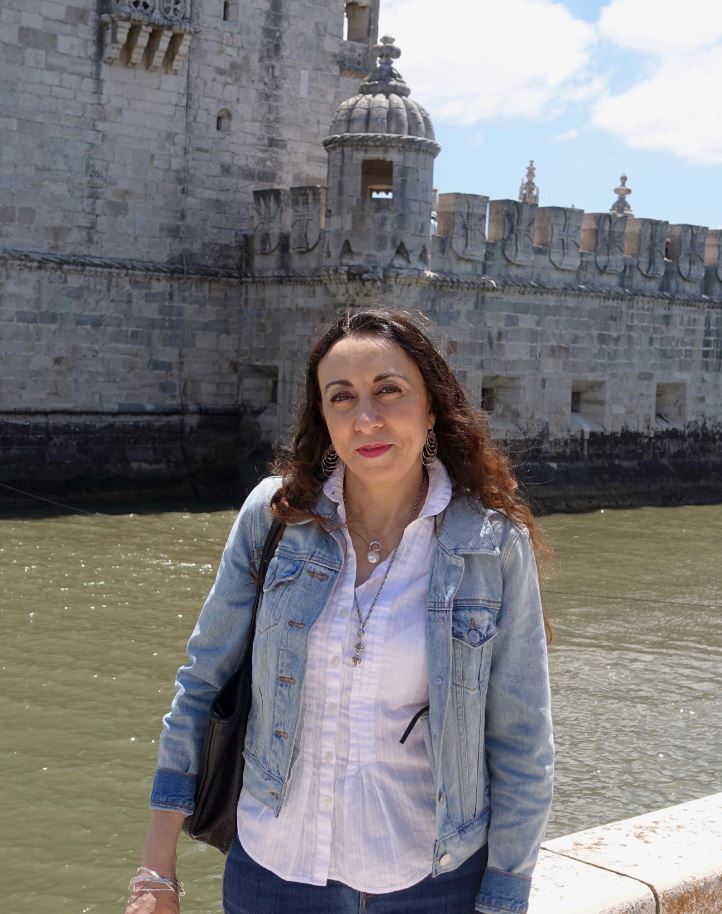 Position
Associate Professor, History. Director, Latin American Studies
History
Contact
Office: Cle B227
Credentials
BA (ITESM), DEA (Paris III), MA (Queen's) MA, PhD (Princeton)
Area of expertise
Colonial and early national Latin American intellectual history, global cultural history.
Office Hours
Zoom office hours: Fridays 12:30 to 2:30 p.m. or by appointment.
Bio
I was born in Monterrey, México, where I obtained my undergraduate degree.  My graduate studies took me to France, Canada, and the United States. I came to the University of Victoria as an Associate Professor after holding faculty positions at McGill University and at Queen's at Kingston.
I am the founding director of the Latin American Studies Program at the University of Victoria, the founding coordinator of the Latin America Research Group, and a member of the editorial boards of the Literatura Mexicana and Cincinnati Romance Review. For the SSHRCC-funded MCRI project on the Hispanic Baroque I coordinated an interdisciplinary line of research on technologies of culture (http://hispanicbaroquetechnologiesofculture.wordpress.com/about/).
Selected publications
"The Spanish Colonial Empire in the Renaissance: Establishing the First Global Culture." A Companion to the Spanish Renaissance.  Ed. Hilaire Kallendorf.  Leiden: Brill, 2018. 89-120.
"Celestina and Agustín Arrieta's China Poblana: Mexico's Female Icon Revisited." A Companion to Celestina. Ed. Enrique Fernández Rivera. Leiden: Brill, 2017. 339-61.
"Los indígenas en la obra de Fernández de Lizardi: Justicia, caridad y devoción." Sujetos coloniales: escritura, identidad y negociación en Hispanoamérica (siglos XVI-XVIII). Ed. Carlos Cabanillas Cárdenas. New York: Institute of Golden Ages Studies, 2017. 99-117.
"Memoria política de la conquista y evangelización de la Nueva España." Cuadernos Hispanoamericanos 769-770 (2014): 133-46.
"For Love of Patria:  Locating Self and Nation in Clavigero's Rendition of the Conquest of México." Jesuit Accounts of the Colonial America: Textualities, Intellectual Disputes, Intellectual Transfers.  Eds.  Marc-André Bernier, Clorinda Donato and Hans-Jürgen Lüsebrink. Toronto: U of Toronto P, 2014. 107-26.
"El pensamiento utópico de Fernández de Lizardi antes y después de la Independencia." La utopía posible: reflexiones y acercamientos. Vol. 2. Ed. Eduardo E. Parrilla Sotomayor. Monterrey: ITESM, 2013. 613-30.
"Clavigero y la Historia de la conquista de México de Solís." St. Francis Xavier and the Jesuit Missionary Enterprise. Assimilations between Cultures / San Francisco Javier y la empresa misionera jesuita. Asimilaciones entre culturas. Eds. Ignacio Arellano and Carlos Mata Induráin. Pamplona: BIADIG/U de Navarra, 2012. 33-45.
"La Grandeza mexicana y los aportes asiáticos a la Nueva España: Lujo, 'mestizaje cultural' y espiritualidad." Actas del I Congreso Ibero-Asiático de Hispanistas del Siglo de Oro.  Eds. Vibha Maurya and Mariela Insua. Pamplona: GRISO/U de Navarra, 2011. 17-32.
"Los Ejercicios de la Encarnación de sor Juana Inés de la Cruz:  Sermones de Imitatio Mariae." Anuario de Estudios Bolivianos, Archivísticos y Bibliográficos 16 (2010): 159-70.
"El nacimiento de la novela entre periodismo y pedagogía: José Joaquín Fernández de Lizardi." Historia de la cultura literaria en Hispanoamérica. Vol. 1. Eds. Dario Puccini and Saúl Yurkievich. México:  Fondo de Cultura Económica, 2010. 511-519.
"Fernández de Lizardi y su lectura ilustrada del Quijote:  Cervantismo, quijotismo y autoría." Don Quijote en América Latina.  Eds. Friedhelm Schmidt-Welle and Ingrid Simson. Amsterdam: Rodopi, 2010. 51-72.
"Religious Expressions of the Hispanic Baroque:  The Virgin of Guadalupe and Syncretism in New Spain." East and West: Exploring Cultural Manifestations. Eds. Kala Acharya and Ignacio Arellano. Mumbai: Somaiya, 2010. 519-36.
"Fe y razón en la educación de las mujeres: El iluminismo cristiano de Fernández de Lizardi en su Quijotita." Actas del XV Congreso de la Asociación Internacional de Hispanistas. México:  Fondo de Cultura Económica, 2007. 31-8.
"La vieja beata en La Quijotita de Fernández de Lizardi: Una celestina a lo divino." Revista Canadiense de Estudios Hispánicos 32.1 (2007): 123-36.
"Providence, Indigenous Protagonism, and Enlightenment: Clavijero's Rendition of the Conquest of México." Lumen 24 (2005): 49-63.
"Writing the Nation in Nineteenth-Century Mexico: Liberalism, Cosmopolitanism, and Indigenismo in Altamirano." Hispanófila 142 (2004): 101-16.
 Al filo de la muerte:  Los pueblos de la Revolución Mexicana en López Velarde, Yáñez y Rulfo." Ciudades vivas/ciudades muertas: espacios urbanos en la literatura y el folklore hispánicos.  Eds. Kay Sibbald, Ricardo de la Fuente y J. Díaz.  Valladolid: Universitas Castellae, 2000. 7-16.
"La nascita del romanzo fra giornalismo e pedagogia:  Joaquín Fernández de Lizardi."  Storia della civilità letteraria ispanoamericana. Eds. Dario Puccini and Raúl Yurkievich. Vol. 1: Dall'età precolombiana all'Ottocento. Torino: UTET, 2000. 348-54.
"'Enlightened Absolutism' and Utopian Thought: Fernández de Lizardi and Reform in New Spain." Revista Canadiense de Estudios Hispánicos 24.2 (2000):  295-306. Reprinted in Nineteenth-Century Literature Criticism 200 (2008).
 Ilustrando la Nueva España:  Texto e imagen en El Periquillo Sarniento de Fernández de Lizardi.  Cáceres: Universidad de Extremadura, 1999. 
"Mimetismo cervantino y quijotismo femenino en las novelas de Fernández de Lizardi:  Diferencias de género y lectura." Siglo Diecinueve 5 (1999): 125-36.
"Picaresca y novela educativa en la Nueva España: El Periquillo de Fernández de Lizardi." Studi Ispanici (1999):  1-10.
"En torno a Huitzilopochtli:  Sigüenza y Góngora, sor Juana y Clavijero." Dieciocho Anejo 1 (1997): 89-107.
"The Dialogics of Utopia, Dystopia and Arcadia: Political Struggle and Utopian Novels in Nineteenth-Century Mexico." Utopian Studies 8.1 (1997): 19-30. Awarded essay prize.
Grad students
Fernando Guadarrama (PhD by special arrangement in progress) "La biblioteca de sor Juana: Ciencia y conocimiento en Primero Sueño"
Angie Reamer (PhD by special arrangement in progress) "The Cultural Significance of the Archetype of Sor Juana Inés de la Cruz."
Estelle Kurier, (PhD by special arrangement in progress) "Dante and Sor Juana: The Medieval Roots of the Hispanic Baroque."
Rosendo Escobedo, (M.A. in progress) "Antonio de Rivas, ciencia ficción y la inquisición novohispana."
Tobi Panter (M.A. in progress) "Nacimiento y muerte en el Códice Florentino."
Behdis Mokhtarmaleki (M.A. 2017) "Images of Water in Saint Teresa's Prayers and Spirituality."
María Paz Lundin, (M.A. 2016) "Neptuno alegórico y su cristalización poética: análisis de los mensajes políticos, filosóficos y simbólicos del arco triunfal sorjuanino."
Fernando Guadarrama Gómez, (M.A. 2015) "La poesía emblemática de Luis de Sandoval Zapata."
Stephen Cruikshank, (M.A. 2014) "Cuba and the Neobaroque: Twentieth-Century Reformulations of Cuban Identity."
Ximena Armstrong (M.A. 2013), "Sor Catalina de Jesús María Herrera: visionaria teresiana de Quito Colonial, siglo XVIII."
Monica Wappel (M.A. 2011), "Indigenismo y feminismo en Aves sin nido."
Janice Shewey (M.A. 2010), "Hacia el dinamismo, la creatividad y la feminización de la divinidad: Los villancicos asuncionistas de sor Juana Inés de la Cruz."
Manuel Campirano (M.A. 2010), "Las trampas de la ambigüedad: La narración neobarroca en Casa de campo de José Donoso."
Emily Pearson (M.A. 2010), "La historia enigmática de la adivinanza: El origen del enigma en España y sus primeras manifestaciones literarias."
Emily Braden (M.A. 2007), "Así me gustas gordita: Representaciones de la gordura en la música popular y la literatura del Caribe hispano."
Xavier Gamboa (M.A. 2006), "La Quijotita y su prima de Fernández de Lizardi: Manual y novela de formación femenina novohispana."
Angie Graciela Whiting (M.A. 2006), "An Inversion of Fairytale in Elena Garro´s 'Un corazón en un bote de basura.'"