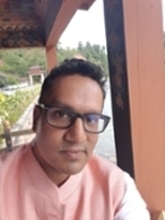 Position
Associate Professor and Canada Research Chair
History
Credentials
BA (Pittsburgh), MA (Chicago), PhD (Tufts)
Contact
Office: Cle B234
Office Hours
Dr. Bose is on leave this year.
Area
Modern South Asian history from the eighteenth century to the present, colonial India, histories of religion, empire, nationalisms, and decolonization; trans-national history, global history.
Bio
My research and teaching interests include the history of modern South Asia (the Indian subcontinent), the British Empire, decolonization, and the history of diasporas and migrations. Additionally, I hold interests in theater, performance studies, and popular culture. My first book examined the intersections between linguistic identity and Muslim religious community formation in late colonial Bengal. My current project explores the history of religious reform in colonial India and ways that Indian religious reformers studied local religious practices in the service of a broader universalism. I earned my PhD in South Asian history at Tufts University in 2009 and I've taught at the University of North Texas in Denton, TX, and St. John's University in Queens, NY, before joining the University of Victoria in 2015 as Tier II Canada Research Chair in Global and Comparative History.
Selected publications
Books
Recasting the Region: Language, Culture, and Islam in Colonial Bengal (Delhi: Oxford University Press, 2014)
Edited Volumes
Culture and Power in South Asian Islam: Defying the Perpetual Exception (London: Routledge, 2015)
Beyond Bollywood and Broadway: Plays from the South Asian Diaspora (Bloomington, IN: Indiana University Press, 2009)
Maanusher Adhikare (Of Human Rights) (co-translated and co-edited with Sudipto Chatterjee) (Kolkata: Seagull Press, 2009)
Recent Articles and Reviews
2017, "Religion between Region and Nation: Rezaul Karim, Bengal, and Muslim Politics at the End of Empire," in Muslims Against the Muslim League: Critiques of the Idea of Pakistan, edited by Meghan Robb and Ali Osman Qasmi, 338 – 349. Delhi and Cambridge: Cambridge University Press.
2016, (with Jamil Khoury and Fawzia Afzal-Khan) "The Dramaturgy of Political Violence" Performing Islam 5 (1&2): 7-63.
2015, "Performing History, Constructing 'Culture': Ronnie Govender's 1949 and the Romanticism of Historical Memory," African Studies 74 (2): 235-246.
2015, "Periodization and the Twentieth Century: Grappling with Pre-Histories of Bangladesh" Südasien-Chronik/South Asia Chronicle 4: 35-48.
2014, "New Settler Histories at the Edges of Empire: "Asiatics," Settlers, and Law in Colonial South Africa," Journal of Colonialism and Colonial History 15 (1): http://muse.jhu.edu/journals/journal_of_colonialism_and_colonial_history/v015/15.1.bose.html.
2014, "Remapping Muslim Literary Culture: Folklore, Bulbul, and World-Making in Late Colonial India," South Asian History and Culture 5, 2 (April): 212-225.
2014, "Purba Pakistan Zindabad: Bengali Visions of Pakistan, 1940-1947," Modern Asian Studies 48, 1 (January): 1-36.
2014, "Hiding the Nation in the Global: Modern Intellectual History and South Asia" Journal of Colonialism and Colonial History 15, 2 (2014), a review essay of Andrew Sartori and Samuel Moyn, eds., Global Intellectual History (Columbia, 2013), Bhavani Raman, Document raj: Writing and scribes in early colonial South India (Chicago, 2012), Robert Yelle, The Language of Disenchantment: Protestant literalism and colonial discourse in British India (Oxford, 2012), Righteous Republic: The political foundations of modern India (Harvard, 2012), Niraja Jayal, Citizenship and its Discontents: An Indian history (Harvard, 2012), and Pankaj Mishra, From the Ruins of Empire: The intellectuals who remade Asia (Farrar, Strauss, and Giroux, 2012).
Courses
HSTR 370       Rising Peoples: The Struggle Against Colonialism in Asia and Africa
HSTR 505       World History: Empires and Nations