Latin American & Spanish Film Week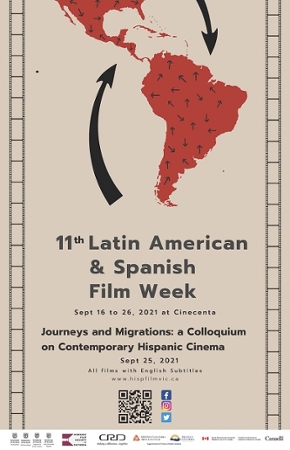 The Department co-sponsors the annual Latin American and Spanish Film Week, which brings to Victoria a sample of the best films produced today in Latin America and Spain.
The 11th Film Week will run Thursday September 16 to Sunday September 26, 2021, with a line-up of films from Argentina, Mexico, Uruguay, Peru, and Spain.
This year's event is hybrid, offering three online film screenings (Sept 16 to 21) and five in-person theatre screenings (Sept 22 to 26) at Cinecenta. All five films focus on migration in and from Latin America. Concurrent with the Film Week is "Journeys and Migrations: a Colloquium on Contemporary Hispanic Cinema" on Saturday, September 25 in HHB, Room 105, 12:30pm to 6:00pm.  For more information about the events, go to www.hispfilmvic.ca.
The Film Week is organized by the Hispanic Film Society of Victoria. Its Board of Directors includes Dr. Dan Russek, President of the Society, Dr. Gabriela McBee, and has included Prof. Chrissie Forster and Professor Emeritus Dr. Lloyd Howard.
The event is open to all students, faculty, staff and the community at large. All films are shown with English subtitles.
We hope you'll join us!