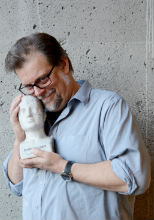 Position
Associate Teaching Professor
Germanic and Slavic Studies
Contact
Office: CLE D271
Credentials
Area of expertise
Germanic Studies, Language Teaching, Film, Visual Arts
I hold my degrees from Queens and McGill, with studies in Trier and a PAD assistantship in the Saarland in between. I began teaching at UVic in 1997 as a sessional, became a regular faculty member in 2004, and was promoted to Associate Teaching Professor in 2019. Film, language teaching, and visual arts (mainly painting) are my primary personal and teaching interests.
This term I will be coordinating and teaching GMST 101, our first-year beginners course, with our new lecturer from Germany, Marie Müller. Teaching the language is one of my favourite professional activities. I feel the same about GMST 100, in which we explore and become informed about German-speaking culture and identity. Finally, my course on Marx, Nietzsche and Freud (GMST 365) introduces students to their fundamental ideas and proposes case studies which investigate their role in shaping and making German literature.
January 2022 will see my introducing an intensive German course for beginners (GMST 110) through the open education resource Grenzenlos Deutsch. I will also be offering a cross-listed course on Franz Kafka (GMST 480) which can be taken for English credit as ENGL 392. I look forward to some amazing discussions from a variety of disciplinary perspectives!
Fall 2022
GMST 100: Introduction to Germanic Studies

GMST 101 (A01 & A03): Beginning German I

GMST 365: Marx, Nietzsche, Freud 


Spring 2023

GMST 110: German Language Intensive

GMST 480/ENGL 392: Major Writers: Franz Kafka
"Before and After Kafka: Parable and Prophecy". Art as an Early-Warning System . Ludgard de Decker, ed. Community Seminar 8. UVic: Centre for Studies in Religion and Society, 2001. 77-100.

"Reading and Writing the Architecture of the Body in Kleist's Penthesilea". Body Dialectics in the Age of Goethe . Amsterdamer Beiträge zur Germanistik. Eds. Marianne Henn and Holger Pausch. Amsterdam: Rodopoi, 2003: 365 - 391.

"The Return of the Body in Twentieth-Century Kleist Discourse" (in German). Frankfurter Kleist-Kolloquium. Kleist-Bilder des 20. Jahrhunderts . Eds. Peter Ensberg and Hans-Jochen Marquardt. Stuttgart: Verlag Heinz-Dieter Heinz / Akademischer Verlag Stuttgart, 2003: 125 - 138.
"Riefenstahl's Motion / Pictures". Canadian Association of University Teachers of German General Meeting, Saskatoon, 30 May, 2007. 
"Kleist's Krug, Hedwig and the Angry Inch, and the Prosthetics of Body Politics". Canadian Association of University Teachers of German General Meeting, Vancouver, 1 June, 2008.