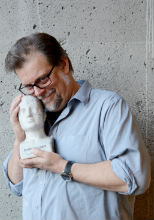 Position
Associate Teaching Professor
Germanic and Slavic Studies
Contact
Office: CLE D271
Credentials
Area of expertise
Germanic Studies, Language Teaching, Film, Visual Arts
I hold my degrees from Queens and McGill, with studies in Trier and a PAD assistantship in the Saarland in between. I began teaching at UVic in 1997 as a sessional, became a regular faculty member in 2004, and was promoted to Associate Teaching Professor in 2019. Film, language teaching, and visual arts (mainly painting) are my primary personal and teaching interests.
In September I will be teaching and coordinating GMST 101 with our new guest DAAD lecturer Regina Lahm. Teaching the language is one of my favourite professional activities, and I feel the same about GMST 100 (Introduction to Germanic Studies), in which we explore and become informed about German-speaking culture and identity. I am particularly excited to offer a new course cross-listed with the English Studies program "Nietzsche in Fiction" (GMST 462/ENSH 342), in which we explore his presence both as a character and inspiration within twentieth-century and more recent fiction.
I'm also very much looking forward to working with my colleague Helga Thorson in piloting an open-access resource for first-year German (Grenzenlos Deutsch) for GMST 101 in the Spring of 2024. I gratefully acknowledge funding from the Waterloo Center for German Studies and from UVic's LTSI for their support of this initiative; my particular thanks goes to Ph.D. student and sessional Janine Wulz, whose work as a research assistant for these grants has been indispensable for moving this project forward. I will be continuing my German language teaching with GMST 102, the follow-up to GMST 101. Finally, after a ten-year hiatus, the incredible work of director Fritz Lang will be the focus of GMST 450, a course which will be offered in the evening (Wednesdays, 6 – 9 pm) and can count towards the newly-created certificate in Media Studies.
"Before and After Kafka: Parable and Prophecy". Art as an Early-Warning System . Ludgard de Decker, ed. Community Seminar 8. UVic: Centre for Studies in Religion and Society, 2001. 77-100.

"Reading and Writing the Architecture of the Body in Kleist's Penthesilea". Body Dialectics in the Age of Goethe . Amsterdamer Beiträge zur Germanistik. Eds. Marianne Henn and Holger Pausch. Amsterdam: Rodopoi, 2003: 365 - 391.

"The Return of the Body in Twentieth-Century Kleist Discourse" (in German). Frankfurter Kleist-Kolloquium. Kleist-Bilder des 20. Jahrhunderts . Eds. Peter Ensberg and Hans-Jochen Marquardt. Stuttgart: Verlag Heinz-Dieter Heinz / Akademischer Verlag Stuttgart, 2003: 125 - 138.
"Riefenstahl's Motion / Pictures". Canadian Association of University Teachers of German General Meeting, Saskatoon, 30 May, 2007. 
"Kleist's Krug, Hedwig and the Angry Inch, and the Prosthetics of Body Politics". Canadian Association of University Teachers of German General Meeting, Vancouver, 1 June, 2008.