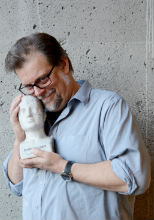 Position
Associate Teaching Professor
Credentials
Contact
Office: CLE D271
I hold my degrees from Queens and McGill, with studies in Trier and a PAD assistantship in the Saarland in between. I began teaching at UVic in 1997 as a sessional, became a regular faculty member in 2004, and was promoted to Associate Teaching Professor in 2019. Film, language teaching, and visual arts (mainly painting) are my primary personal and teaching interests. Having negotiated the challenges of online teaching, I am looking forward to keeping the best aspects of Brightspace for my face-to-face classes. In order to meet the needs of students who may prefer some of their courses online, I will be teaching introductory German (GMST 101) synchronously and online this September, while coordinating and setting up the course for its three other face-to-face sections. Additionally, I will be teaching GMST 100: Introduction to Germanic Studies, which is for me an exciting opportunity to introduce students to the skills and practices of our discipline, as well as cultural products such as film, graphic novels, architecture and visual art. My third course this term will be on German Expressionism (GMST 360). Along with the design movement Bauhaus, Expressionism became one of the most exciting and powerful art movements of the twentieth century, whose influence remains with us today in film, painting and other media. I am also very much looking forward to a study leave in January 2022.
Fall 2020
GMST 100   Introduction to Germanic Studies
A01 CRN: Th 6:00-8:00 pm  
GMST 101   Beginning German I
A01 CRN   TWF 9:30 - 10:30 am  
All these courses will integrate both asynchronous and synchronous methods.
Spring 2021
GMST 102 Beginning German II
A01 CRN TWF 9:30  - 10:20 am
A03 CRN TWF 12:30 - 13:20 pm
GMST 450 Major German Filmmakers: The Li[v]es and Legends of Leni Riefenstahl
A01 CRN 23555 Th 6:00 – 8:00 pm
"Before and After Kafka: Parable and Prophecy". Art as an Early-Warning System . Ludgard de Decker, ed. Community Seminar 8. UVic: Centre for Studies in Religion and Society, 2001. 77-100.

"Reading and Writing the Architecture of the Body in Kleist's Penthesilea". Body Dialectics in the Age of Goethe . Amsterdamer Beiträge zur Germanistik. Eds. Marianne Henn and Holger Pausch. Amsterdam: Rodopoi, 2003: 365 - 391.

"The Return of the Body in Twentieth-Century Kleist Discourse" (in German). Frankfurter Kleist-Kolloquium. Kleist-Bilder des 20. Jahrhunderts . Eds. Peter Ensberg and Hans-Jochen Marquardt. Stuttgart: Verlag Heinz-Dieter Heinz / Akademischer Verlag Stuttgart, 2003: 125 - 138.
"Riefenstahl's Motion / Pictures". Canadian Association of University Teachers of German General Meeting, Saskatoon, 30 May, 2007. 
"Kleist's Krug, Hedwig and the Angry Inch, and the Prosthetics of Body Politics". Canadian Association of University Teachers of German General Meeting, Vancouver, 1 June, 2008.