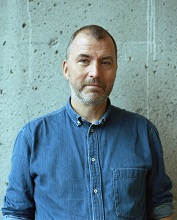 Jón Karl Helgason is a professor in the Department of Icelandic and Comparative Cultural Studies at the University of Iceland. He finished a PhD in Comparative Literature at The University of Massachusetts in 1995 and has prior to his teaching career worked as a producer at The Icelandic National Broadcasting and an editor at Bjartur publishing house in Reykjavik. His publications in English include: The Rewriting of Njals Saga (1999), Echoes of Valhalla (2017), and National Poets, Cultural Saints (2017, with Marijan Dović). He is the co-editor of Egil, the Viking Poet (2015), Great Immortality (forthcoming 2019), and From Iceland to the Americas (forthcoming 2020).
In the Fall 2019, Dr. Jón Karl Helgason will teach
GMST 369 Topics in Scandinavian Studies x MEDI 360: Selected Topic in Medieval Culture
A01 CRN 11823 M,Th 1:00 - 2:20 pm, CLE A303.

In addition, Dr. Helgason will give three public lectures:
"Henrik Ibsen and the Icelandic Sagas" - September 22, 2019, 2:00 pm, CLE A212
"The Questionable Authorship of Snorri Sturluson" - October 20, 2019 2:00 pm, CLE A212
"Icelandic Medieval Literature and American Popular Culture 1928-1962" - December 1, 2019, 2:00 pm, CLE A212.