Sikata Banerjee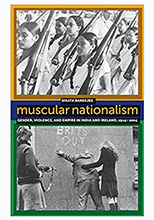 Position
Professor
Gender Studies
Contact
Office: CLE B105
Credentials
PhD 1996, Political Science, University of Washington
Area of expertise
Indian politics, nationalism, masculinities
Joined UVic Gender Studies in 2000
I am a political scientist focussing on examining gender, specifically masculinities, in nationalism, with a specific emphasis on India. Although my scholarship unpacks masculinities in the Indian context, I also bear in mind that masculinities exist in a dynamic tensions with femininities, and in my recent work I have highlighted that dynamic. My interest in masculinities was facilitated by field work in Mumbai and New Delhi focussing on the emergence of Hindu nationalism. My archival as well as interview work in India revealed the centrality of an explicit masculinized discourse in this political ideology. I was lucky enough to receive a SSHRC grant as well as residency in the Rockefeller Foundation Center in Bellagio, Italy. These awards enabled me to both do the research and publish my first book on masculinities: Make Me a Man!.  Since then I have continued this research path by building in a comparative perspective and moving on to unpack masculinities in a globalizing India.
Research Interests
Indian Politics
Nationalism
Masculinities
Faces of UVic Research: Sikata Banerjee
Courses Designed and Taught
GNDR 300 Gender Studies Seminar
GNDR 301 Women, Race and Empire
GNDR 304 Imagining India from Empire to Bollywood
GNDR 309 Masculinities
GNDR 323 Women in Contemporary India
GNDR 324 Gender, Nation, and War
Selected Publications
Gender, Nation, and Popular Film in India: Globalizing Muscular Nationalism (Routledge, 2017).
Muscular Nationalism:  Gender, Violence, and Empire in India and Ireland  (NYU Press: New York, NY, 2012).
Scattered Leaves of My Life: An Indian Nationalist Remembers  (Women Unlimited: New Delhi, 2011). This is an edited translation.
Make Me a Man! Masculinity, Hinduism, and Nationalism in India (SUNY Press:  Albany, NY, 2005).
Warriors in Politics: Hindu Nationalism, Violence, and the Shiv Sena in India (Westview Press: Boulder, CO, 2000).
"Mountain of the Moon: Africa and the Gendering Imagining of India," (with Subho Basu), Gender and History 27.1, (April 2015): 171-189.
"Women, Muscular Nationalism, and Hinduism in India: Roop Kanwar and the Fire Protests in India," Totalitarian Movements and Political Religions 11, 3/4 (September-December, 2010).
"The Quest for Manhood:  Masculine Hinduism and Nation in Bengal," (co-authored with Subho Basu), Comparative Studies of South Asia, Africa, and the Middle East Vol. 26, 3 (2006).
"Armed Masculinity, Hindu Nationalism, and Female Political Participation in India: Heroic Mothers, Chaste Wives, and Celibate Warriors,"  International Feminist Journal of Politics 8, 1 (March 2006).