Sada Niang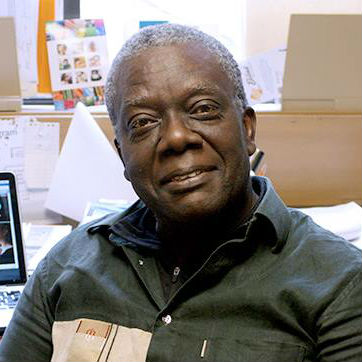 Position
Professor
French and Francophone Studies
Contact
Office: CLE C249
Credentials
Area of expertise
Linguistics, semantics, African and Caribbean literatures
Sada Niang is  Professor of French and Francophone Studies. He holds a Ph.D  from York University (Downsview, Ontario). His recent work focuses on postcolonial cinema, the cinema of Francophone Sub-Saharan Africa,  Maghreb (Morocco, Algeria and Tunisia) and Francophone women's films.
Specializations
French and Francophone sub-Saharan literatures. African cinemas. Documentary filmmaking in Africa; African women documentary filmmakers of Francophone Africa; Fiction and documentary filmmaking in Africa.
Research projects
 2011-2014 :  SSHRC General Research Grant. Cinémas africains et dynamiques du populaire Sada Niang (Principal Investigator); Alexie Tcheuyap (University of Toronto) co-investigator.
 2018-2021 : SSHRC Insight Grant Pratiques du cinéma documentaire en Afrique subsaharienne francophone Alexie Tcheuyap (University of Toronto) Principal investigator, Suzanne Crosta McMaster University, Sada Niang (IUniversity of Victoria) Co investigators
Selected publications
Djibril Diop Mambéty : un cinéaste à contre courant. (L'Harmattan, Paris, 2002) 238 p. [Text+interviews of the main actors in Diop's films]         
Reviewed in African Studies Review; Vol.46, Issue 2, p.154, 2p. Online, see web site:
https://www.editions-harmattan.fr/index.asp?navig=catalogue&obj=livre&no=1459
Reviewed in Notre Librairie; 149, p.136, 1 page.
Djibril Diop Mambéty, Cineasta Africano. (Las Palmas de Gran Canaria, Casa Africa, 2011), 83 pages. (Spanish Translation of a shortened version of Djibril Diop Mambéty : un cinéaste à contre courant, 2002)
Ousmane Sembene: Viatique pour l'éternité, Coedited with samba Gadjigo. (Dakar,  Papyrus, 2010)
Nationalist African Cinema: Legacy and Transformations: (Lanham,  Rowman Littlewood Press, 2014).
Fatou Diome, Une écrivaine de son temps. Special issue of Présence Francophone. No. 92, 2019. Coedited with Khady Fall-Diagne
Courses taught
FRAN 220  (French Phonetics)
FRAN 420 (Francophone Literatures and Cultures)
FRAN 517  (Francophone African and Caribbean Literatures and cinema)