Hélène Cazes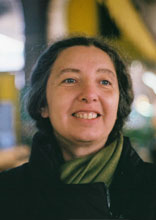 Position
Professor
French and Francophone Studies
Contact
Office: CLE C254
Credentials
Area of expertise
Literatures and cultures (France), Editorial Mediations, Comics, Humanism, Gender and Medicine.
Hélène Cazes has been teaching at the French Department at Uvic since 2001. Interested in the tradition and reception of knowledge, icons, ideas —and even fake science —, she uses literary theory and methodology for readings of medieval and Early Modern texts; she has published collections of essays and numerous papers on editorial mediations, book culture, friendship in the Republic of Letters, medical humanities and bibliography. She is the director of the Open Journal Topiques, Études Satoriennes and Associate Editor of Renaissance and Reformation/Renaissance et Réforme.
See also https://onlineacademiccommunity.uvic.ca/helenecazes/
ORCID: https://orcid.org/0000-0003-2370-1224
Specializations
Knowledge transmission, reception studies (Medicine, Classics, Literary Canon), cultural icons (Vesalius, Mona Lisa, colonial narratives), editorial mediation and book culture, friendship/networking and bibliography in Early Modern times, medical humanities and history of medicine
Research projects
Her current research project Perfecta, La Perfection du corps féminin: discours anatomiques et défense des femmes, 16-18 explores the connections between feminism (or misogyny) and history of anatomy.       
See also https://onlineacademiccommunity.uvic.ca/helenecazes/
The University of Victoria Community Leadership Award 2014
Dr. Cazes received the 2014 University of Victoria Community leadership Award for her research on the connections between legacies and communitites as well as her active engagement with resaerch groups such as Early Childhood, History of Medicine and Book Collections and her work building library free programs.
Faces of UVic Research: Hélène Cazes
A specialist of Renaissance Literature, Dr. Hélène Cazes researches the definitions and practices of Humanism — the word itself being the self-description of learned communities, bound in cross-linguistic and often cross-religious networks. Trained in France (Ecole Normale Supérieure, Doctorate 1998, Paris X-Nanterre, Renaissance Literature), she studies the history of texts, books, and scholars. She has published extensively on the Estienne dynasty (16th-17th c.) and on the fortune of classical texts.  Interested in the reception of literature but also in the conceptions of the world carried by texts and narratives, she has studied the representations of the body, the conceptions of childhood, and the pedagogical theories in Medieval and Early Modern Times.
Her SSHRC-funded research project addresses History of Medicine: in collaboration with Frédéric Charbonneau (McGill University), who examines the making of the legend of medical progress, the anatomist Andreas Vesalius (1514-1564).
She is tracking the concept of friendship, a foundational concept for the newly-born Republics of Letters in Europe (16th and 18th c.) and she is the recipient of the 2011 Research Fellowship of the Faculty of Humanities for this project. 
Find out more about Hélène Cazes' research in her expertise profile.
Selected publications
"Émile Benveniste au fil du symbole : les partages de l'œuvre", Émile Benveniste, La croisée des disciplines, Ozouf Sénamin Amedegnato, Limoges, Lambert-Lucas, 2021, p 67-97.


"Conversations avec un critique absent : de préface en postface, le défi poétique et critique d'Henri Estienne (1530‐1598)", Mémoires du livre / Studies in Book Culture, 12(1). https://doi.org/10.7202/1077799ar ou https://www.erudit.org/fr/revues/memoires/2021-v12-n1-memoires06084/ (Figures de lecteurs dans la presse et la correspondance en Europe (XVIe-XVIIIe siècle)/Figures of Readers in the Press and Correspondence in Europe (16 – 18th century), Volume 12, numéro 1, printemps 2021)


"Anatomie d'un paradoxe : « Pour les femmes », selon Charles Estienne (1553)", Réforme, Humanisme, Renaissance, 2020/1 (N° 90), p. 39-64. DOI : 10.3917/rhren.090.0039. URL : https://www-cairn-info/revue-reforme-humanisme-renaissance-2020-1-page-39.htm


(translated by David Douglas) ' "Pitiless Pity" in Renaissance Medicine (1545-1585)', British Journal for Military History, 6.2 (2020), pp. 75-103.


" Medecin piteux fait la plaie venimeuse : « l'impitoyable pitié » du médecin (1545-1628) ", Émotions en bataille, dir. Benjamin Deruelle, Paris, Hermann, 2021, p. 15-40.

Thèse : doctorat (nouveau régime) à l'université de Paris X (Littérature française de la Renaissance) ; Le livre et la lyre, grandeur et décadences du centon virgilien au Moyen Age et à la Renaissance. Éditions du Septentrion, Lille (Atelier National de Reproduction des thèses), 1997.
Livres et éditions
Alphonse Leroy, Recherches sur les habillemens des femmes et des enfans Ou Examen de la manière dont il faut vêtir l'un & l'autre Sèxe, édition par Hélène Cazes et Frédéric Charbonneau, Paris, Hermann, 2019 [texte de 1772]; https://www.editions-hermann.fr/livre/9782705697723
Topiques de l'amitié dans les littératures françaises d'Ancien Régime, Numéro spécial de la revue Topiques, Études satoriennes, août 2015 : http://journals.uvic.ca/index.php/sator/index (édition et introduction, mise en ligne)
En collaboration avec A.F. Morand, Miroirs de la Mélancolie, Paris, Hermann, 2015, Collections de la République des Lettres. (édition, préface)
En collaboration avec William Bowen et Amyrose McCue Gill, Renaissance and Reformation, Renaissance et Réforme, 37, 3 / été 2014 [2015], "In Celebration of the Fiftieth Anniversary/ En célébration du cinquantenaire 1954-2014".
En collaboration : Acta Conventus Neo-Latini Monasteriensis, Proceedings of the Fifteenth International Congress of Neo-Latin Studies (Münster 2012), A. Steiner-Weber and Karl A.E. Enenkel (dir. and eds.), Concetta Bianca, Hélène Cazes, Reinhold F. Glei, Jacqueline Glomski, Felipe Gonzéalez Vega, Judith Henderson et Stephen Murphy (eds.)Brill Publishers, 2015.
The Seghers Collection: Old Books in New Libraries, University of Victoria Press, Publications of UVic Libraries, 2013, 42 p.
Variétés Bibliographiques (édition et introduction), numéro spécial de Renaissance and Reformation/Renaissance et Réforme, vol. 34, n°3, 2012.

Variations Bibliographiques

(edition and introduction), special issue of @nalyses (http://www.revue-analyses.org/), vol. 6, n° 2, Printemps-été 2011.
Facebook in the Sixteenth Century : The Humanist and Networker Bonaventura Vulcanius (in collaboration with K. van Ommen, dir. and ed. ; introductory essay), Leiden, Publications of the University Library (Kleine publicaties van de Leidse Universiteitsbibliotheek Nr. 83), 179 p. Accessible on line, on the virtual exhibition webpage: http://bibliotheek.leidenuniv.nl/geesteswetenschappen/geesteswetenschappen/tentoonstelling-vulcanius.html and DigiTool Viewer <http://tinyurl.com/3yaga8p>
Publications récentes, Articles et chapitres
" La fabrique de la controverse : André Vésale (1514–1564) à la conquête des publics (ou Comment acquérir un nom immortel dans l'histoire des sciences en insultant ses maîtres) ", Renaissance et Réforme/Renaissance and Reformation, 42.1 (2019), 129-161.
" Y a-t-il un monde après Grabinoulor ? ", Pierre Albert-Birot, Un pyrogène des avant-gardes, dir. Carole Aurouet et Marianne Simon-Oikawa, Rennes, Presses Universitaires, 2019, p. 51-64.
"Une Topique déshabillée : le voyage de Ginevra entre Le Décaméron et La Cité des Dames", in Ainsi passe le texte, Mélanges en hommage à Madeleine Jeay, éd. Véronique Duché, Yen-Maï Tran-Gervat et Daniel Maher, Paris, Garnier, 2018, p. 131-149.
"Vesal, 'for what he Represents': Vesaliana in William Osler's Collections", Andrea Vesalius and the Fabrica: Art, Anatomy, and Printing in the Italian Renaissance, ed. Rinaldo Fernando Canalis and Massimo Ciavolella, Turnhout, Brepols (Cursor), 2018, p. 180-220.
" Naufrages et hommages sur l'île d'André Vésale : reconnaissances d'une autorité contre la tradition", Towards the Authority of Vesalius. Studies on Medicine and the Human Body from Antiquity to the Renaissance and beyond, ed. by E. Gielen and M. Goyens, Turnhout, 2018 (Lectio, 6), p. 437-467.
" Napou tou daman asurtat : échanges de signes et dans la Première Relation
de Jacques Cartier", Voix autochtones dans les écrits de la Nouvelle-France, ed. Luc Vaillancourt, Paris, Hermann, 2017, p. 153-191.
"Représentations des textes et des savoirs chez Charles Estienne : la « vive parole » d'un humaniste", Renaissance et Réforme/Renaissance and Reformation, 40, 3 (2017), Special Issue Translating Dramatic Texts in Sixteenth-Century England and France / Traduire le texte dramatique au seizieme siècle en Angleterre et en France,  Anne G. Graham and Agnes Juhász-Ormsby, eds.,  p. 187- 215.
"Quelques remarques sur les Animaduersiones d'Henri Estienne (1558) et les Adages d'Érasme (1558, 1571, 1579, 1603)", in Blandine Perona et Tristan Vigliano (eds.), Érasme et la France, Paris, Classiques Garnier, 2017, p. 283-300
"Le Degré Grabi de l'écriture: Liberté et auto-poésie", Europe, 1056 (2017),  numéro spécial Pierre Albert-Birot, Marianne Simon and Carole Aurouet, (eds), p. 41-49.
"Medieval Medicine: reflections on Medical Mediations", CSRS Newsletter 25, 2016, p. 6-7.
En collaboration avec J. Matthew Huculak, "Understanding the pre-digital book",  Doing Digital Humanities,  Constance Crompton, Richard Lane and Ray Siemens (eds), London-New York, Routledge, 2016,  p. 65-82.
"Comme dans un miroir, comme dans un adage: chatoiements et reflets de la reprise et de l'amitié",  The Mirror in Medieval and Early Modern Culture, Nancy Frelick (ed.), Turnhout, Brepols, 2016, p. 171-189.
"« Démonstrer à l'œil » l'ombre d'une dissection . L'illusion théâtrale du corps humain selon Charles Estienne (1545, 1546)", Cahiers de recherches médiévales et humanistes, 2015-1, n° 29, p. 305-349.
"Démonstrations d'amitié et d'humanisme : alba, adages et emblèmes chez les petits-enfants d'Érasme", Acta Conventus Neo-Latini Monasteriensis..., A. Steiner-Weber and Karl A.E. Enenkel (dir. and eds.), Hélène Cazes aliique  (eds.)Brill Publishers, 2015, p. 18-40. (Voir ci-dessus)

"Réédition et retour au progrès : les Œuvres complètes d'André Vésale (Leyde, eds. Boerhaave et Albinus, 1725), acte de naissance et de Renaissance de l'anatomie", La Fabrique de la modernité scientifique; discours et récits du progrès sous l'Ancien Régime, ed. Frédéric Charbonneau, Oxford University Studies in the Enlightenment, 2015, p. 9-35.
"Translation as Editorial Mediation: Charles Estienne's Experiments with Knowledge Dissemination", Renaissance Studies, 29, 1, 2014, p. 36-54.
"Élection et conjectures : la preuve éditoriale selon Henri Estienne (1531-1598) ", Les Usages de la preuve, d'Henri Estienne à Jeremy Bentham, J.P. Schandeler et N. Vienne (eds.), Paris, éditions Hermann, Collection de La République des Lettres, 2014,  p. 139-182.     
"Herman Boerhave et le Traité sur les maladies", in Médecine et philosophie de la nature humaine, Paris, Garnier, 2014, p. 404-407.
"Partage des Adages : un geste d'amitié humaniste en tête des Adagiorum Chiliades  (1508-1533) d'Érasme", À la Recherche d'un sens, Littérature et vérité, Mélanges offerts à Monique Gosselin-Noat, Roman 2050, Collection « Actes », Presses Universitaires de Lille, 2014, vol. 1, p. 123-134.
"Le style simple d'une écriture de l'ombre: la poétique de Charles Estienne", recueil Lire, Ecrire, Choisir: l'écriture de la science au Moyen-Age et à la Renaissance (ed. par V. Giacomotto-Charra et C. Silvi), 2014, p. 109-131.
"Mémoires et tradition : la bibliothèque Seghers (Special Collections, UVic Libraries)", Mémoires du livre  / Studies in Book Culture, Volume 5, numéro 1, automne 2013 http://id.erudit.org/iderudit/1020223ar  DOI : 10.7202/1020223ar
"L'ABC de la Fabrique du Corps Humain (1543,1555)", Le Monde Renversé, Lucie Desjardins (ed.), Presses de l'Université Laval, Collection de la République des Lettres, 2013, p. 61-87.
"Anatomie de l'image répétée chez André Vésale et Charles Estienne",Revue Le Conférencier, Volume L'image répétée : Imitation, copie, remploi, recyclage, Actes du colloque des 2, 3 et 4 juin 2011, Université de Victoria, Colombie britannique, Canada,  novembre 2012,  http://revue-textimage.com/conferencier/01_image_repetee/cazes1.html
Commenting on the hatred for Commentaries: Les Censures des Théologiens revised by Robert Estienne, 1552", in Judith Rice Henderson (ed.), The Commentary in the XVIth century, University of Toronto Press, 2011, p. 205-236.

 
Courses taught
FRAN 409      Art of Speech (Prendre la parole)
FRAN 310      Media and Culture II (La voix des textes)
FRAN 438      Texts that changed the world (On ne naît pas femme…)
FRAN 280      Media and Culture I
MEDI 304      Medieval Medicine (Bodies and Genders)

MEDI 360      The Grail, the Never-ending Quest
FRAN 471      Figures on the Fringe (Metamorphoses du loup-garou)
FRAN 375      Writing II
MEDI 452      Medieval Manuscripts
FRAN 500      Research Methodology
FRAN 504      Les Genres de l'anatomie
FRAN 506      L'Art de l'essai (d'Érasme à Simone de Beauvoir)
FRAN 436      Liberté-égalité-humanités : « Humanisme et Féminisme » ; « Le voyageur, le philosophe, le sauvage et le cannibale : Décoloniser le récit colonial »
FRAN 390      Critical Methods
FRAN 325      Growing up with Graphic Novels
MEDI 452      Reading Medieval Manuscripts (in Special Collections)
MEDI 304      Medieval Magic; Medieval Medicine; Medieval Women
MEDI 303      Introduction to the Medieval Worlds
HUMA 120     Humanities and the Making of the Intellectual Mind, Humanities and the Making of the Post-Medieval Mind
FRAN 430      Graalissime ! (Medieval Literature)
DHSI             Understanding Pre-digital Books