Centre for Evidence-Informed Nursing and Healthcare : A JBI Centre of Excellence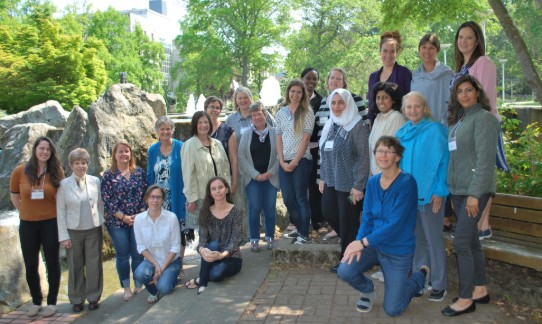 The UVic School of Nursing and Joanna Briggs Institute
The School of Nursing at the University Of Victoria is home to the JBI Centre for Evidence informed Nursing and Health Care (CEiNHC). We are a team of researchers, practitioners, librarians and graduate students and since 2016 have been an affiliated group of Joanna Briggs Institute (JBI) with a focus on Evidence Synthesis and Systematic Reviews. We meet monthly to provide mentorship and support for people working on JBI reviews. We also offer the JBI Comprehensive Systematic Training Program each year (usually in May).
What is Joanna Briggs Institute?
Joanna Briggs Institute (JBI) is a global leader in evidence-based healthcare. JBI was established at the University of Adelaide, South Australia in 1996 as an independent, international not-for-profit research organization.
JBI provides a systematic process for finding and appraising evidence; a process supported by training, tools, a peer-review process, and networking to inform best practices. The JBI Collaboration is the largest global collaboration to integrate evidence-based healthcare within a theory informed model that brings together academic entities with hospitals and health systems. The JBI model is founded on a strong relationship between academic, research, practice and policy partners.
Current Projects
To date, we have primarily focused on building capacity for evidence synthesis, particularly for completing JBI Systematic and Scoping Reviews.
We welcome engagement with faculty and students from across the UVic faculty of Human and Social Development and the larger research community who are focusing on health-related research.
We also highly value our collaborative relationship with Island Health and to build on the work we have done in our formative years to address the needs of practitioners and policy makers for the best available evidence as a foundation for evidence-based decision making. Our monthly meetings are open to researchers and students from across British Columbia and Western Canada who are interested in completing JBI Reviews.
Please see our publications list for more information about recent projects. 
Contact Us
Dr. Dzifa Dordunoo (Director) dzifa@uvic.ca
Dr. Karen MacKinnon (Co-Director) kamackin@uvic.ca
Dr. Diane Sawchuck (Co-Director) Diane.Sawchuck@viha.ca
General Inquiries nursresearch@uvic.ca