Centre for Evidence-Informed Nursing and Healthcare : A JBI Centre of Excellence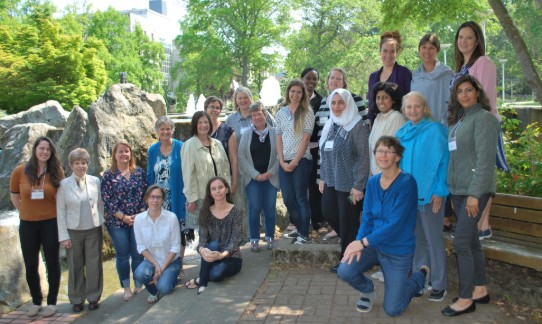 The UVic School of Nursing and the Joanna Briggs Institute
The School of Nursing at the University Of Victoria is home to the JBI Centre for Evidence informed Nursing and Health Care (CEiNHC). We are a team of researchers, librarians and graduate students focused on promoting the use of best available evidence in nursing practice.
We joined the Joanna Briggs Institute as an affiliated group in 2016 and became a JBI Centre of Excellence in 2021.  We meet monthly to provide mentorship and support for people working on JBI reviews. We offer the JBI Comprehensive Systematic Review Training Program each year, usually in May.
What is the Joanna Briggs Institute?
Joanna Briggs Institute (JBI) is a global leader in evidence-based healthcare. JBI was established at the University of Adelaide, South Australia in 1996 as an independent, international not-for-profit research organization. JBI collaborating centres around the world promote and support the synthesis, transfer and utilization of evidence through identifying feasible, appropriate, meaningful and effective healthcare practices to improve healthcare outcomes globally. The JBI collaborates with other international groups such as the Cochrane Collaboration, Campbell Collaboration, Guidelines International Network, and the International Society for Evidence-Based Health Care.
JBI in Canada
Becoming a JBI Centre of Excellence is a new and exciting opportunity for us to extend our reach across British Columbia and Western Canada. We are the only JBI group west of Ontario. We have benefited greatly by our mentorship and collaborative relationship with the Queen's School of Nursing in Kingston Ontario.
Queens University was the first JBI collaborating centre in Canada. The Queens Collaboration for Health Care Quality was formed as an academic-clinical practice partnership to promote the use of best available evidence in nursing practice and for patient safety. There are now five Canadian JBI groups in Canada.  More information about JBI entities in Canada and around the world can be found on the JBI website. https://jbi.global/global-reach/collaboration 
Introducing the JBI Collaboration
The JBI Collaboration is a worldwide effort to promote and support the use of the best available evidence to inform decisions made at the point of care. The functions of the JBI collaboration are directed towards the knowledge needs of local clinicians and consumers, with each collaborating entity leading evidence-based initiatives in their region, country, state or specialty. JBI provides a systematic process for finding and appraising evidence, a process supported by training, tools, a peer-review process, and networking to inform best practices.
JBI's approach to evidence-based healthcare considers evidence-based healthcare as decision-making that considers the feasibility, appropriateness, meaningfulness and effectiveness of healthcare practices. 
The JBI model is founded on a strong relationship between academic, research, practice and policy partners. We are currently building collaborations with local health care, educational and government agencies to increase our impact on health care services for Vancouver Island.
If you are interested in finding out more about JBI and the benefits it can bring to your organization, please contact a member of our leadership team:
Dr. Dzifa Dordunoo, School of Nursing dzifa@uvic.ca
Dr. Karen MacKinnon, School of Nursing, kamackin@uvic.ca
Dr. Diane Sawchuck, Island Health, Diane.Sawchuck@viha.ca
Core Team Members include:
(Director) Dzifa Dordunoo, PhD, RN
(Co-Director) Karen MacKinnon, PhD, MScN, RN
(Co-Director) Diane Sawchuck PhD, RN
Katherine Bertoni, MN, NP(F)
Jessica Mussell, MLIS
Joan Humphries, PhD, RN 
Darlaine Jantzen, PhD, RN
Anastasia Mallidou, PhD, RN
Lenora Marcellus, PhD, RN
Lorelei Newton, PhD, RN
Maureen Ryan, PhD, MN, BN, RN
Debra Sheets, PhD, RN
Communicable Disease Prevention; Community care for people with dementia; Cultural Safety; Medical Assistance in Dying; Intimate Partner Violence; Indigenous Engagement; Mental Health Services; Metal Hypersensitivity; Nursing Practice Education Models; Simulation; Support for immigrants and refugees; Breat Cancer Care for Immigrants; Treatment decision-making
For more information contact:
Heidi Sugars
Assistant for Research & Scholarship
School of Nursing | University of Victoria
nursresearch@uvic.ca