Nurse practitioner (and NP Post Degree) options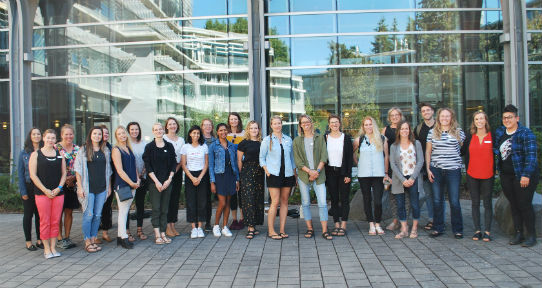 Do you like the idea of:
­taking your level of thinking and understanding about health and illness to a higher level?
­working with patients, families and communities to obtain optimal health and wellness?
­being a leader and change agent in the delivery of primary health care?
­advocating for direct access to primary health care for citizens of all ages and cultures in Canada
­utilizing research and best practices in decision-making and delivery of advanced nursing care
­engaging in partnerships to promote health and healing while considering the unique needs of clients, families and communities
­collaborating with other disciplines to engage in holistic and integrated care
The University of Victoria Masters of Nursing: Nurse Practitioner program might be right for you!
Goals
The Master of Nursing Nurse Practitioner (NP and NP Post-Degree) options prepare family nurse practitioners with the knowledge, skills, and expertise to provide assessment, diagnosis and treatment of common illnesses and conditions to people of all ages.
Family nurse practitioners will be prepared to demonstrate the advanced nursing competencies of clinical practice, leadership, research, consultation and collaboration, and health promotion.  They are part of the front-line team providing primary health care in a safe, ethical and compassionate way.
Family nurse practitioner graduates study advanced nursing theory and engage in practice experiences to prepare them to write exams for registration as an NP with the
British Columbia College of Nurses and Midwives
 (BCCNM) 
Objectives
Graduates of the nurse practitioner and nurse practitioner post-degree programs will:
have advanced knowledge, skill, and expertise to meet the primary health care (PHC) needs of individuals and families across the lifespan and within the context of community
collaborate effectively with individuals, families, communities, and other health and social service professionals, to ensure high quality, comprehensive, holistic PHC
demonstrate leadership through advocacy for optimal client care, optimizing the nurse practitioner role within the interprofessional team, and facilitating systems change
identify and implement research based innovations that improve client care and the functioning of organizations and/or systems
understand legislative and socio-political issues that influence health policy and build strategies to improve healthcare access and healthy public policy
enact the Entry-Level Competencies for Nurse Practitioners in Canada (and endorsed by BCCNP) as applied to the family stream in a variety of primary health care contexts
practice within the Scope of Practice for Nurse Practitioners: Standards, Limits and Conditions Our amazing team makes our OSCE sessions a huge success