Alumna's consulting firm receives prestigious award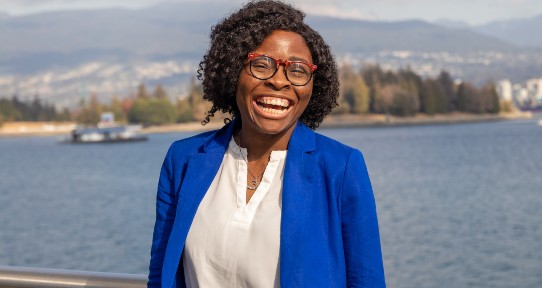 Public Administration alumna Precious Ile's consulting firm has received a prestigious national award in partnership with the Faculty of Human and Social Development (HSD).
Ile's firm, Impact Plus Consulting, was presented with the International Association for Public Participation (IAP2) Canada Core Values Award for Creativity, Innovation and Contribution to the Field of Public Participation at a conference in September in Banff.
The award recognized Impact Plus's partnership with HSD in developing the faculty's first-ever strategic plan, which was published in March this year.  
"I am incredibly proud of Impact Plus's partnership with HSD," Ile says. "The core values award honours the 'best of the best' in public engagement across Canada, so it's a big deal."
HSD's strategic plan outlines the faculty's vision over the next four years to be a recognized local and global leader in transformative research, teaching and professional practice for just, equitable, decolonial and sustainable futures.
Ile says that process matters when developing a strategic plan, as research shows that 90 per cent of organizations fail to execute their strategy. She says shared ownership and accountability is key. For HSD's strategic plan, the firm consulted with the faculty's leadership team, working group members and more than 600 students, staff, faculty, alumni and partners. 
"Developing HSD's first-ever strategic plan was highly collaborative, people-centered and rewarding," Ile says. "What participants told us is that they felt truly listened to because we acted on their feedback."
Ile graduated in 2020 from the School of Public Administration with a Master of Arts in Community Development. She and her business partner, Amarachi Nnah-Ogbonda, co-founded Impact Plus Consulting in February 2021, with the comapny drawing on a global network of experts, associates and alumni across countries including Canada, the United States, Sweden, Nigeria and France.
Acting Dean Jennifer White says she is proud of the diverse contributions of HSD students, alumni, staff, faculty and partners to the creation of the strategic plan. 
"We believe this award will inspire higher education institutions locally and globally to promote creativity and innovation through community-engaged strategy development," she says.