HINF Open Houses - Fall 2023
Join us for the School of Health Information Science Fall 2023 Open Houses. Become an expert in the field of Health Informatics. With the current global changes and demands in health care, optimizing our systems is becoming increasingly important and urgent.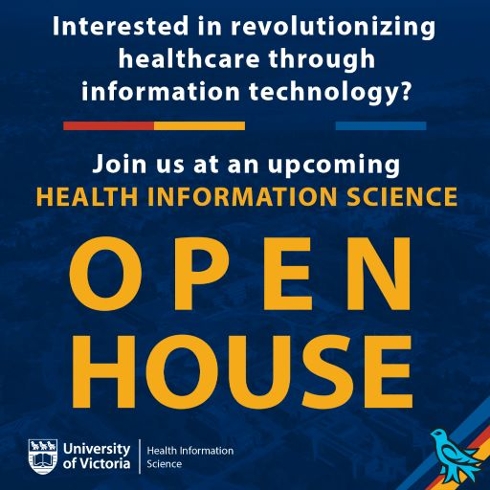 Health Information Science (On Campus) Open House
When: Thursday, September 28th 2023, 4:30pm – 6:00pm PST
Where: Human and Social Development Building (HSD) A264
Free pizza will be provided!
---
Health Information Science (Virtual) Open House 
When: Wednesday, October 18th 2023, 5:00pm – 6:00pm PST
Where: Zoom link
Meeting ID:

 820 0240 5300
---
Learn about the amazing career and academic opportunities in digital health!  The School of Health Information Science offers:
Bachelor of Science in Health Information Science
Bachelor of Science Combined Major in Computer Science and Health Information Science
MSc in Health Informatics
Double Degree - MSc of Nursing and MSc of Health Informatics
PhD in Health Informatics
Graduate Certificate in Health Terminology Standards
Professional Certificate in Health Terminology Standards
---
For more information contact: 
HINF Open House and Undergraduate inquiries, please email his@uvic.ca
HINF Graduate inquires, please email hisgrad@uvic.ca