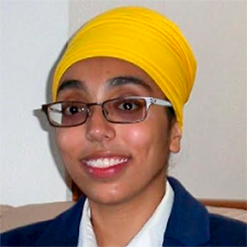 Position
Adjunct Assistant Professor
Contact
Credentials
BSc (UVic), MSc (UVic), PhD (UVic), EMBA (UFred),Certified Health Executive (CHE)
Gurprit K. Randhawa is the Director of eHealth & Virtual Care Innovation at First Nations Health Authority (FNHA) in Victoria, BC. In this provincial role, Gurprit is responsible for ensuring ongoing innovation in FNHA's eHealth and virtual primary care services, in alignment with the priorities of First Nations. She provides strategic direction and leadership in eHealth and virtual care development and implementation for First Nations Led Primary Care Initiatives (FNPCI) and the First Nations Electronic Medical Record (EMR) Project. As a thought leader in eHealth strategy and advanced service design, Gurprit is advancing quality improvement, knowledge exchange, transformation and change management across the province. 
Prior to this, Gurprit was the Lead (Senior Manager) for Learning Strategy and Design in the Department of Learning and Performance Support at Island Health. She led the design of evidence-based learning strategies to facilitate organizational changes, such as the adoption, use, and optimization of the electronic health record (EHR). Gurprit has also served as the Manager of Clinical Improvements & Informatics at Island Health, and led the Computerized Provider Order Entry (CPOE), EHR Adoption, Use, Research & Development (EAURD), and Provider Learning and Knowledge Translation (PLKT) teams.
Gurprit has a B.Sc. (with Distinction) in Health Information Science, M.Sc. (with Thesis) in Health Informatics, and Ph.D. in Health Informatics from the University of Victoria (UVic), as well as an Executive MBA specialized in Health & Safety Leadership from the University of Fredericton. Gurprit is a third generation educator, and holds a graduate certificate in Learning and Teaching in Higher Education (LATHE) from UVic's Department of Educational Psychology and Leadership Studies. She is a Health Informatics Instructor at McMaster University and Professor of Health Informatics at the Sault College of Applied Arts & Technology. She is an Adjunct Assistant Professor in the UVic School of Health Information Science, as well. Her research work focuses on electronic medical record adoption and use, change management, the scholarship of teaching and learning, knowledge translation and mobilization, and quality improvement.
Gurprit has received national and international recognition for her work in digital health, including the COACH (Digital Health Canada) Founding President's Award (2010) and the Steven Huesing Award and Scholarship (2016) for reflecting the spirit, dedication, and innovation that the Founding President brought to the field of Health Informatics.