Sarah Wright Cardinal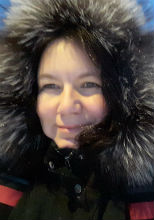 Position
Assistant Professor
School of Child and Youth Care
Status
Contact
Credentials
BA (UBC), MA (SIT), PhD (UVic)
Sarah Wright Cardinal
Brief Biography
Sarah Wright Cardinal is a Cree educator from northern treaty 8 territory with Coast Salish, Dene, and Nuu-chah-nulth, extended family relations. Her work centers the importance of healing from colonial disruptions to Indigenous identities and addressing these fractures with land, water and spirit-based teachings and practices that contribute to children, youth, and community wellness.
Practice Background
Teaching and training
Sarah's teaching practice is informed by returning to her home territory for ten years where she learned from Elders, knowledge holders, and community while working on education projects throughout the Northwest Territories. She also draws from her previous teaching, consultation, and program development experience in Central America, Asia, and in Southern Canada. She has a transformative practice that nurtures respectful and meaningful engagement. Sarah is the lead author of Generations Lost. A Sixties Scoop curriculum by The Legacy of Hope Foundation, resource to be launched fall 2020. She is currently the Undergraduate Program Chair in the School of Child & Youth Care.
Research Interests
Indigenous Resurgence
Intersectionality & identity development
Land and water-based Education
Wholistic Dimensions of Indigenous Wellness
Storied and community engaged research
Decolonization Praxis
Indigenous Child Welfare (historical and current)
Research and Supervision Fields
Research background
Sarah held a SSHRC Indigenous Research Capacity and Reconciliation Connection Grant (2018-2019) to gather youth stories of mentorship with Coast Salish and Nuu-chah-nulth knowledge keepers in preparation for the West Coast intertribal Canoe Journeys.
https://hashilthsa.com/news/2019-06-12/ditidaht-helps-pacheedaht-revive-culture-canoe-blessing-ceremony-preparation-paddle
https://hashilthsa.com/news/2020-03-05/university-project-brings-communities-together-revive-culture

Prior to this, she held a SSHRC Joseph Armand-Bombardier CGS Doctoral Scholarship (2014-2017) for her doctoral dissertation "Beyond the Sixties Scoop: Reclaiming Indigenous identities, reconnection to place, and reframing understandings of being Indigenous". Her study involved gathering adoptees stories of healing from colonial disruptions to identity. Her findings include insights into decolonizing & Indigenous resurgence practices in formal and non-formal education settings and a theoretical contribution to Indigenous identity development. These findings inform recent and current projects.
Current Work (summary)
Sarah holds a SSHRC Partnership Development Grant (2020-2022) with Pacheedaht Nation "Reclaiming Nuu-chah-nulth teachings to empower and strengthen the roles and responsibilities of Pacheedaht young men". The team is developing a model of community wellness that engages youth in a remote and rural Indigenous community.

She is co-leading a BC Ministry of Child and Family Development grant (2019-2020) with Dr. Mandeep Kaur Mucina "Cultural Connections for Indigenous Children in Care" to inform child welfare policy and practice.

Sarah is also co-leading a Faculty of Human & Social Development funded initiative (2019-2022) with Dr. Nick Claxton "HSD Decolonizing Praxis project"; a faculty wide multi-strand project to address the University of Victoria Indigenous Plan and the Faculty commitment to decolonizing our teaching, practice, and research.

Sarah is invited locally and nationally to speak on her PhD research and research interests, she frames her work for practitioners, policy-makers, Indigenous wellness organizations, schools, NGOs and governments.
Topics/fields of interest for graduate supervision
Decolonization Praxis, Indigenous Resurgence, Land-based Education, Wholistic dimensions of Indigenous wellness, Indigenous Child Welfare (historical and current), Intersectionality & identity development, Storied and community engaged research

Sample Publications
Wright Cardinal, S. (2017). Beyond the Sixties Scoop: Reclaiming Indigenous identity, reconnection to place, and reframing understandings of being Indigenous. (Unpublished doctoral dissertation) University of Victoria, Victoria, BC.
https://dspace.library.uvic.ca/bitstream/handle/1828/8956/Wright%20Cardinal_Sarah_PhD_2017.pdf?sequence=3&isAllowed=y

Wright Cardinal, S. (2016). A Framework for Indigenous Adoptee Reconnection: Reclaiming Language and Identity. Canadian Journal for New Scholars in Education, 7(1).
https://journalhosting.ucalgary.ca/index.php/cjnse/article/view/30693